A while back, WhatsApp unveiled a feature that allowed users to transfer iPhone WhatsApp to Android. Since then, users have been pushing for a feature that does the opposite. A feature will allow them to transfer WhatsApp chats from Android to their iPhone. With the Move to iOS WhatsApp, users can now transfer their WhatsApp chats to new iOS devices. However, users have faced several challenges while using this newly unveiled feature. This article will highlight why the Move to iOS WhatsApp is not working as you expected. In addition, we will also be handing out tips to assist you in successfully transferring your Android WhatsApp chats to an iPhone. Let us dive in.
Why is Move to iOS WhatsApp Transfer not Working?
Move to iOS feature is a working transfer feature that WhatsApp introduced in June 2022. The feature had been anxiously waited for by users. The feature is coupled with the Move to iOS WhatsApp found in Google Play Store. However, this incorporation has caused some unwanted effects on the feature, causing severe drawbacks to the eagerly awaited feature. Some of the problems encountered by users trying to use the app include the following;
1. WhatsApp transfer gets stuck during the process.
2. Some WhatsApp chats are not transferred totally.
3. WhatsApp not showing on Move to iOS. This is one of the most common challenges users face when transferring their Android WhatsApp chats to iOS.
4. Unstable WhatsApp transfer.
Aside from these challenges, users have also noticed that the Move to iOS will not work if their iPhone is not factory reset. This means that you will be required to have a new iPhone or one whose data has been completely deleted.
What's the Best Way to Transfer WhatsApp
Having mentioned the challenges encountered while using the Move to iOS app, you are probably asking yourself, "which other WhatsApp transfer from Android to iPhone can you use?". Well, iToolab WatsGo, features answers to that. WhatsApp data transfer is a complicated and risky endeavor, especially when transferring data from your Android device to an iPhone. However, iToolab WatsGo has changed the narrative. It is a simple-to-use software that comes with state-of-the-art features. These features ensure that the WhatsApp data from your Android is safely transferred within minutes into your iOS. Some of the features offered by iToolab WatsGo include:
Multi-dimensional data transfer
With iTooltab, WatsGo users can transfer WhatsApp data from Android, iPhone, Android, Android, iPhone, and iPhone.
The high and secure transfer success rate
Fast
User friendly
Compatible with almost all Android and iPhone devices
As seen above, iToolab WatsGo software offers many essential features. Some of the advantages of having these features include the following:
1. Transfer WhatsApp without Factory Reset iPhone;
2. Faster WhatsApp Transfer without getting stuck;
3. More than 20 data types are transferred without any left;
4. Compatible with the latest Android 13 and iOS 16;
5. Affordable WhatsApp transfer solution, 30% OFF
6. Backup WhatsApp to PC without iCloud or Google Drive
How to Transfer WhatsApp from Android to iPhone
Here is a step-by-step guide on how to move WhatsApp from Android to iPhone.
Step One: Visit the official web page of WatsGo and download the application on your PC or computer. After downloading it, please install the application, launch it and select the WhatsApp icon followed by WhatsApp transfer.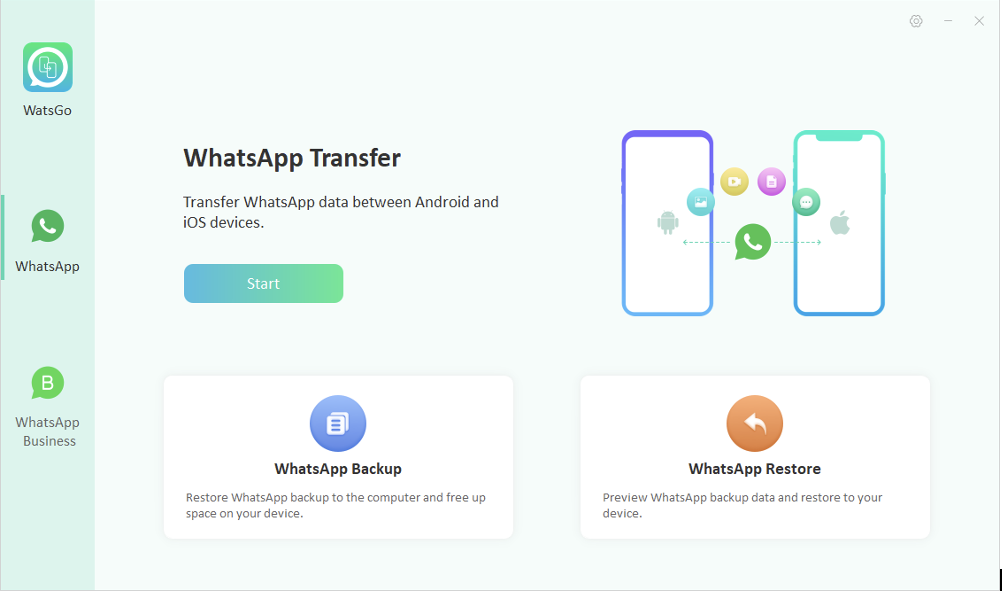 Step Two: Connect your Android and iPhone devices to the PC or computer and ensure that the PC identifies both. After a successful connection, a warning tab will appear, indicating that the process might overwrite your data. It's, therefore, essential to create backup.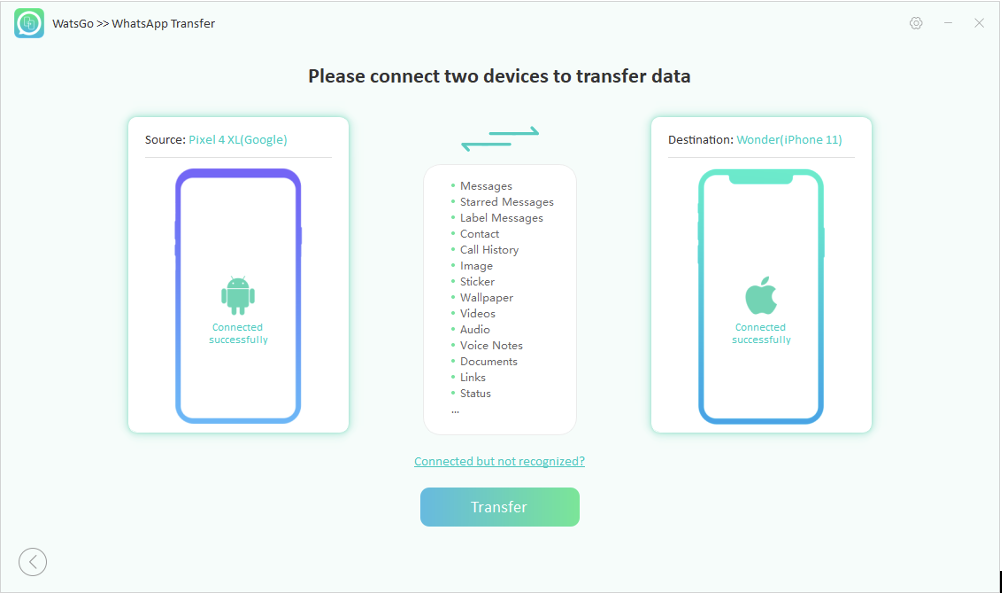 Step Three: In this step, you will be required to turn on end-to-end encryption. To do that, follow the detailed steps shown in the image below.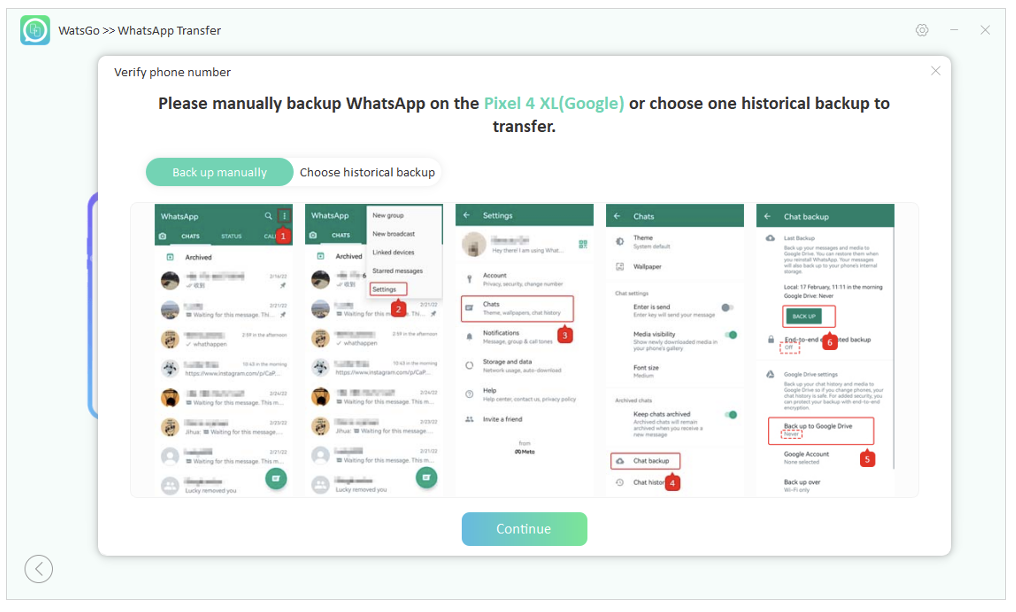 Step Four: After enabling end-to-end encryption, the next step is data generation. The application will convert your data into a format compatible with the iOS processor. It will then send the data automatically to your iPhone device.
Step Five: The above process will take a few minutes. Check your WhatsApp folder to ensure that the software transfers all the data successfully and that you have all the files.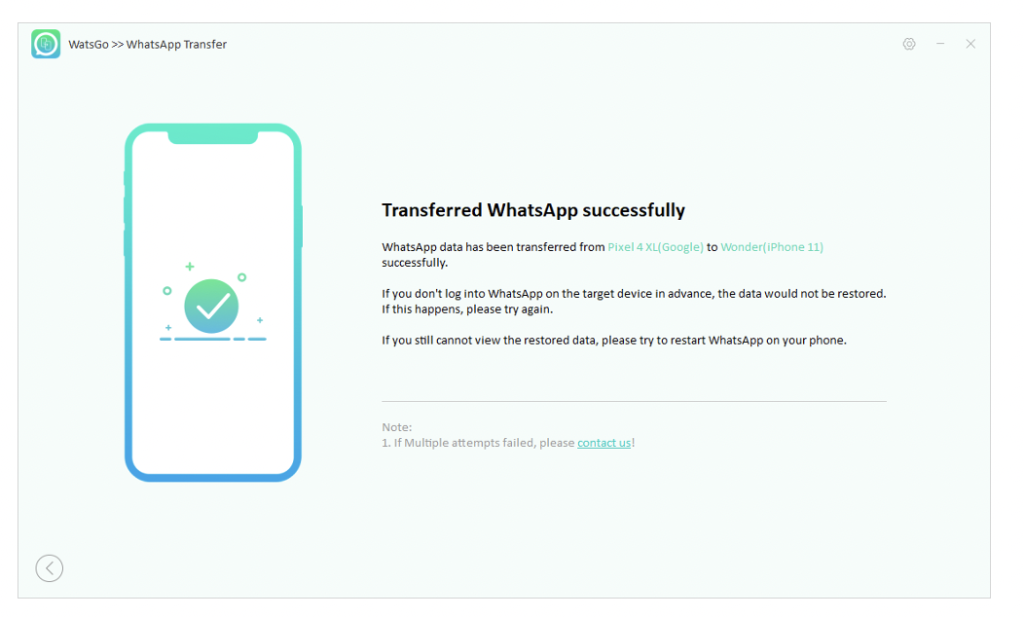 If the process wasn't as good as you wanted, we recommend repeating the five above mentioned processes.
Conclusion
WhatsApp transfer to a new iPhone is an arduous process. However, with iToolab WatsGo, you can safely transfer your data within a short time. As discussed above, the software offers many features that ensure WhatsApp data transfer from your Android device to iOS is as smooth as possible. What's more interesting is that you can get the software cheaply for $11.87.