The outbreak of COVID-19 boosted the development of online software. Especially for online meetings, more and more companies have been moving to online platforms such as Zoom, Webx, Google Teams, etc. for holding meetings to make sure the normal operation of their businesses. That is why many people are longing for getting the best screen recording software, a kind of tool that helps to capture every screen activity on the desktop, which can help keep the video meeting details without missing any of them.
Actually, there have been many helpful recorders developed to capture desktop screen activities as people need. But what is the best screen recording software for online meetings recently? Today, VideoSolo Screen Recorder will be the protagonist of this review.
Content
What Qualities Should A Good Video Recorder Have?
What is VideoSolo Screen Recorder
How to Record Zoom Meeting with VideoSolo Screen Recorder
What Qualities Should A Good Video Recorder Have?
A good video recorder boosts the working and studying efficiency when you get stuck at home. Before introducing VideoSolo Screen Recorder, these screen recording software reviews help you sort out which is the best screen recording software for PC. Let's preview the list of qualities that a good video recorder could guarantee users.
Lightweight – Screen recording software may need to be wakened up at any time for getting ready to record the screen. It should not drag down the device performance and affects other programs' running processes.
Maneuverable – Simpler functions make sure people use the recording feature conveniently. They can immediately start using the program once they install the software, without going through a complicated setup process.
Quality-guaranteed – When the recordings' output quality can be ensured and maintained with the best condition, the screen recorder would be more trustworthy as it helps to preserve some important moments with the best quality.
These 3 general qualities should be processed by a reliable screen recorder, and they have been the standard for people to select a reliable recording software on PC. Accordingly, we select to introduce VideoSolo Screen Recorder because it's been met such qualities. In the following part, we will dive into more features of it.
What is VideoSolo Screen Recorder
VideoSolo Screen Recorder is a brilliant screen recording desktop program that brings the most convenient features to help users record computer screens or record audio from a computer without hassle. No matter the online meetings, gaming videos, e-lessons, etc., VideoSolo Screen Recorder allows you to capture them instantly.

But why VideoSolo Screen Recorder?
This desktop screen recording tool brings users with:
HD quality to output recordings: VideoSolo Screen Recorder can output the recorded videos with HD quality losslessly.
Various encoders: To allow flexible playback, various mainstream output formats should be provided to encode the recordings in that people can play them using any devices as well as media players.
Four modes to capture the screen: There are four modes provided inside VideoSolo Screen Recorder to record the computer screen, record computer audio and microphone, record your webcam, or take a snapshot at any time.
Video tutorials creating tools: VideoSolo Screen Recorder brings some tutorials creating tools such as the mouse effects, drawing panel for using while recording the screen.
Shortcut controls: VideoSolo Screen Recorder allows users to preset the hotkeys according to their preferences, which enables a more convenient and faster recording experience.
Recording schedule presetting: If you fail to follow up the whole recording process, you are allowed to schedule the recording starting as well as ending time in advance to record the screen with exact duration.
Such multifunctional software pushes VideoSolo Screen Recorder to be the best screen recorder chosen by many people to record Zoom meetings when online working is becoming a daily task in many people's life. To start using VideoSolo Screen Recorder, you can head to download the software for it provides a free trial (with limitations) to experience. By upgrading the plan and unlock all the free trial limitations, a subscription fee is required. VideoSolo Screen Recorder offers 3 plans for users to select:
1 Year Subscription: $29.95 (1 Year/1 PC)
Single License: $39.95 (Lifetime/1 PC)
Family License: $69.95 (Lifetime / 2-5 PCs)
How to Record Zoom Meeting with VideoSolo Screen Recorder
In the final place, let me introduce how to record a zoom meeting using VideoSolo Screen Recorder to you explicitly.
Step 1. First, when you have installed VideoSolo Screen Recorder, launch it and enter Video Recorder for preparation.
Step 2. In Video Recorder, please adjust the recording area to better fit the Zoom meeting window. You can turn on the webcam and microphone if you need. Besides, adjust the volume to make it ideal for recording and playback.

Step 3. Wait for your Zoom meeting to start. When it begins, you can tab the hotkeys you have set to initiate the recording, or simply click on the REC button in VideoSolo Screen Recorder.

Step 4. When the meeting is over, stop the recording and VideoSolo Screen Recorder will allow you to preview the recording condition. You can crop the recording to remove the unnecessary parts. Eventually, tap the Save button to preserve the recording to a video file.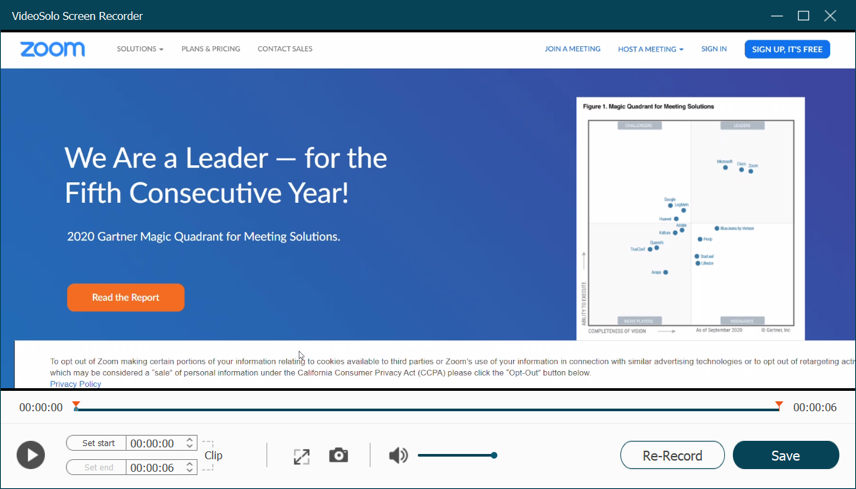 Going through all these steps, an important Zoom meeting can be saved for later playback at any time, and you don't need to worry about forgetting any important details mentioned during the meeting. If you are still seeking the best software for screen recording, download VideoSolo Screen Recorder and try it now: