When it comes to photo editing, there are usually multiple different things that a user would most likely do. One one end, we have users who are usually experienced in using photo editing applications and would like to create visuals from scratch. On the other hand, there are also users who are from other fields of profession but tackle photo editing related tasks daily anyway. Even casual users can be considered under this category. Such users typically want the more grounded version of photo editing which deals with tasks such as image compression, image upscaling, background removal, and more. These tasks are more practical and are better off grouped together. That's why VanceAI has introduced the VanceAI Productivity Series, which is a collection of photo editing tools that are available under one website in order to enable users to work efficiently.
The VanceAI Productivity series has many useful tools that are beneficial to most users. The series includes tools such as the background remover, image enhancer, passport photo maker, image denoiser, and many more. By having all of these tools in one place, you can save a ton of time by avoiding visiting different websites for each and every task. There are many users who are also content creators, marketers, bloggers, video editors, and more. These professions require perfect images all the time, which makes a website like VanceAI an appealing choice since it offers tools, performance, and more.
Pros:
VanceAI has an intuitive UI design that adds a nice flow to the whole working environment in the website.
It offers many paid subscription options that are all reasonably priced.
It provides users with enough features and performance to be viable for long-term use.
Cons:
Some tools work better with the old Workspace while some with the new design. Users have to try out both.
The platform could add a few manual editing options for certain tools.
What is VanceAI?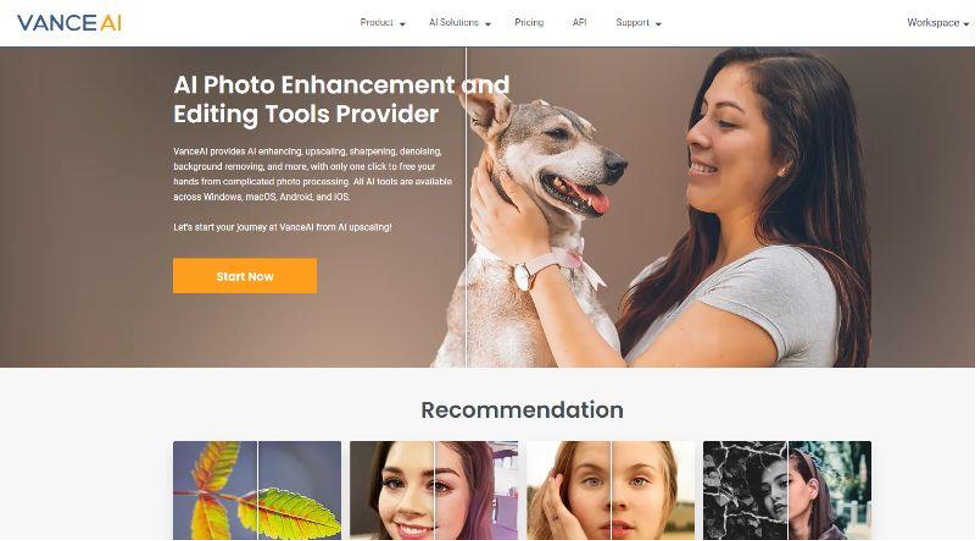 VanceAI is an online photo editing platform that keeps growing with new additions to their current tools and with inclusions of new tools altogether. VanceAI puts AI at the forefront, believing that AI based image processing technologies can make photo editing really easy and accessible for the masses. So far, it has been working. VanceAI has already added more than 15 image editing tools into its platform, having launched just recently in 2020. Most, if not all, VanceAI tools use AI and Machine Learning based algorithms in order to process images faster while still delivering really eye-catching results in terms of image quality.
The AI based design of VanceAI enables users to focus on other tasks while their entire photo editing issues are taken care of by the platform itself. Not to mention that VanceAI offers features such as batch processing of up to 10 images to its paid users, which can boost your efficiency of work even further. This also lets the users create an album's worth of pictures in a short amount of time. VanceAI is a useful platform for photographers, graphic designers, casual users, and more. It definitely has a tool for everyone.
VanceAI Productivity Series Features and Example Images
Now let's go through the tools provided in this series one-by-one to see their features and results they offer.
1. Create Empty Backgrounds Easily with BGremover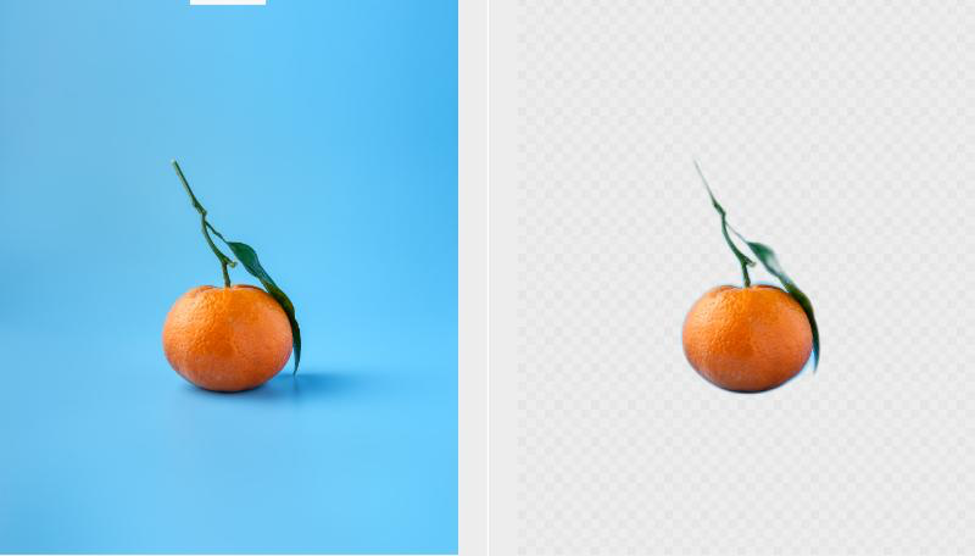 VanceAI BGremover is the background remover tool from VanceAI that automatically clears out backgrounds from images using AI technology. When you're using this tool on the Workspace, you will see the options of removing the human or the object in the photo. What you choose obviously depends on your requirements and the photo itself but having the choice definitely adds to the accessibility of the tool. This is not commonly found in other online image editing applications. Furthermore, after you have processed the image and received the transparent background image, you can click on the Edit feature to replace the transparent background with a solid colored background or with a scenic image.
If not, you could always save the image as it is and make edits in your own way. That's the main advantage of using the background remover either way. It allows you to use the object in the transparent image in other images and projects. An easy application of this is through product photos.
2. Remove Extra Blurs from Images with VanceAI Image Sharpener
When an image has excessive or unwanted blurriness, it can look bloated and extremely out of focus. Of course, a moderate amount of blur effect can actually make an image look attractive but you have to make sure that the photo is balanced. In order to do that, you can use VanceAI Image Sharpener, which makes use of AI algorithms tounblur image automatically. However, you can still head over to the Workspace of the tool to adjust the sharpness level of the image beforehand. Furthermore, the recent update has made it possible for users to target each type of blur effect specifically. The Workspace offers the options of general blur, soft blur, lens blur, and motion blur. With a simple click, you will be able to focus on a type of blur and tackle it more efficiently than before. This is a feature that is uncommon among other online image editing platforms.
With this tool, you can make your image look aesthetic again. The best part is that this process won't even take you more than a minute. As we can see from the image given, the Image Sharpener reduces the blurriness of a photo while enhancing some details of the original image.
3. VanceAI Image Enhancer to Make Photos Look HD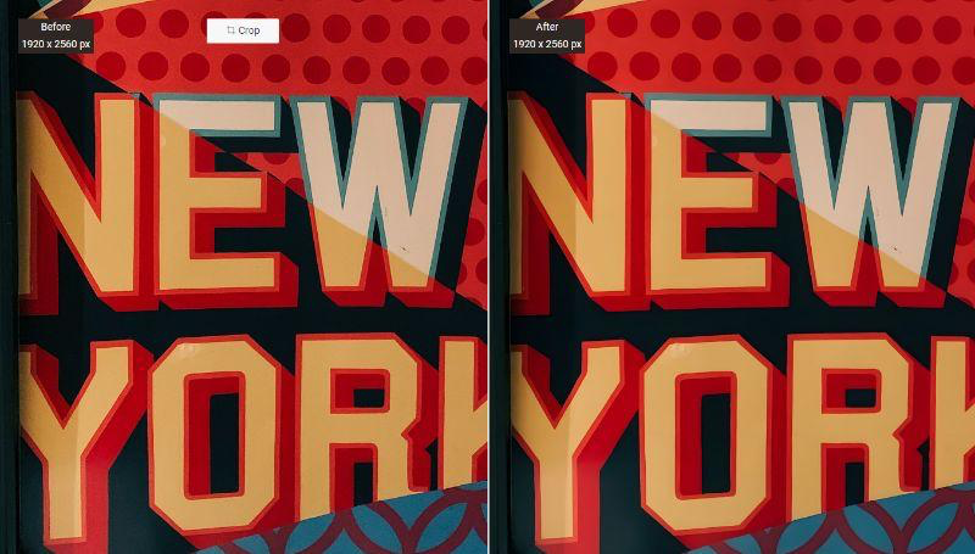 While VanceAI Image Sharpener is designed for more specific cases, you can use VanceAI Image Enhancer for basically anything and for any kind of image. VanceAI Image Enhancer is simply a tool that makes an image look sharper and better than before by using its algorithms to analyze an image thoroughly. After that, the tool automatically adjusts some factors of the image and adds subtle changes to it. You can actually find a lot of use from this tool. Continuing from the previous sections, images are something which are needed everyday and in high quality. Therefore, a tool like this becomes highly valuable and recommended for most users.
As a casual user, you may want to improve the look of some of your photos taken during traveling. The Image Enhancer can definitely do so and make the image compelling enough to be shared online via social media or any other community based platform. For professionals, the Image Enhancer can process multiple images at once in order to make them high quality. This also includes product photos for e-commerce websites.
4. Make Pictures Look Clean with VanceAI Image Denoiser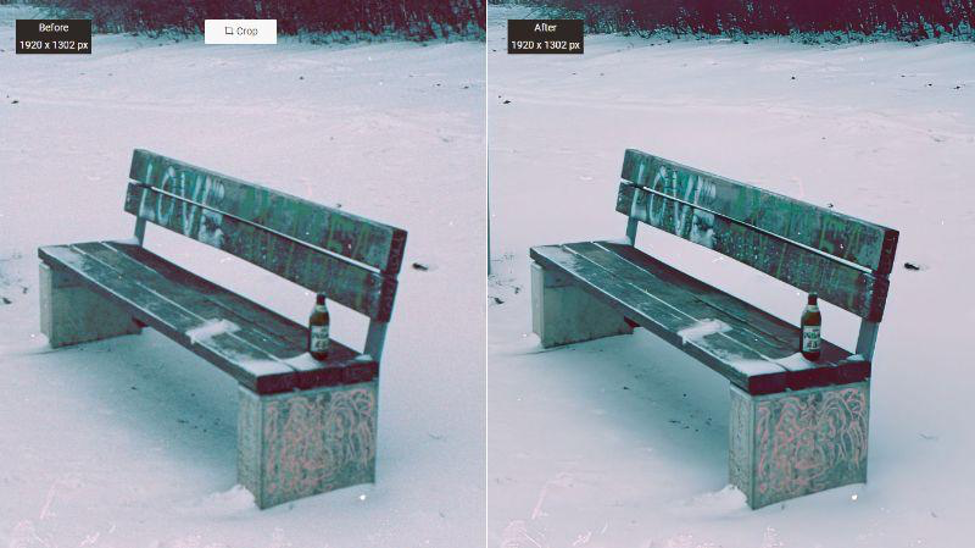 Besides blurry images, photos that have too much image noise or film grain can also cause it to look low quality and basically unusable. When it comes to dealing with image noise, VanceAI Image Denoiser is your best bet. With a single click, you can erase pretty much all of the image noise in an image. Apart from that, you could always go to the Workspace and adjust the level of sharpness and image noise removal you want from the tool before processing the image. Naturally, a certain level of image noise can also make an image look better, so VanceAI doesn't totally remove that option for users either.
Image noise usually happens due to some camera settings or modes. You can easily fix that by using this AI image denoiser tool without having to do anything yourself. From the example image given above, we can see that the Image Denoiser is able to make the image look clearer and sharper in terms of details.
5. Increase Image Resolutions with VanceAI Image Upscaler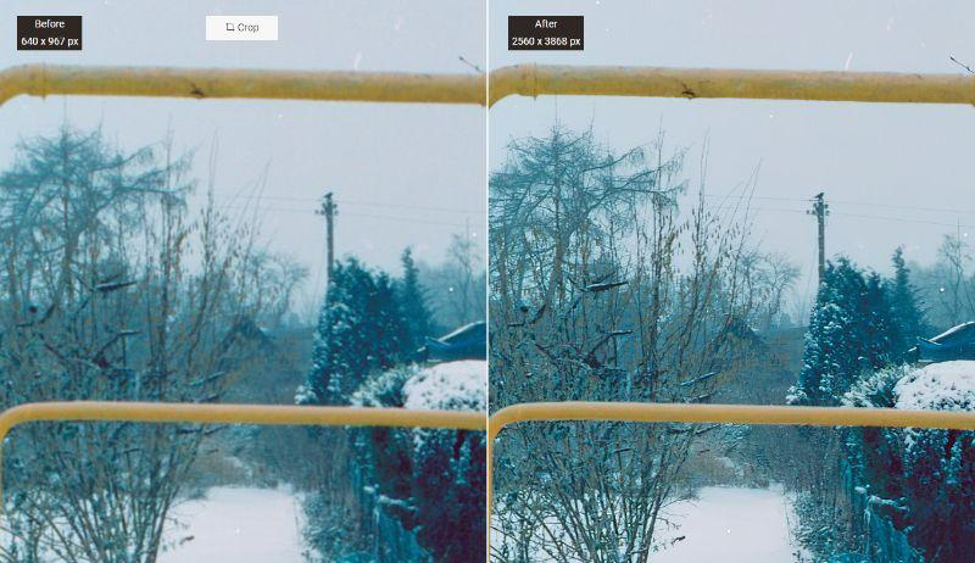 VanceAI Image Upscaler, as the name suggests, is the tool you should use for increasing image size while also improving on its quality. The tool can be compared to the Image Enhancer in that sense but the key difference is that the Image Upscaler actually does upscale images whereas the Image Enhancer does not. You can use this tool for creating wallpapers and banners out of small images. There is an abundance of photos that you can find on Google itself but there's no guarantee that they will be of the right size. So, you can simply upscale and enhance them with this tool easily instead of searching for the perfect image.
The tool usually processes the image within a few seconds only and you can also batch process a bunch of images to make multiple wallpapers, banners, cover images, and more. The example image here was upscaled 4 times its size and is still able to maintain its quality, as you can easily discern from the yellow gate and the background.
6. VanceAI Photo Editor for Making Adjustments to Images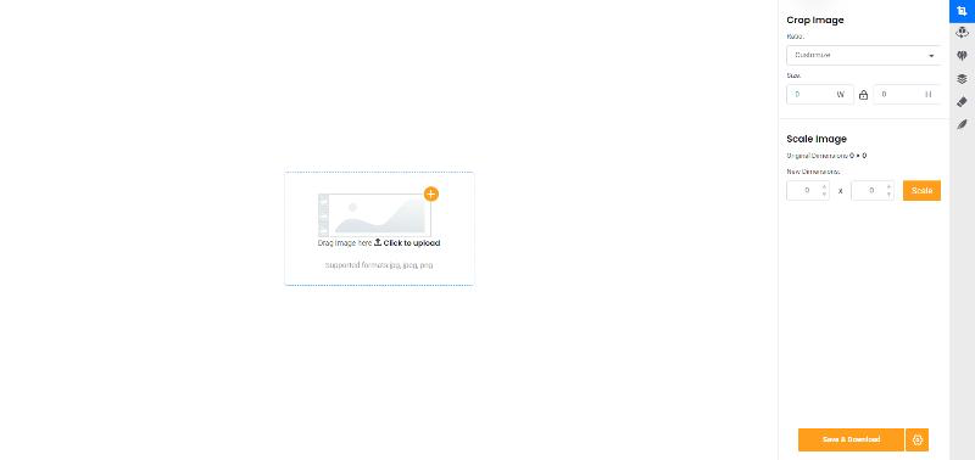 VanceAI Photo Editor is the tool you can use for having access to image editing features for minor editing. In this tool, you can find other tools such as image cropper, image enhancer, image rotator, and more. When using this tool, you can simply click on the right side to access any of the features you want to use. When it comes to the image cropper, you can crop an image through the ratio option, which crops the image automatically according to the pre-made sizes of Twitter header image, Facebook posts, Instagram stories, and more. So, if you use social media actively, then you can alter your images easily with this. Otherwise, you can always manually crop images as well. Similarly, the other features offer both automatic and manual options for editing images.
7. Upscale and Enhance Anime Images with VanceAI Anime Upscaler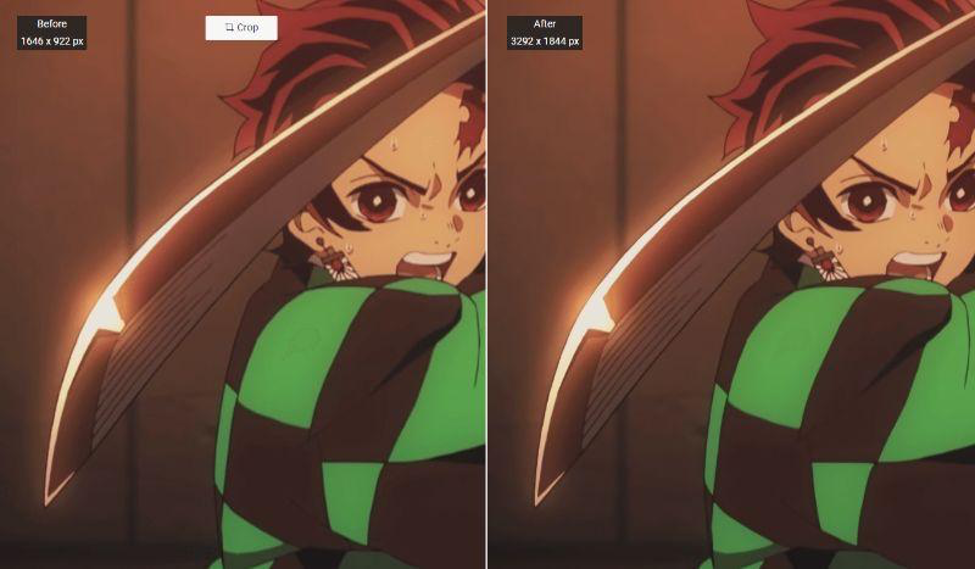 There are many types of images that are really popular and commonly used among fans and casual users alike. One of those types of images are anime pictures. With VanceAI Anime Upscaler, you can make sure that your anime images are a standout among others. That's possible by enhancing the quality of anime images and giving them subtle adjustments in order to make their appearance impactful. When considering the results given here, the quality difference is surely noticeable. The After image looks sharper and you can see the character in a better light due to the absence of image noise. Not to mention that the image is also upscaled to a huge size.
8. Restore Image Details with VanceAI JPEG Artifact Remover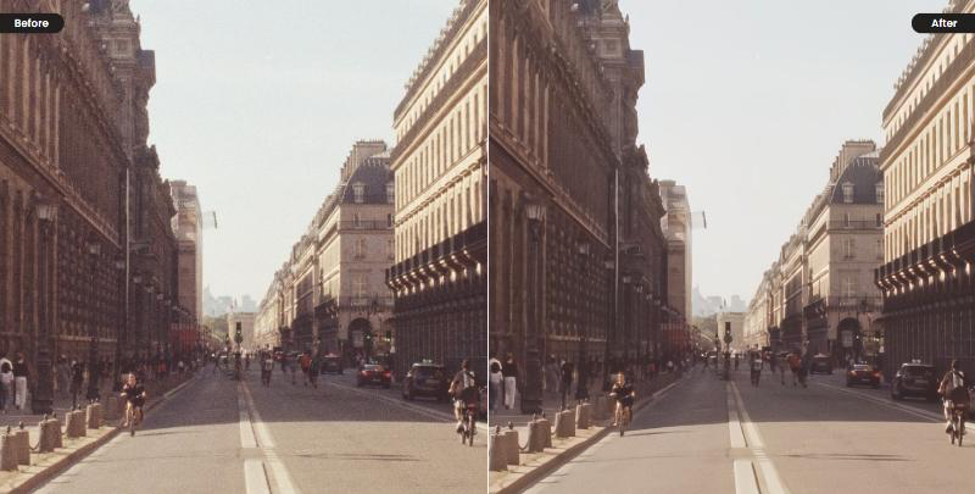 VanceAI JPEG Artifact Remover can be used for reversing some of the damage that usually occurs with lossy compression methods. Image compression is an important part of content creation for a website as it makes sure that the web pages aren't bogged down by large image sizes. Large image sizes slow down web pages by a huge margin. However, while compressing is important, so is to maintain the quality of the image. With this tool, you can restore details of an image. Moreover, the tool offers the additional feature of removing the blurs of such images, which is something common in such processes.
9. Improve Personal Photos with VanceAI Portrait Retoucher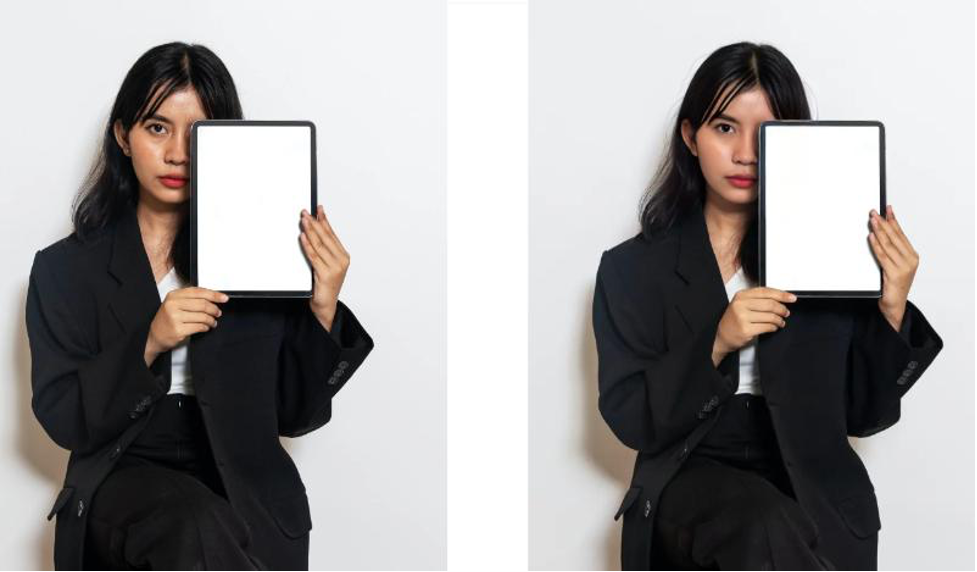 Portraits and selfies are inescapable. With such easy access to amazing smartphone cameras, people will naturally take photos of themselves for various purposes. Nowadays, portraits have started making an essential presence everywhere. They're used for social profiles as well as professional ones. A portrait tells a lot about you to someone. You can make sure your portraits are in top quality by using VanceAI Portrait Retoucher. In the Workspace, you can either enhance the quality of the image overall or choose the option to remove blemishes and similar from the portrait.
For this example image, we chose the option of removing blemishes and other similar aspects from the portrait. As you can see, the After image makes the portrait look clear and professional. If you don't believe in removing blemishes and other normal aspects of a face, you can instead enhance image quality.
10. Clear Out Haze with VanceAI Photo Dehaze

Haziness in photos is probably not as common as excessive image noise or blurriness, but it is nonetheless a known issue. You can use VanceAI Photo Dehaze to remove image haze and instead make the photo look clearer and more dynamic. When you upload an image on the Workspace, you can choose to apply automatic color optimization to the image before processing it. This will result in different outputs but it is worth trying either way.
By using the dehaze algorithm as well as the auto color optimization feature, you can clear out the image and make it look much better than before. Some images may even look artistic, which can be well-received or not by the users.
11. Make Images Efficient with VanceAI Image Compressor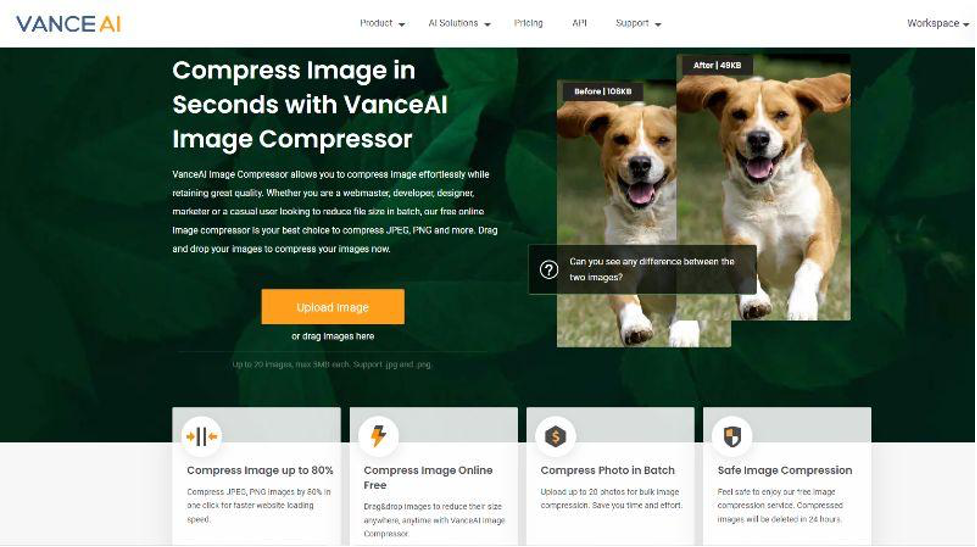 VanceAI Image Compressor is an easy tool to understand, as it has only one job. It is responsible for compressing images as efficiently as possible but this algorithm is designed in a way that makes it maintain image quality even after compression. In other words, this is a lossless image compression tool rather than a lossy one, similar to JPEG compressions. You simply have to upload an image and wait as the tool compresses the image for you. Additionally, you can compress multiple images together as well.
12. Make Perfect Passport Photos with VanceAI Passport Photo Maker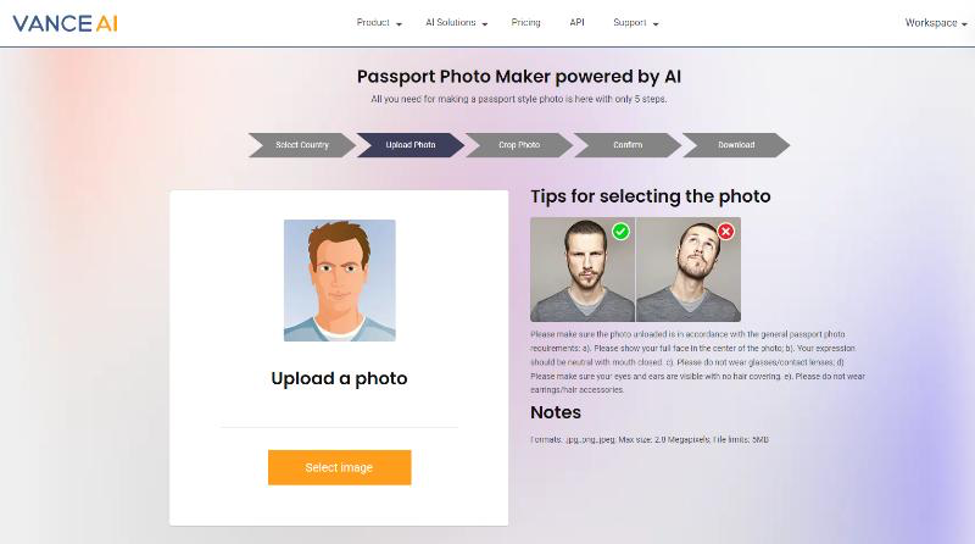 Making passport photos can be time-consuming. Among many people, the issue isn't just about having to go somewhere to take photos, it is also about having to wait for the photos to arrive. This whole process doesn't sound appealing when you can create passport photos within a few minutes by using a tool such as VanceAI Passport Photo Maker. In this tool, you can upload an image and make important settings beforehand. For instance, you can select the required country and the tool will automatically adjust the dimensions of the photo. Furthermore, since the tool has a background remover built in, you can replace your background with a solid white background within the tool itself.
VanceAI Pricing
Creating an account on VanceAI will result in you receiving 3 image credits for free every month. Besides that, you can opt for paid subscriptions if you need more usage.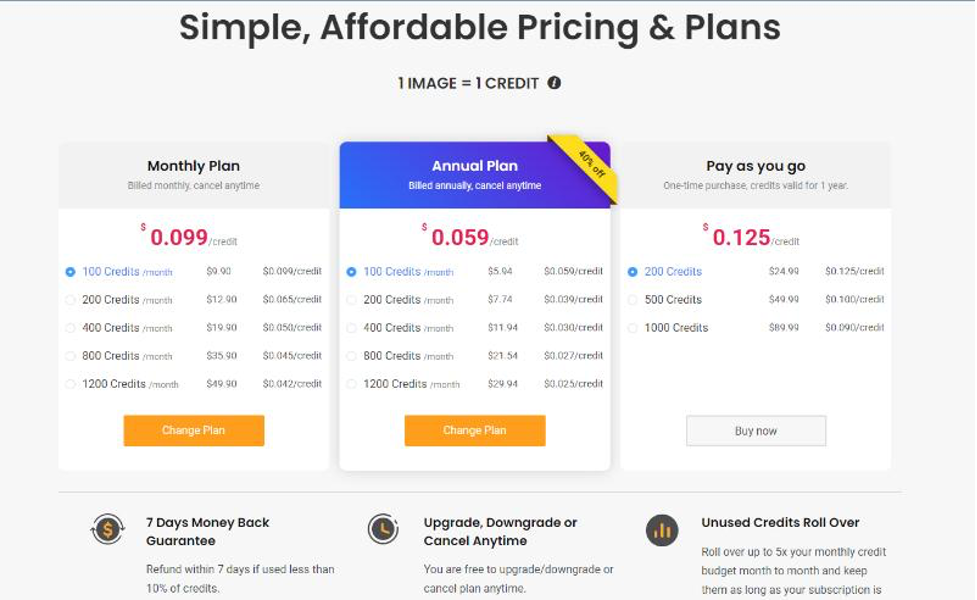 The annual plan costs $5.94 per month for 100 image credits and extra features. Meanwhile, the monthly plan costs $9.90 per month for 100 image credits. Or, you could also just purchase 200 image credits for $24.99. All paid plans can be upgraded in order to get more image credits per month.
If you want to go for the VanceAI API package, you can get started with the $39.8 plan that offers 1000 image credits per month. This can be upgraded to get 10,000 image credits per month for $398.
VanceAI Alternatives
One of the strengths of VanceAI is the variety that it offers to users. This continues in VanceAI alternatives as well. VanceAI alternatives are meant as substitutes for their subsequent VanceAI tools. These alternatives can do the basic work and are free to use but do not have any of the exclusive VanceAI features. For the Image Enhancer, you can use the alternative photoenhancer.ai. As for the Image Upscaler, you can go to image-upscaler.com. VanceAI also offers VanceAI JA, which you can consider as the VanceAI platform alternative in the Japanese language. Besides image editing, VanceAI provides a free of cost, online tool for PDF processing with the name of VancePDF.com.
Final Verdict
When it comes to photo editing, VanceAI Productivity series and the VanceAI platform itself are one of the best places you can go to. WIth so many image editing tools at your disposal, which are all AI powered, you can create image-based content easily and quickly. Even for casual users, tools such as image enhancer, image compressor, passport photo maker, etc. can be pretty handy. To top it all off, VanceAI is easy on the budget as well. You can get started with as little as $5.94, which is something that cannot be said for many online and software photo editing applications.