Did you know that approximately 85% of businesses use video marketing? According to a study conducted by Wyzol, 87% of businesses admit that using video as their primary marketing tool has increased traffic to their sites and helped them to popularize their brands.
However, poor-quality videos will have an unimpressive return on investment. Your primary intention when making your video should be to evoke the emotions of the consumer, which helps them to remember your product vividly.
As such, we recommend that you use a whiteboard video maker to make the best quality videos for your business. If you're confused by the many options in the market today, then this guide is for you!
What Is a Whiteboard Video Maker?
A whiteboard video maker is a software program that has unique tools that enables you to make professional videos even when you have limited coding/technical knowledge.
Such tools come with ready-to-use templates and visual effects. As such, you'll only be required to select the templates to use and feed in your data. Even better, the software simplifies the process of making explainer animations.
8 Best Whiteboard Video Makers of 2020
1. Mango Animate Whiteboard Animation Maker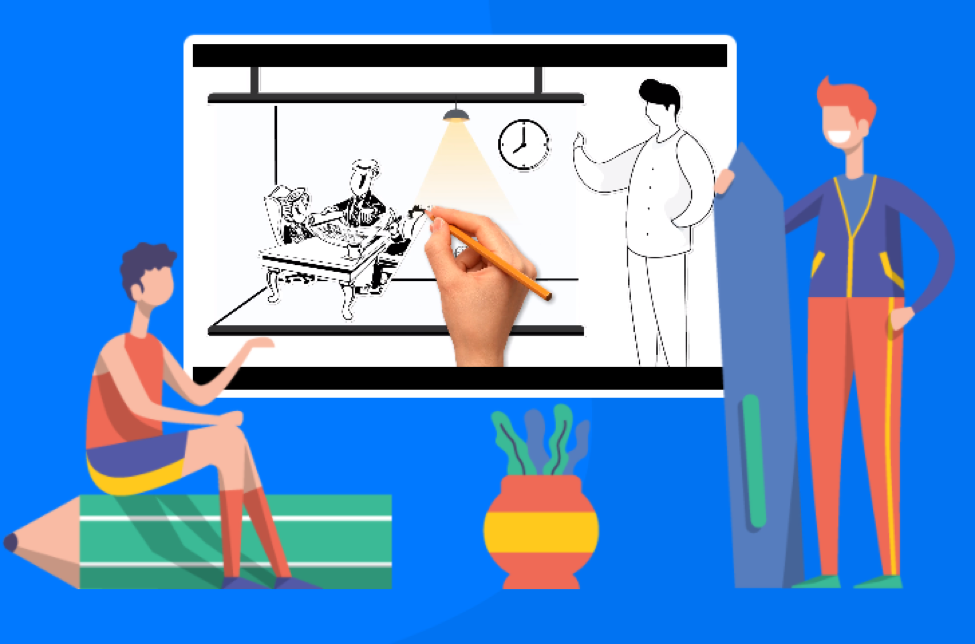 Mango Animate Whiteboard Animation Maker is a free and powerful whiteboard video maker developed by Mango Animate. It has many pre-built templates that are easily customizable to suit your needs and desires. It doesn't matter whether you're making a personal, educational, or a business video, the Mango Animate Whiteboard Animation Maker will help you achieve it in minutes.
Additionally, this software has many animation effects that help you to build highly engaging and captivating videos that'll leave an indelible mark in the mind of the viewers. You can access the media library and select the best characters, icons, and images to make an outstanding video.
Even better, the tool has a powerful voiceover that enables you to record your voice and customize it with the Mango WM. Also, you can select your ideal type of hand from the large selection of both male and female hands available. This ensures that you achieve a highly personalized effect on your videos. You can check an eye-catching whiteboard animation video made by Mango Animate Whiteboard Animation Maker here.
2. VideoScribe
This software is exceptionally easy-to-use and ideal for beginners. It has a rich library where you can find many templates, effects, and other dynamic options to make a captivating video. It has a drag-and-drop feature that enables you to choose any video element and position it strategically to increase viewers' engagement.
3. Animaker
This is an online software program that you can use to make all sorts of videos. It has an in-built library with unique images and text that'll give each of your videos a refreshing feel. However, this tool will only work optimally if you have flash. It has more than 15 facial features, 10 accessory slots, and 20 facial expressions. Additionally, you can add your voiceovers and lip-sync your characters to speak in your voice! This ensures that you get highly personalized videos. Animaker has a live video editing feature that helps you to make 4K quality videos and upload them into YouTube and other online platforms.
4. Renderforest
This is your ideal whiteboard video maker if you need to make logos and other engaging website elements. It has numerous templates that allow customization to achieve a personal effect on your business. You can use the tool to create product descriptions, education content, and scribble movies.
5. Animatron
This is a unique software program that enables you to make high-quality GIFs and infographics to pass valuable information entertainingly. It uses HTML5 technology, which is friendly for use by beginners. After making your videos, you can share them in different formats, including SVG, GIF, and MP4.
6. Rawshorts
This is an online whiteboard video maker that offers fluidic animation options. It enables you to convert text into videos in a few minutes. The software uses Artificial Intelligence to scan, analyze, assemble, and customize text before converting it into its best video version. If you need to add anything to the automatically generated videos, then you'll have access to its rich library of text, backgrounds, and other animation effects.
7. Doodly
This tool is especially useful when creating doodle videos. It has numerous templates and applies the click-and-drag customization approach. This makes it ideal for beginners. Additionally, you'll be able to customize voiceovers and include lots of musical tones from different genres.
8. Powtoon
If you want HD videos for use on YouTube and Instagram, then Powtoon is your ideal whiteboard video maker. It has many in-built animation tools and a variety of fonts and colors. Additionally, you can use royalty-free music to spice up your content. If you want more personalized content, then the tool allows you to import and customize MP3 audios.
What Are the Benefits of a Whiteboard Video Maker?
They are Highly Engaging. When using the software, you'll easily add surprises and use catchy backgrounds, which will keep your audience guessing the next move. This suspense helps in capturing their mind, thus eliminating any risk of boredom.
They are Ever Fresh. Unlike the ordinary talks and interview videos, whiteboard video maker is never predictable. You're never sure of what will pop within the next minute! As such, there exist a unique freshness that comes with every video.
They Create a Learning Environment. The software has a psychological effect on users. The presence of the whiteboard gives them a "back to school" feeling and instantly invoke their attention. This boosts their eagerness to listen to what you have to offer.
It doesn't matter the business you run, using a whiteboard video maker is a sure way of passing product information to your potential clients and increasing conversion.
The Bottom Line
If you need videos to engage your potential clients, then you shouldn't hesitate to invest in the best whiteboard video maker. The software offers multiple templates that are easy to customize. This enables you to make low-budget yet highly professional videos. This article has listed the best whiteboard video makers for 2020. Select that which suits your business the best and watch as you get incredible conversions.