The introduction of the iPhone 15 marks another milestone in Apple's commitment to innovation. Users have eagerly embraced the enhanced features and capabilities of the iPhone 15. However, many face the challenge of transferring their files from their old Android devices to the new iPhone 15. The prospect of navigating across different operating systems might seem daunting.
Yet, rest assured that the process can be straightforward with the proper guidance and the best app to transfer data from Android to iPhone. This article will unravel the step-by-step journey of moving files from Android to iPhone 15. With clear and concise instructions, we aim to simplify the process to transfer from Android to iPhone app.
Part 1: What are the Benefits of Using iPhone than Android
Before we discuss how to transfer files from Android to iPhone15, let's take a look at the benefits of using iPhone over Android devices. With the introduction of the iPhone 15, Apple once again raised the bar. This device has unique features and functions set it apart from other Android devices. Here are the reasons why the iPhone 15 is better than Android devices:
1. Seamlessly Integrated Ecosystem
Apple's hallmark lies in its ability to create a seamlessly integrated ecosystem across its devices. With the iPhone 15, you're not just purchasing a smartphone. You're entering a world where your iPhone effortlessly communicates with your MacBook, iPad, Apple Watch, and even your iMac. This unified ecosystem ensures that your files, messages, and apps are harmoniously synchronized.
2. Optimized Software-Hardware Synergy
The iPhone 15 exemplifies Apple's dedication to optimizing the synergy between its software and hardware. This combination creates a fantastic user experience. It makes things run smoothly, improves battery life, and impresses the camera. Android devices span a wide range of manufacturers and hardware specifications. However, Apple's approach allows for greater consistency and refinement.
3. Timely and Consistent Updates
Apple has an advantage in software updates because they control the hardware and software. iPhone 15 users can be confident that Apple will provide regular updates on time. It will ensure access to the latest features, security patches, and enhancements. Android updates are often fragmented because they depend on device manufacturers and carriers.
4. Privacy and Security as Cornerstones
Apple's commitment to user privacy and security sets the iPhone 15 apart. Through strict app checks and app tracking transparency, Apple gives users more control over their personal data. Apple has received praise for its emphasis on privacy, especially in today's digital security landscape.
5. Flourishing App Store Ecosystem
The App Store is still lively, with many creative apps that make the most of the iPhone 15. The Android ecosystem also offers an extensive selection. However, the App Store is well-known for its quality, security, and seamless integration with iOS. This makes the iPhone even more appealing.
Part 2: The Most Powerful and Blazing-Fast File Transfer Tool
Transferring your data from your old Android device to your new iPhone 15 has always been challenging. Enter Wondershare MobileTrans, the ultimate solution that empowers you to move your data quickly and simply. This tool goes beyond the limits of Android and iOS. It provides a solution that works on both devices, letting you easily move data between them even if they have different systems.
Time is essential, and Wondershare MobileTrans understands that. With its advanced technology, you can expect super-fast transfers that quickly move your stuff from your Android phone to the iPhone 15. This efficiency ensures you don't waste time waiting and can enjoy your new phone more.
Key Features of Wondershare MobileTrans
Using this versatile tool, you can transfer over 18 data types from one device to another.
When it comes to device support, Dr.Fone supports over 6000 Android and iOS devices.
With it, you can even transfer iCloud data directly to an Android device.
Steps to Use Wondershare MobileTrans to Transfer Data from Android to iPhone 15
Transferring phone data from one device to another is a simple chore for MobileTrans. Following are the detailed steps you need to learn how to transfer files from Android to iPhone:
Step 1: Choose Phone Transfer and Connect Devices
Begin by installing and launching Wondershare MobileTrans on your computer. Move to the "Phone Transfer" tab and click "Phone to Phone." Next, you must connect the old Android and the new iPhone 15 to the computer.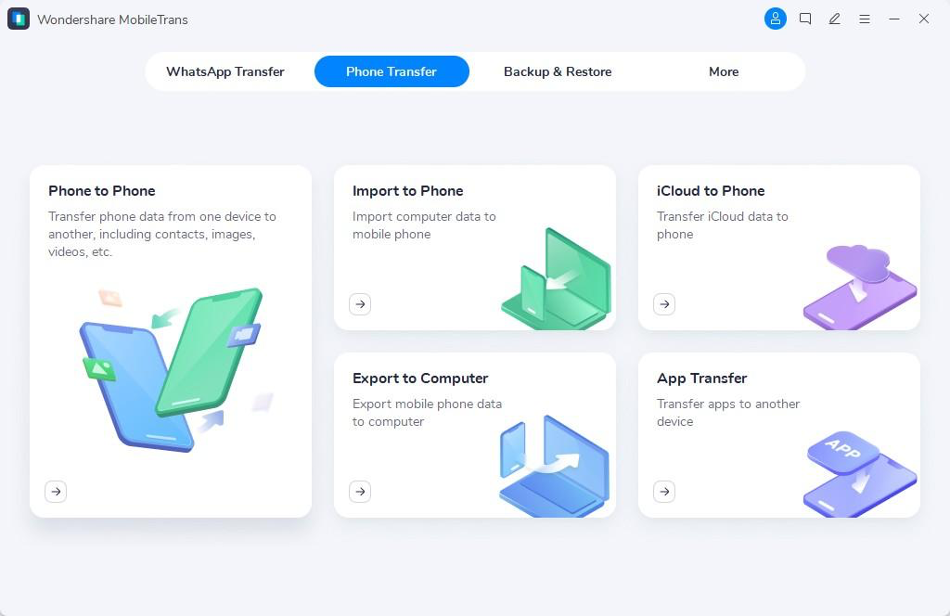 Step 2: Correctly Place Your Devices
MobileTrans will allocate different positions to both devices. You need to ensure that the old Android phone is selected as "Source" while iPhone 15 is "Destination." If they are opposite, use "Flip" to change the positions.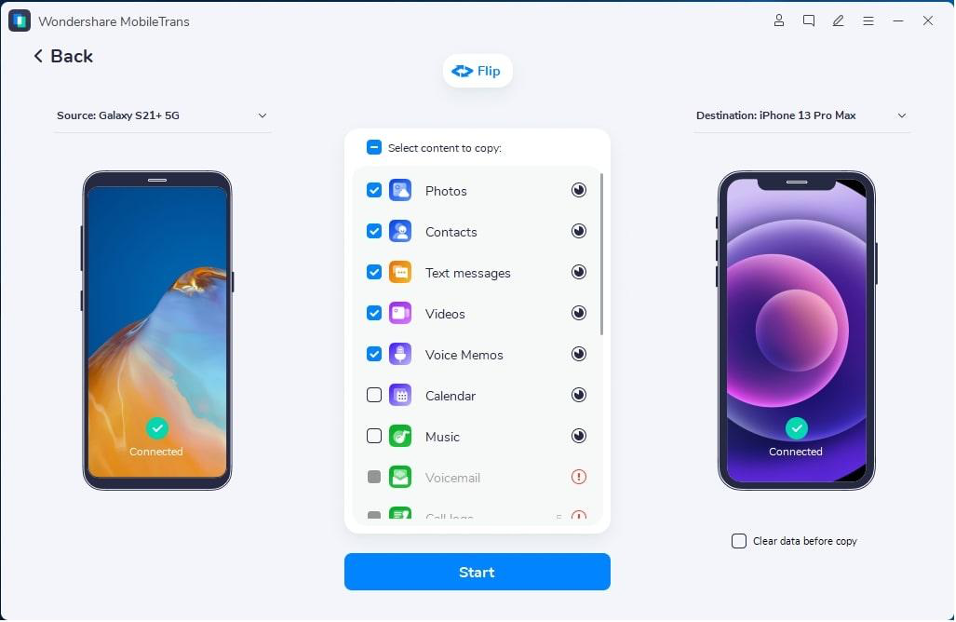 Step 3: Complete the Transfer Process
After confirming the Android and iPhone 15 locations, choose the data you want to transfer and click "Start." If you want to remove all data from the iPhone 15, tick the "Clear data before copy" box before pressing the "Start" option. Now, wait for the process to complete and ensure you don't move the phones.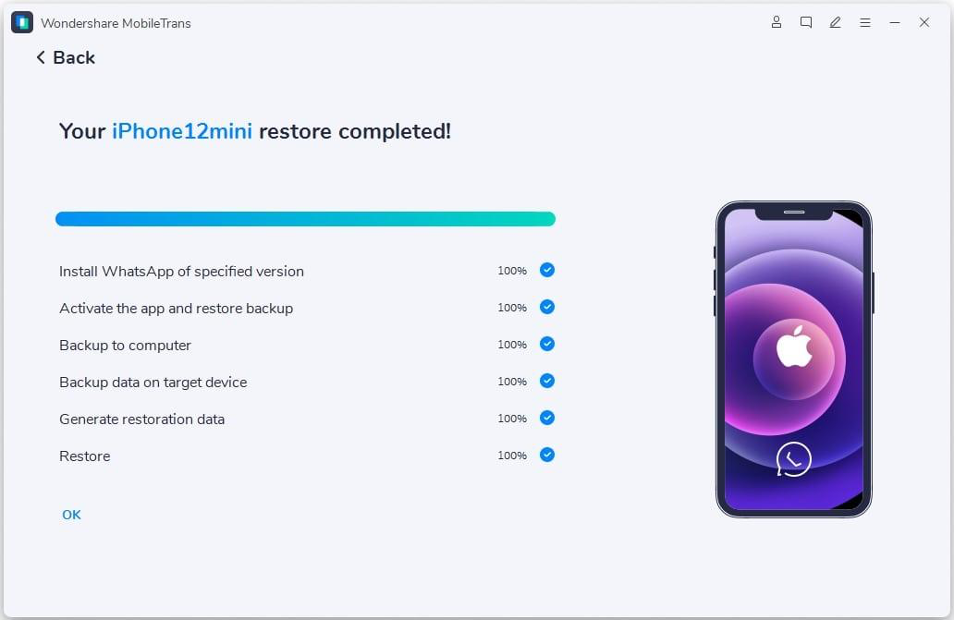 Part 3: User Experiences of Using Wondershare MobileTrans for File Transfer
1. "able to transfer whatsapp directly via laptop from phone to phone, both to iphone from Android, and Android to Android without using Google Drive backup! thanks!!!" – Girish (Trust Pilot)
2. "Great app, easy to use, works perfect with backup and restore of all data include whatsapp history, tested from Android to iphone twice and it's working perfect." – Nir Bar Natan (Trust Pilot)
3. " It's an amazing app! the instructions step by step must explain you how can do the transfer without problems.
Attention: you MUST follow exactly all steps or the restore don't work. I backuped and restored from a Samsung to Iphone all contacts, files, images, video and all whatsapp chat. Thank you!" – Tecnoprof (Trust Pilot)
Part 4: Tips for Successful File Transfers Between Android and iPhone
Many practical tips can ensure a smooth and successful transition. While Wondershare MobileTrans simplifies the process, these tips will minimize any potential issues:
Before transfer, ensure your Android device and iPhone 15 are running the latest software updates.
Take a moment to declutter your Android device. Delete any unnecessary files, apps, or old data that you no longer require.
Before initiating the transfer, creating a backup of your Android device is a good practice.
Ensure your iPhone 15 has ample storage space to accommodate the transferred data.
A stable power source is crucial during the transfer. Make sure both your Android device and iPhone 15 are sufficiently charged.
Part 5: Security Measures for Android and iPhone File Transfers
These days, people care a lot about keeping their information safe and private. When you move files from one gadget to another, there might be worries about how secure that is. However, Wondershare MobileTrans is designed with robust security measures. Its main job is to make sure your stuff stays safe while it's being moved.
This tool uses advanced protection methods to keep your data private. It's like putting a secret code on your files, contacts, and messages while they're being moved. This makes it impossible for anyone who shouldn't see your stuff to get to it.
Conclusion
In conclusion, transitioning from your trusted Android device to the iPhone 15 can be exciting and challenging. However, this journey becomes a smooth and exciting task armed with the right tools and insights. As you stand at the crossroads of change, Wondershare MobileTrans emerges as your guiding light. It offers a swift and secure bridge between your past and your future.
With its cross-platform versatility and lightning-fast transfers, MobileTrans ensures you can share files from Android to iPhone. It lets you easily carry your cherished memories, contacts, messages, and files from your Android device to the cutting-edge iPhone 15.