Getting a new phone is always a source of joy for users. However, the demanding process of data transfer can soon turn that joy into despair. Data transfer can prove especially hard when different platforms are involved, such as shifting data from Android to iPhone. When apps like WhatsApp are involved, it also makes shifting important chats and other data important.
Luckily, there are several fruitful methods you can try to make cross-platform data easier for you. In the following guide, you can learn about the effective ways to help you transfer WhatsApp data from Android to iPhone 15 or other models. Discover Apple's native feature for Android to iOS transfer, along with the third-party tool Wondershare MobileTrans to help make the process easier.
Part 1: Can You Directly Transfer WhatsApp from Android to iPhone Using Google Drive?
Were you considering using Google Drive for WhatsApp transfer between Android and iPhone? Unfortunately, this is not possible due to a number of technical reasons. For starters, WhatsApp for Android and WhatsApp for iOS are developed for two different OS. These platforms differ significantly in their storage mechanisms and security protocols.
Moreover, the two platforms use different cloud storage services. Android data is typically backed up on Google Drive, while iPhone uses iCloud for WhatsApp backup. Several other restrictions prevent direct Google Drive transfer between Android and iPhone. WhatsApp data is encrypted using security keys, which are unique to individual devices.
Unlike Android, other security restrictions prevent iOS from allowing direct access to system files and data from outside apps. Due to these technical limitations, WhatsApp does not provide a direct method for transferring WhatsApp data from Google Drive to an iPhone.
To transfer WhatsApp data between Android and iPhone, you'll need to use third-party tools or services that can bridge the gap between the two platforms. Keep reading to discover the top tools that can help out with this.
Part 2: What are the Possible Ways to Transfer WhatsApp between Android and iPhone
There are multiple ways to transfer WhatsApp from Android to iPhone 15. However, it is essential to look for a reliable solution that can ensure data security. Below are the top two options you can use for this purpose:
Way 1: Move to iOS
Move to iOS is Apple's official solution for cross-platform data transfer. This trustworthy app allows users to quickly transfer data from Android to iPhone. The tool works with Android 5 or above and iOS 15.5 or above versions. You also need the WhatsApp version 2.22.7.74 or above installed on your Android and the WhatsApp iOS version 2.22.10.70 or above.
The app works when you use the same WhatsApp number on both devices. You will also need to connect both devices to the same Wi-Fi network and to a power supply. The Move to iOS app also requires a brand new iPhone or one reset to factory settings.
Once you have met the requirements mentioned above, you can follow the steps given below to move WhatsApp from Android to iPhone:
Step 1: If you are using a new iPhone, start it up using the instructions on the screen to access the "Apps & Data" screen. If you are using an old iPhone, factory reset it from the settings. Then, choose "Move Data from Android" from the list and press "Continue." You will receive a code to access the Move to iOS app on your Android device.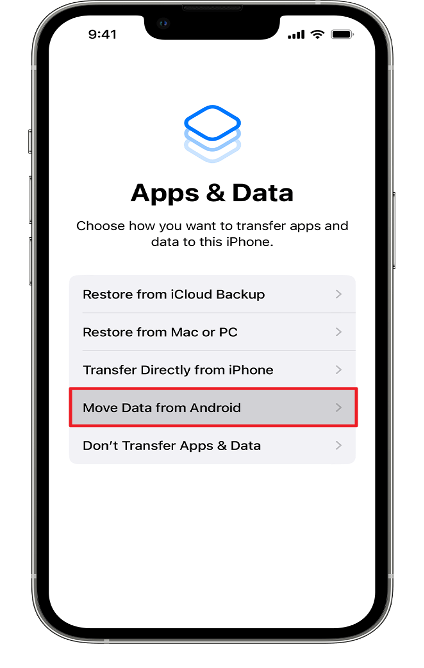 Step 2: Install the Move to iOS app on your Android and launch it. In the proceeding screen, hit "Continue." Then, type in the code received earlier on the iPhone. After establishing a successful connection between the two devices, locate the "Transfer Data" option in the app. Choose "WhatsApp" from the list, then tap "Continue."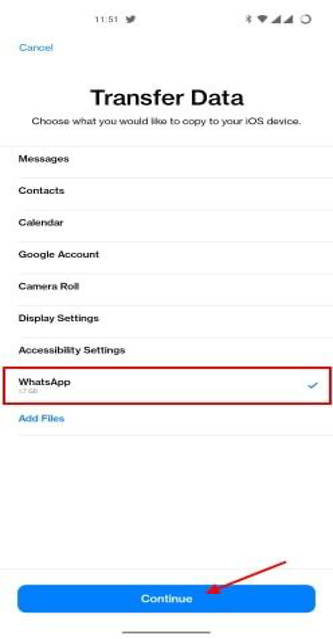 Step 3: You will then be redirected to the WhatsApp app with the "Move chats to iOS" option visible on-screen. Tap "Start" and wait until the data is prepared for transfer. Once it's done, click "Next" to begin the transfer.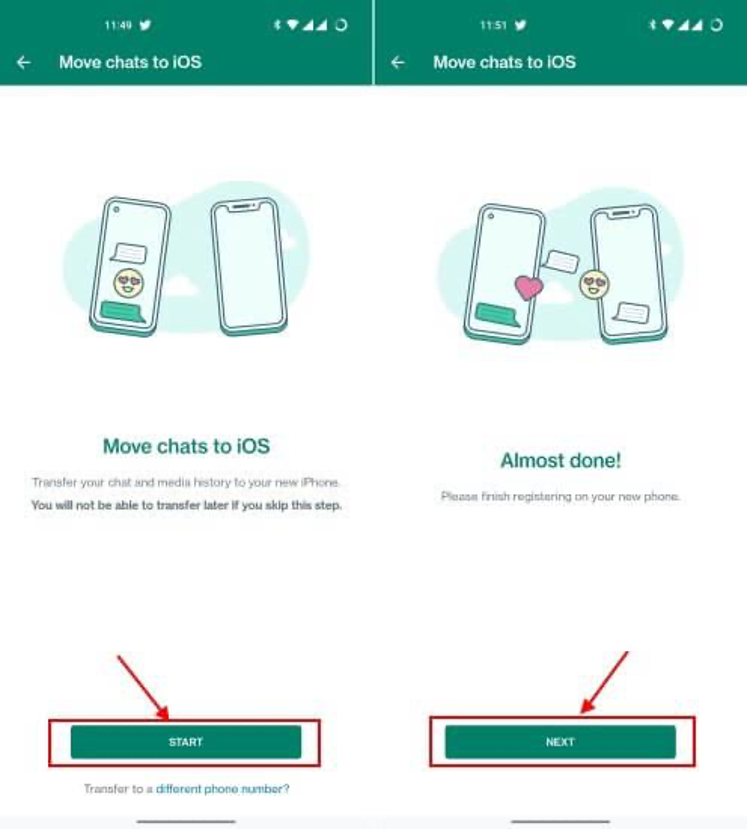 Step 4: Now install and launch WhatsApp on your iPhone and start configuring the "Move Chats from Android" feature on the screen. Hit "Start" and grant the permissions needed. After receiving the WhatsApp data, tap "Done" to finish the WhatsApp transfer process.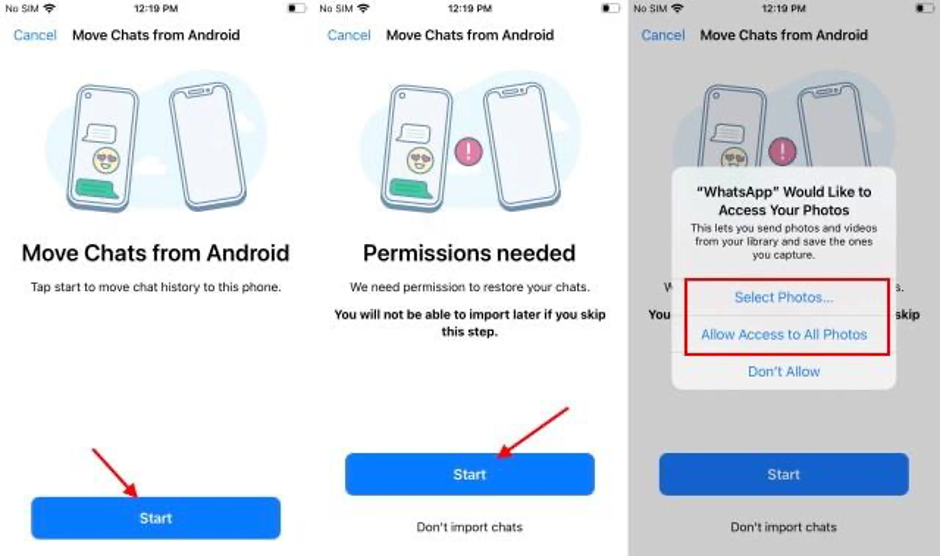 Way 2: Wondershare MobileTrans
While Move to iOS is a secure way of WhatsApp transfer, it has limitations. If you want a quick and easy alternative, you can try a third-party tool such as MobileTrans.
MobileTrans by Wondershare is a reputable data transfer tool available for Windows and Mac computers. MobileTrans WhatsApp Transfer tool enables users to effortlessly migrate data across different platforms. With a user-friendly interface and widely supported devices and files, MobileTrans is one of the best options when it comes to efficient data transfer.
Key Features of MobileTrans
Strong File Support: MobileTrans offers strong support for a wide range of file types. You can easily transfer messages, media files, stickers, emojis, locations, documents, and other data.
Fast Transfers: MobileTrans offers an impressively high speed when it comes to WhatsApp transfer. The tool allows up to three times faster transfer speed compared to wireless WhatsApp transfer.
Restore Deleted WhatsApp Data: The tool enables users to recover deleted data on WhatsApp. With a few simple clicks, you can retrieve accidentally deleted chats on your phone using MobileTrans.
Export WhatsApp Messages: MobileTrans also allows users to save their WhatsApp chats as PDF or HTML files. This can help you keep an exported file of your cherished messages for easy viewing.
How to Transfer WhatsApp between Android and iPhone Using Wondershare MobileTrans
You can use the following step-by-step guide for effective WhatsApp transfer from Android to iPhone or vice versa using Wondershare MobileTrans:
Step 1: Open MobileTrans WhatsApp Transfer
To start the process, install MobileTrans by Wondershare on your computer. Launch the tool and choose the "WhatsApp Transfer" tab from the available options. Go to the "WhatsApp Transfer" module and select "Transfer WhatsApp messages."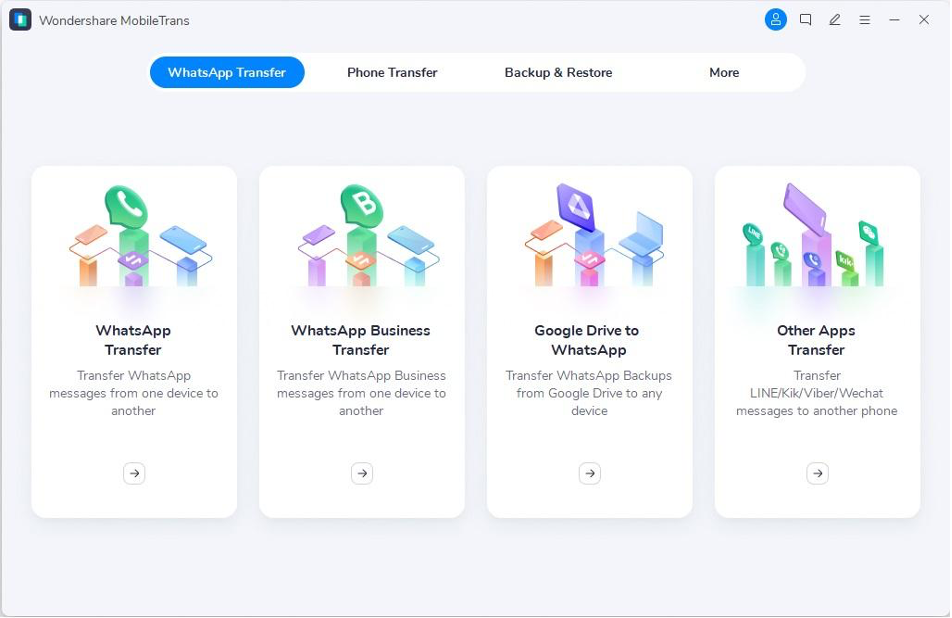 Step 2: Connect Your Android and iPhone
Now, use an original USB-C cable to attach both the Android and iPhone devices to your computer. This will result in the automatic detection and loading of WhatsApp data on MobileTrans.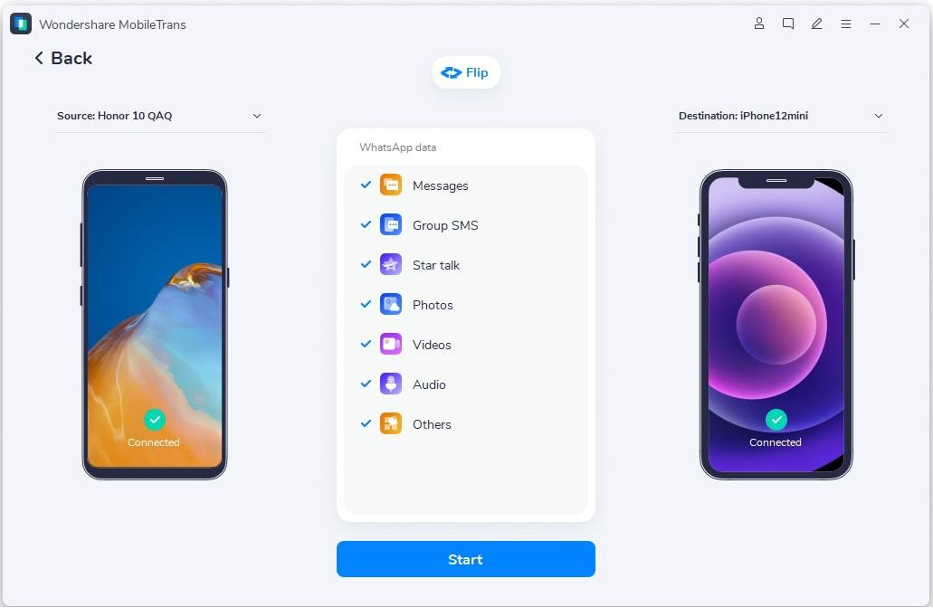 Step 3: Move WhatsApp Data to iPhone
You will now see your devices on display on the screen. You can flip the source and destination phones if the order is incorrect. Then, hit the "Start" button to initiate the WhatsApp data transfer. Once the process is complete, you can access your WhatsApp messages and other data on your destination device.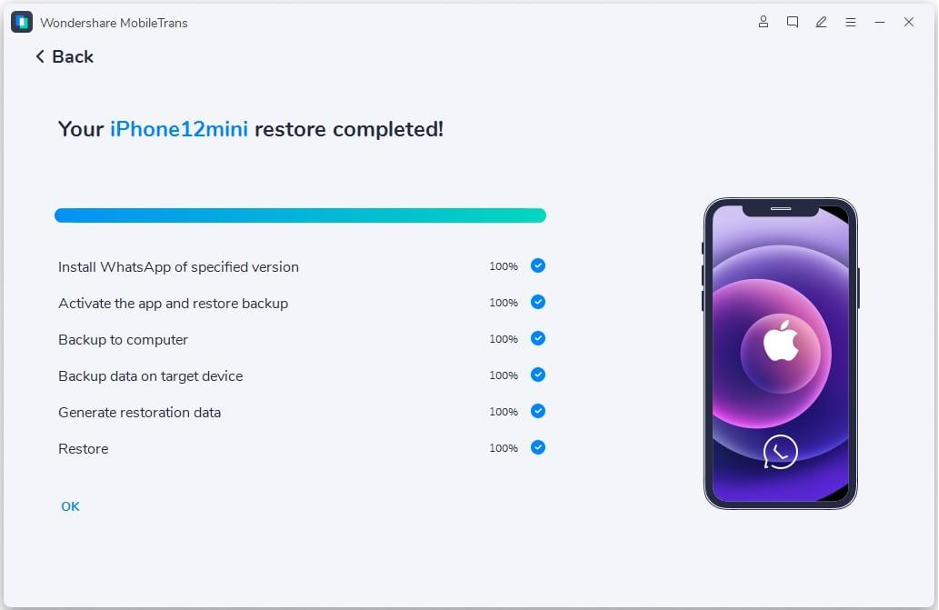 Part 3: Detailed Comparison Between the Two Possible Ways to Transfer WhatsApp Data
Move to iOS and MobileTrans WhatsApp Transfer tools are both great options. For a more detailed insight on their capabilities and limitations, consider the comparison table below:
| | | |
| --- | --- | --- |
| Metrics | Move to iOS | MobileTrans |
| Transfer WhatsApp to Android | No | Yes |
| Merge WhatsApp Messages | No | Yes |
| Restore Delete Data(Android) | No | Yes |
| No Need to Factory Reset | No | Yes |
| Export WhatsApp Chats | No | Yes |
| Backup & Restore WhatsApp | No | Yes |
| Supported WhatsApp Version | Version 2.22.15.11 beta or above | All Version |
| Supported iOS Version | iOS 15.5 or higher | iOS 6 or higher |
Conclusion
In today's data-driven world, having constant access to important data is crucial. Shifting to a new smartphone can cause a bump in this access. Luckily, apps such as Move to iOS and Wondershare MobileTrans are at your disposal. You can use these tools to transfer WhatsApp quickly and easily across devices.