Custom curtains are stylish and contribute significantly to the setting and tone of your décor. There are several fabric options, and each creates a distinctive look.
Each fabric has its unique features, benefits, and shortcomings. Choosing fabrics that are too light can make your space look unfinished, and too heavy fabrics can make it lackluster.
Important Considerations for Choosing the Best Fabric for Curtains
Generally, your fabric choice should depend on your needs and the style you want to achieve. Important things to consider when selecting curtain fabric are texture, color, and price.
Also, establishing the function of the custom curtains in your room will guide you in choosing the perfect materials. You will find many fabrics within your budget without compromising on the aesthetics of your décor.
So, how do you choose the best fabric for your custom curtains? What are the critical factors to consider when choosing? This post provides answers to your questions.
Tips for Choosing the Best Fabric for Your Curtain
Before spending money on window treatments, you must know what you want. Here are some tips to help you make an informed choice.
#1: The Tone of your Decor: Formal Tone vs. Casual Ambiance
Do you want to set a formal tone in your space or a casual atmosphere? If you have a formal-looking décor in mind, then draperies are ideal. They are heavier than informal-looking ones and hold a distinct charm. Drapes can fold and pleat elegantly, thanks to their draping ability.
They are a preferred choice for the sitting room, study, and other formal rooms in your home. Some of the best fabrics for draperies are heavy silk-textured weaves, brocade, damask, jacquard, and velvet. Alternatively, you can also choose heavy cotton, linens, or tightly-woven wool.
If you are aiming to achieve a casual atmosphere, informal curtains are the best choice. Informal curtains are made with lighter fabrics, such as sheer synthetics, chintz, broadcloth, and gingham.
They can have gathered, shirred, or tabbed tops and their beauty comes from their patterns, translucency, and bright colors. You can enhance the beauty of informal curtains with trims, embroidery, or ruffles.
While you can style them like drapes with elaborate tiebacks and pleated headings, their patterns and weight give them a more casual look. Informal curtains are great for sun porches, french doors, kitchens, bathrooms, and other high-traffic areas.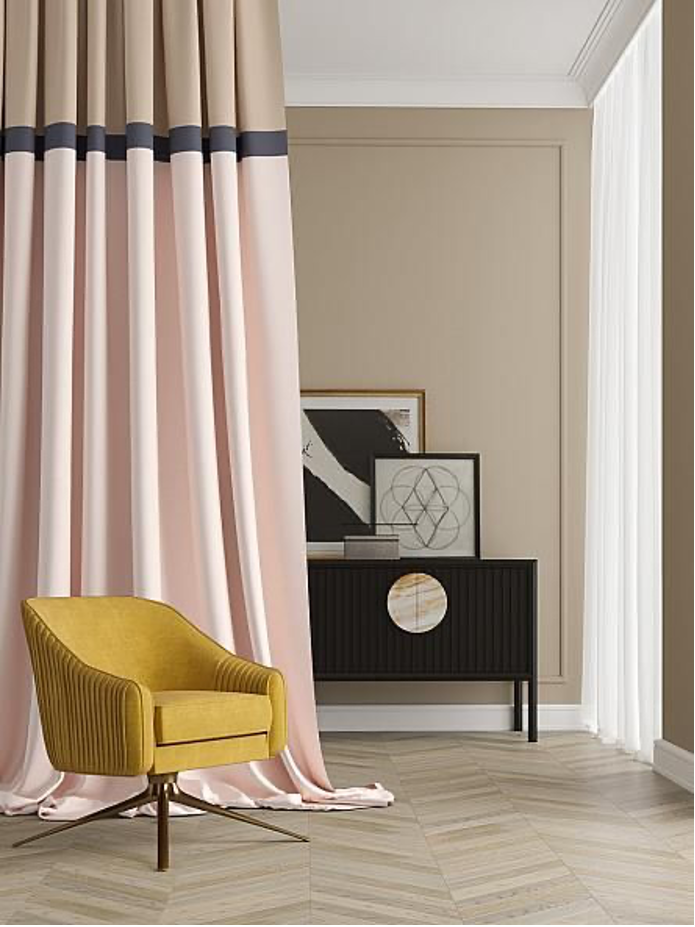 #2: Privacy: Complete privacy or Partial Privacy
There are three strategies for choosing curtain fabrics that offer indoor privacy. The first strategy is to opt for tightly-woven opaque fabrics to achieve complete privacy. You can check fabric opacity by holding the fabric up against a window and watching how light reflects through it.
Second, you can choose a decorative light fabric and use a tightly woven light-blocking synthetic or cotton lining material to achieve fancier window treatments.
The third strategy is to create layered window treatments using semi-sheer panels on the window and then layer it with heavier drapes. This will provide partial privacy for your space.
When it comes to choosing between complete and partial privacy, the function of the room will determine your choice. For instance, a bathroom window needs complete privacy, and your curtains must do justice to that.
#3: Off-the-Shelf vs. Custom Window Treatment
Many benefits are associated with custom window treatments. Firstly, whether it is custom curtains or custom roman shades, custom window treatments let you customize the dimensions to perfectly suit your window size, thereby creating a tailored look. Custom panels also come in limitless designs, from exquisite materials to header styles.
If you do not have the budget for custom window treatment, high-quality fabric is another option. You can create a perfect window treatment within budget with a top-quality material. Whatever choice you make, ensure you consider other décor elements in your space.
#4: Energy-Saving: Achieving a Cost-effective Interior
Your choice of curtain fabric can significantly affect your energy costs. According to reports, windows make up 10-30% of winter heat loss. That means if you choose energy-saving curtains, you can retain more heat and use less energy in keeping your space warm.
Fabrics with insulated backings can remarkably reduce drafts in a room. There are several benefits of blackout fabrics including their insulatory properties and also, they effectively block out 99% light.
#5: Lighting: Improve Natural Light vs. Minimize Exterior Light
You can boost the natural light in your space by using sheer fabrics, such as linen or cotton. If sheer curtains are not working or not blocking unattractive views, you can consider using light-catching fabrics that glitter or bounce off light.
Choose shimmers or sheers in bright patterns or light colors to leverage the most natural light in your space. If you want to minimize outside light, blackout fabrics are your go-to. Fitted blackout curtains can block out 99% of outside light. Examples of blackout fabrics are closely woven synthetic or natural materials.
These fabrics are about 25% more energy-saving compared to regular curtain fabrics. In addition to blocking out light and conserving energy, they also reduce external noise by about 40%.
Final Thought
Above mentioned five tips help you choose the best fabric for your curtain. You must consider the maintenance of your curtains before choosing the fabric and make sure to decide whether you want washer-machine-friendly or dry-clean curtains.
Do a little research on fabric types before choosing. Get an idea of what is required to maintain a fabric before choosing it for your curtains.