What to Expect From Online Beginners Meditation Kits & Courses
Feeling balanced, relaxed, and focused? Let's face it, balanced rarely makes the list. In addition to your parents needing a hand, your partner working long hours and your children needing your attention, how do you bring a little zen into your life? Firstly, you need to remind yourself that you are important – and there is a high chance your chakras need balancing. Attending a guided meditation course in person is not always viable. However, squeezing in a guided meditation mp3 audio recording, when you have downtime could be a possibility. The next question is, what should you expect from a guided chakra meditation kit? Is there any difference between attending a course in a studio or your bedroom?
What to Expect From a Chakra Balancing Guided Meditation
Whether you are attending chakra balancing guided meditations in person or online, your expectations should be almost identical. The only difference between the two will be the setting. If you are attending a course in person, you will be in a controlled environment that will be quiet and calming. If you are at home, find a time when the house is as quiet as possible. Remember that you can use headphones to help block outside noises. The best places to meditate are the bed or lounge – where you can lay down and comfortably stretch your legs.
The recording should ease you into meditation. It should give you time to relax your entire body and guide you through breathing. Breathe is fundamental to meditation and clearing chakras.
Tips:
Choose recorded meditations from teachers who hold regular classes.
For more powerful and long-lasting meditations, choose a meditator who has the skills to channel energy into their meditations. These will be more powerful and long-lasting.
If you can find a local teacher's recordings, this is even better. You can contact them by phone (or online) to ask questions and share your experiences.
A Little About Chakra Guided Meditations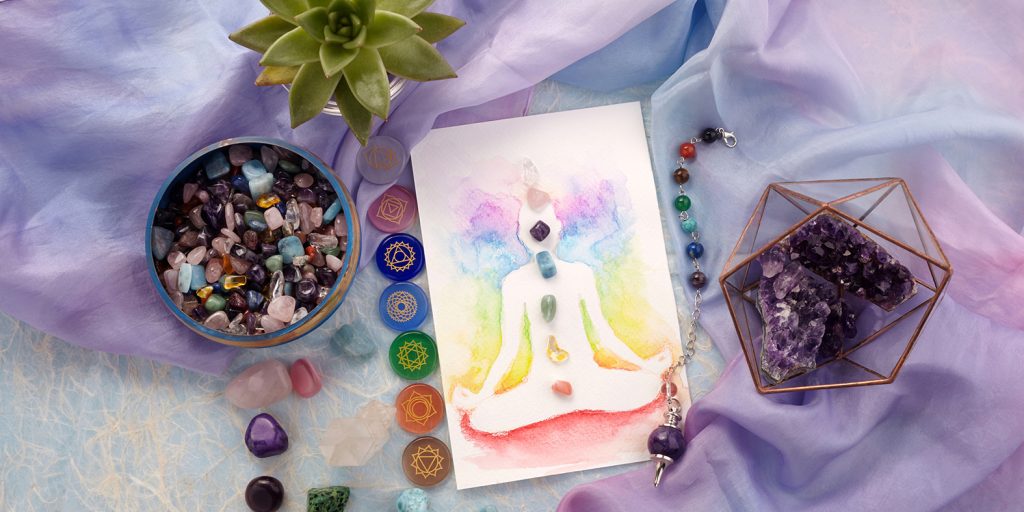 Chakra guided meditations are naturally colourful because they are linked to the colours of the human aura. Expect to be taken on a journey of swirling colours, glowing lights, and beautiful scenery. If you fall asleep, don't worry. You can easily re-start the beginners guided meditation kit course or continue from where you left off. Falling asleep is quite common! This is great if you do.
What are Chakras?
The chakras are tied to our physical bodies via the endocrine system and the major nerve plexus of the spine. Each chakra is connected to different elements of the body and mind.
Red – Root Chakra (Base of the Spine)
The root chakra must be balanced before the balance of the upper chakras can be achieved.
Orange – Sacral Chakra (Just Below the Navel)
Yellow – Solar Plexus Chakra (Abdomen)
Green – Heart Chakra (Heart)
Blue – Throat Chakra (Throat)
Purple – Third Eye Chakra (Middle of the Forehead Between Brows)
White (or Violet) – Crown Chakra (Top of the Head)
Whether you opt for a guided meditation course or dive deep into meditation, chakras and bioenergetic healing with crystals, there are reputable teachers and products available. It is time to give yourself permission to breathe, rest and heal.