Even though post-production tasks such as video editing, audio leveling, lip-synching, etc. are not that easy, with some efficient AI-powered editors, things can become fairly simple, and sometimes even fun. Unlike normal editing applications, the AI-powered tools use their sophisticated algorithms to predict the most suitable actions that the professionals/amateurs must perform, and then suggest and/or produce the output accordingly.
Part 1: Introduction
When AI-powered video editing programs are talked about, the first software that comes to mind is Filmii by Wondershare. Wondershare Filmii has an intuitive interface, and provides access to plethora of tools, effects, and templates that can help you edit and create engaging videos for your target audience. The multi-layered timeline approach enables you to make complex videos to meet industry standards, especially if you want to distribute the media for commercial gains.
Part 2: AI-Powered Video Editor Accelerates Video Editing Process
As mentioned earlier, an AI-powered video editing program automatically predicts the upcoming actions, and the output you are expecting. According to those assumptions, the overall post-production process is significantly expedited, thus allowing you to come up with the final outcomes much before the probable turnaround time.
As for Wondershare Filmii, this AI-powered application assists you in many ways including:
Part 2.1: Easy Media Manipulation
Filmii's efficient algorithms help you easily trim the unwanted portions of a media footage from the starting and ending parts, and even from anywhere in the middle. In addition, the software is also capable of highlighting the important instance that the clip may have.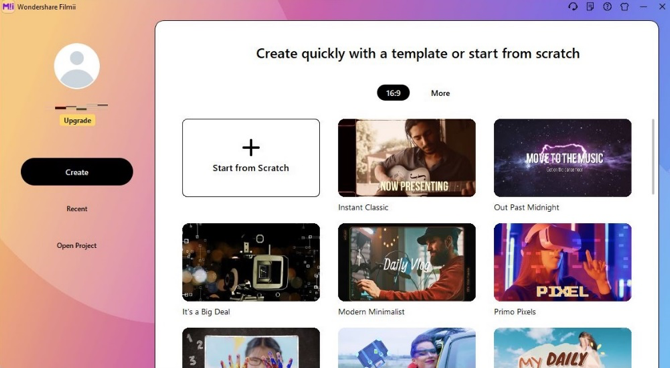 Part 2.2: Easy-to-Use & Intuitive Interface
With simple UI and self-explanatory buttons and icons, using Wondershare Filmii is extremely convenient to use even for those who are new to the post-production field. This is mostly useful for the vloggers from different domains such as food, travel, etc. to easily produce their videos without hiring any professional editors and paying them hefty amount.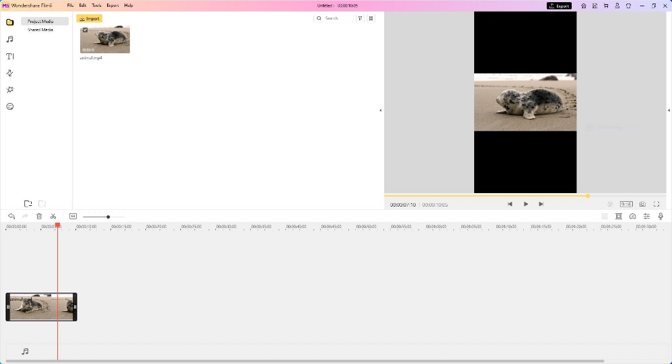 Part 2.3: Quick Video Generation
The 'Export' button is easily accessible from the top of the interface, and when clicked, the 'Export' window allows you to choose a destination folder and video resolution of the media you are about to make. Furthermore, you can even choose 'Facebook' or 'TikTok' category to export the clip for those platforms.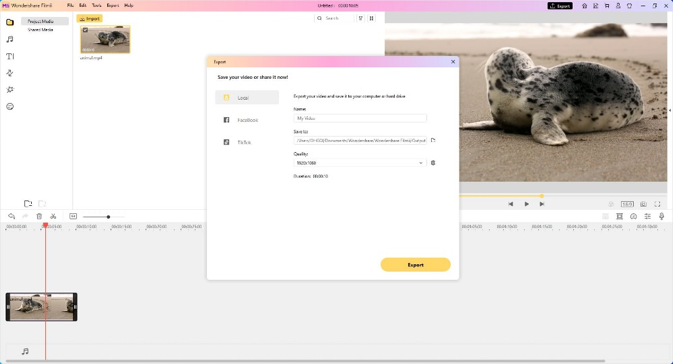 Part 2.4: Advanced Editing Tools for Template Customization
Although it is easier to create videos out of your recorded footages using any of the templates available within Wondershare Filmii, in case you are not satisfied with the layout, color schemes, or formatting, you can use the advanced editing tools that the app has for further customizations so the output could best fit your requirements. For instance, if a template has the title text in Red but your business brand uses Blue, it is easy to change the color in Filmii.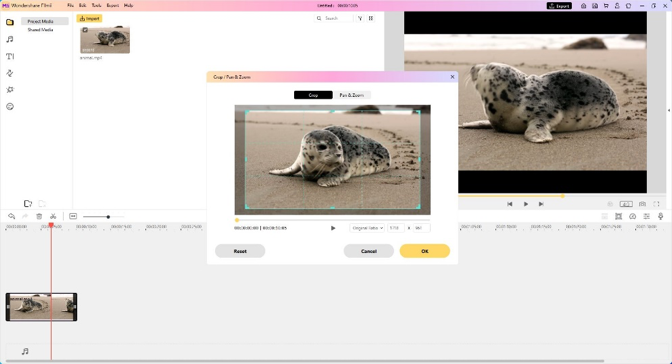 Part 3: Abundant Video Templates for Various Social Media
In addition to having several tools and elements to beautify your videos, Wondershare Filmii is also equipped with plethora of templates that have been preconfigured to comply with various social media platforms. For instance, if you want to post a video on Instagram, Filmii allows you to choose 1:1 aspect ratio that automatically adjusts the source footage accordingly. Likewise, to publish a recording on Tik Tok after editing, you can choose 'Tiktok' from available options to start with.
Nevertheless, the default aspect ratio is 16:9, and the main window that also works as a template library is populated with the of plenty of video templates. You can pick any of them, and customize the default settings as per your requirements.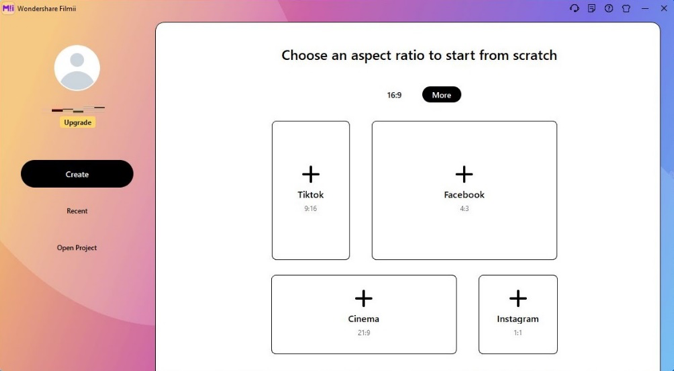 Part 4: Pros & Cons
As it is with every object, Wondershare Filmii also comes with unlimited number advantages and a few disadvantages. These pros and cons include:
Pros
Intuitive interface
Advanced editing tools
Plenty of pre-built templates to start your projects with
Pre-defined presets to make your videos compatible with some of the most popular social media platforms
Multi-layered timeline
Easy exporting options
Cons
Not available for Mac computers
Paid subscription is needed to unlock some of the highly advanced features
Conclusion
With AI, many applications are now able to perform most complicated tasks quickly and without any hassle. Even the post-production tools are not left behind, and with AI integration and the advanced algorithms, programs like Wondershare Filmii can help you produce professional videos with least intervention, and without having in-depth technical knowledge.