Organization can be a way of life and made easier simply by using the technology around you. Here are 4 tips to utilize tech to become more organized and productive.
Get the Right App
Organize your apps in a way that they don't overlap with each other. The more a certain app does the more it's useful for your daily needs. There are plenty of apps available however one app stand out with many important features which are useful in daily life
Note Daily Notes is a notepad app, scanner, and list app in one. It's a good example of an all-in-one app you can download on your phone to make your life easier. Aside from those functions, you can set it to remind or to create a to-do list, or even as a planner.
Your Camera is More Than Just for Selfies
Your camera can be a visual reminder of things you want to make a mental note of. An example is when you want to remember where you parked or taking a snapshot of your paper grocery list in case it gets lost. Using it and accessing your photos is simple and lets you get more done.
Scan Documents Using Your Phone
Technology and apps in particular have evolved to being all-in-one devices. Your smartphone now functions like a computer, a cell phone, and even an assistant when your hands are full.
Gone are the days when you need a scanner to digitize documents. Simply download a document scanner app, then point your camera at the object and a file will be created.
Create a digital copy of your documents or expense receipts, snap a board any photo. You can edit it within the app insert it into any note and share it as a PDF.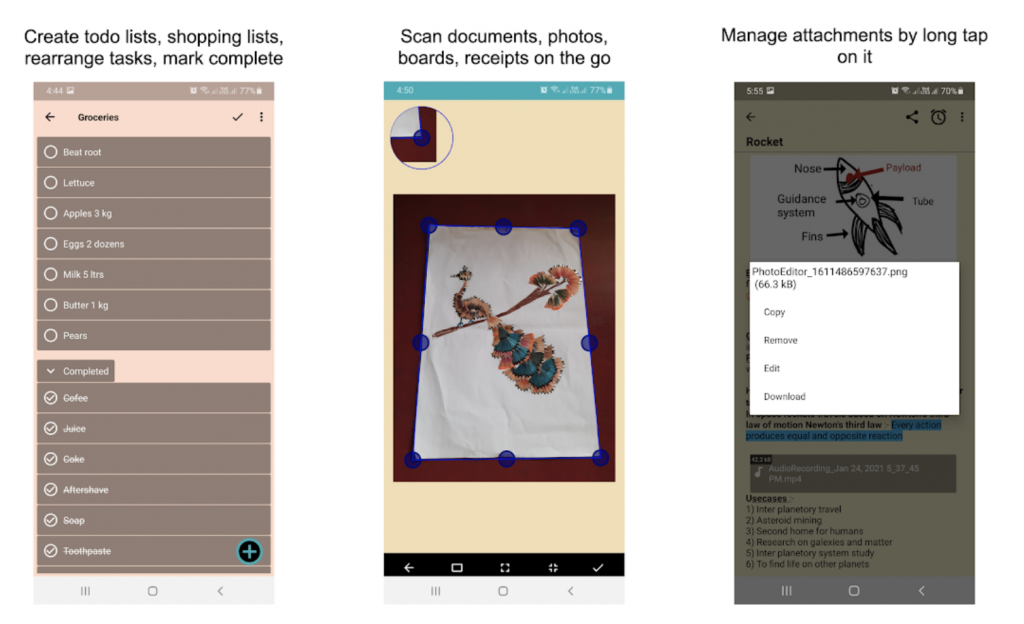 Make It a Habit to Create a List
Instead of writing it down on paper you can just use an app on your phone and make a task list. This can be for everyday matters, for work or just general purpose.
A list will make you more productive and give you a nice boost in confidence whenever it's completed. Your kid's birthday is coming, you want to do shop for groceries then create a list so that nothing is missed and mark it done when purchased those items
Categorize you notes
Create a notebook for your desired category and store related notes in that. It will help you to find the info or notes easily when needed. An example includes My Ideas, Career plan, Trip Plan, Kid's homework. Reading list, Finance, Office todo, etc
Sync periodically
Always do periodic sync so that all your data is backed up on the cloud in case the device is lost or you are changing your phone, you can just log in with the same Gmail account and restore all your data on a new phone. 
Record a conversation
You are watching tv or attending a meeting and find an interesting conversation so that you can listen to it later. Just record that conversation with a single tap.