Welcome to the transformative world of AI-powered essay editing, where precision meets efficiency. In the realm of crafting compelling essays, technology has become an invaluable ally. Wondershare PDFelement takes center stage as a standout essay editor, seamlessly integrating artificial intelligence to elevate your writing experience.
No more tedious revisions or cumbersome proofreading. Wondershare PDFelement intelligently enhance your writing, ensuring clarity and coherence. As we navigate the landscape of digital writing tools, discover why Wondershare PDFelement stands out.
Part 1. PDFelement as an AI-Powered Essay Editor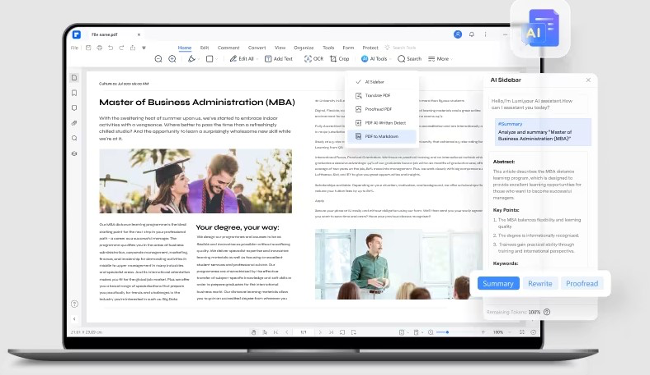 Wondershare PDFelement is a versatile PDF editing tool designed with writers in mind. Its user-friendly interface simplifies the editing process, making it accessible for all levels of expertise. This tool goes beyond basic editing, offering a suite of features tailor-made for crafting polished essays.
PDFelement's standout features include intuitive text editing, allowing users to effortlessly modify content, fix errors, and enhance clarity. The annotation tools facilitate collaborative editing, making gathering feedback from peers or instructors easy. Additionally, its formatting options enable precise alignment and presentation of your ideas.
What sets PDFelement apart is its integration of artificial intelligence (AI). The AI-powered capabilities elevate the editing experience by intelligently suggesting grammar, style, and coherence improvements. This innovative feature saves time and enhances the overall quality of your writing. It's not just an essay editor; it's about empowering your words with the finesse of AI.
Part 2. Using PDFelement for Essay Editing

Navigating essay editing with Wondershare PDFelement is as straightforward as it gets. Begin by uploading your essay in PDF format to the platform. Once loaded, engage with the AI assistant to address specific queries about your document, ensuring a tailored and contextually appropriate tone.
The AI-powered rewriting feature acts as your virtual proofreader, enhancing the accuracy of your content. It diligently corrects grammar, spelling, and word choice errors, providing a seamless editing experience. As you proofread, the tool generates auto-proofread versions of your essay, allowing you to compare and track changes effortlessly.
Optimizing your writing is a breeze with PDFelement's AI capabilities. The tool intelligently rewrites your content, enhancing clarity, style, and grammar. Say goodbye to cumbersome manual revisions. PDFelement streamlines the process. It also ensures that your essay reflects the best version of your ideas.
Part 3. AI Features in Action
Proofreading with Wondershare PDFelement's "Proofread PDF" feature is a breeze. Follow these simple steps for efficient and accurate proofreading:
Step 1. Click the "AI Tools" button under the Home tab, and select "Proofread PDF" from the pop-up menu.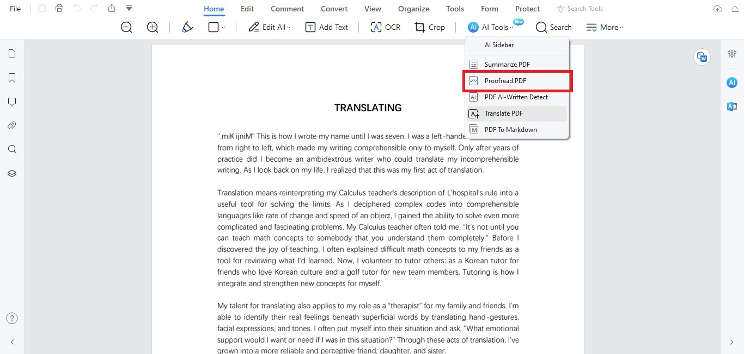 Step 2. Click the "Start "button to initiate the proofreading process.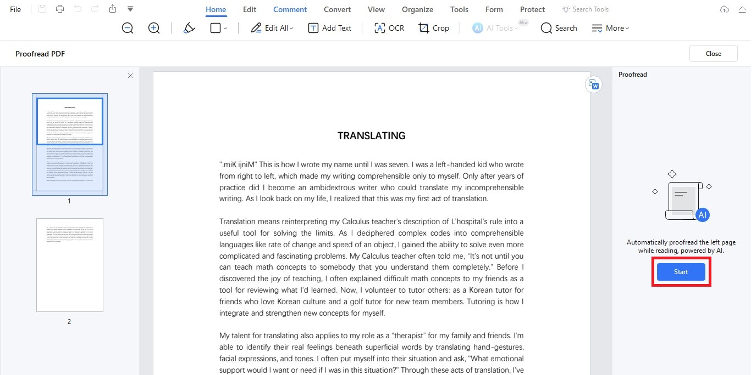 Step 3. Wait for the proofread result to appear in the Response box.
Step 4. Copy the proofread content to other files or replace the original text directly.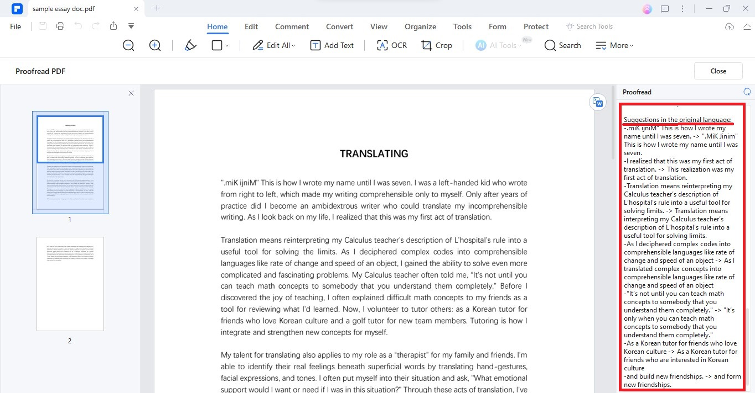 Wondershare PDFelement's AI, powered by ChatGPT, intelligently detects errors, grammar mistakes, and spelling errors in your PDF documents. With just a few clicks, your essay undergoes a thorough proofreading session.
Rewriting and Polishing Essays
Revamping your essays is effortless with Wondershare PDFelement's "Rewrite" feature. Here's how it works:
Step 1. Click the "AI Sidebar" button under the Home tab, and select "Rewrite PDF" from the sidebar on the left panel.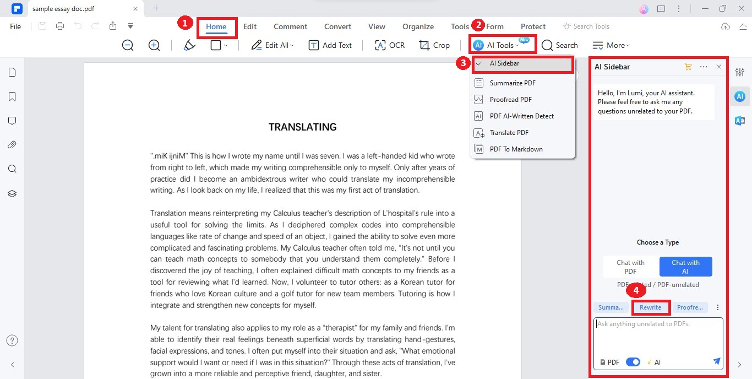 Step 2. Highlight the paragraph or content that you want to rewrite.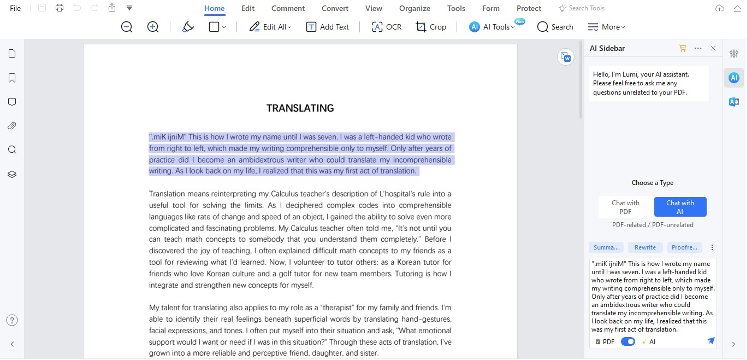 Step 3. Access the output in the Response box. You can copy and paste it to the original content.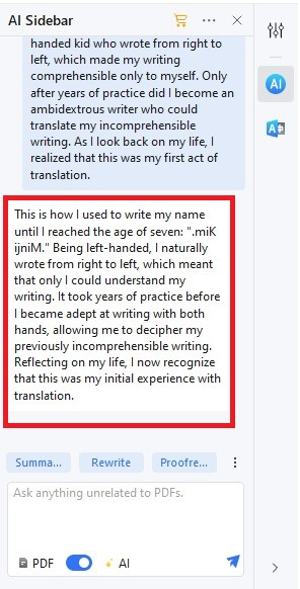 Powered by ChatGPT, PDFelement's AI, Lumi, analyzes your original content and generates coherent sentences, simplifying the writing process.
For example, if your sentence feels clunky, the "Rewrite" feature can seamlessly refine it for better flow and readability. This tool can enhance your essay's style, making it more engaging and compelling. Once the rewriting is complete, replace the original text or copy the polished content to other files. With PDFelement, elevating your essays to a new level of clarity and expression has never been easier.
Asking PDFelement AI for Essay Writing Advice
Engaging with PDFelement AI for essay writing advice is as simple as chatting. Follow these easy steps:
Step 1. Click the "AI sidebar" button and choose "Chat with PDF" from the menu.
Image File Name: essay-editor-9.jpg
Alt Text: pdfelement chat with pdf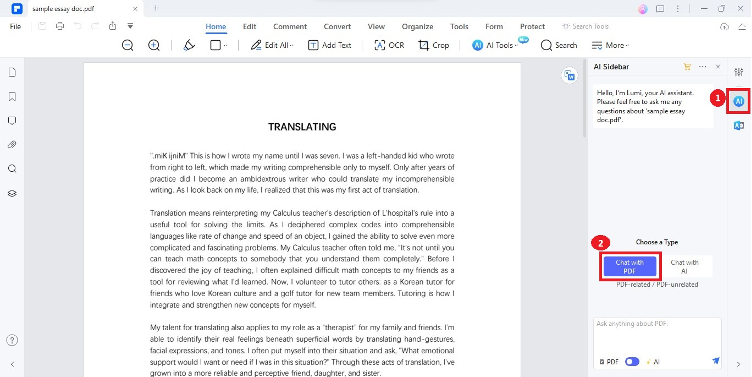 Step 2. Type your essay-related questions or concerns into the chat box and hit "Enter."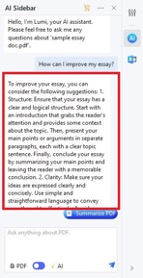 Lumi AI, powered by ChatGPT, responds to your queries with practical advice and helpful tips. For instance, you can ask for guidance on structuring your introduction or improving the flow between paragraphs. If you're unsure about using specific terminology, Lumi can suggest clearer language. By asking Lumi for advice, you receive instant insights and valuable tips to enhance your writing skills.
Part 4. Key Benefits of PDFelement as an Essay Editor
Unlike other tools, PDFelement's AI goes beyond basic proofreading. It doesn't just correct errors; it provides context-aware suggestions to enhance the overall quality of the writing. The real-time chat feature with Lumi sets PDFelement apart, offering personalized guidance and support.
Time-Effective Editing
PDFelement's AI accelerates the editing process, saving users valuable time compared to manual proofreading. The ability to chat with Lumi provides on-the-spot advice. It addresses specific queries and offers practical improvement tips.
Enhanced Quality
The AI-driven features enhance the overall quality of essays by correcting errors and suggesting improvements in style and coherence. The AI robot Lumi offers intelligent proofreading, identifying and correcting grammar, spelling, and stylistic errors.
Streamlined Workflow
With features like "Proofread" and "Rewrite," PDFelement streamlines the workflow, allowing users to proofread and refine their essays seamlessly within a single platform. The "Rewrite" feature simplifies the process of refining essays. Lumi generates coherent sentences, improving clarity and style.
Accessibility
PDFelement's simplicity and intuitive design make it accessible to writers of all levels, addressing the challenge of complex interfaces in other editing tools. PDFelement boasts a straightforward interface, making it accessible to all writers, regardless of their technical expertise.
Pricing and Plans
For individual users, business teams, and educational institutions, PDFelement offers affordable plans tailored to diverse needs.
Individuals: Starting at $79.99 per year, individuals gain access to powerful essay editing features with the flexibility of subscription and perpetual plans.
Business Teams: Teams and business plans begin at $139, ensuring collaborative editing with advanced AI capabilities for enhanced productivity.
Education: Educational plans start at $47.99, providing students and educators with a cost-effective solution for improved essay writing.
PDFelement understands the importance of trying before committing. Users can access a free trial version, including the AI feature, to experience the platform's capabilities firsthand.
For enhanced AI usage, PDFelement offers a subscription plan at $9.9/month, providing users with 2 million AI tokens per month. This subscription ensures continued access to advanced AI-driven proofreading and rewriting features beyond the initial free trial.
Conclusion
PDFelement stands out as an efficient and user-friendly AI-powered essay editor. Its intuitive interface, advanced proofreading, and rewriting features simplify editing. Try PDFelement today to experience the seamless integration of AI in refining your essays. Elevate your writing effortlessly and discover the difference AI can make in enhancing the clarity and quality of your work.