You've decided to open a new wedding venue. You love weddings, and you really want to do something unique. You may want to go rustic, or hypermodern. Or simply do all kinds of weddings.
When you start to research how to set up a wedding venue, you'll find that there are considerations you haven't thought of. Who, after all, would think of commercial property insurance when they just want to think of romance? Have you considered fire regulations?
We're here to help. In this article, we'll discuss some of the issues you need to consider as you plan and prepare.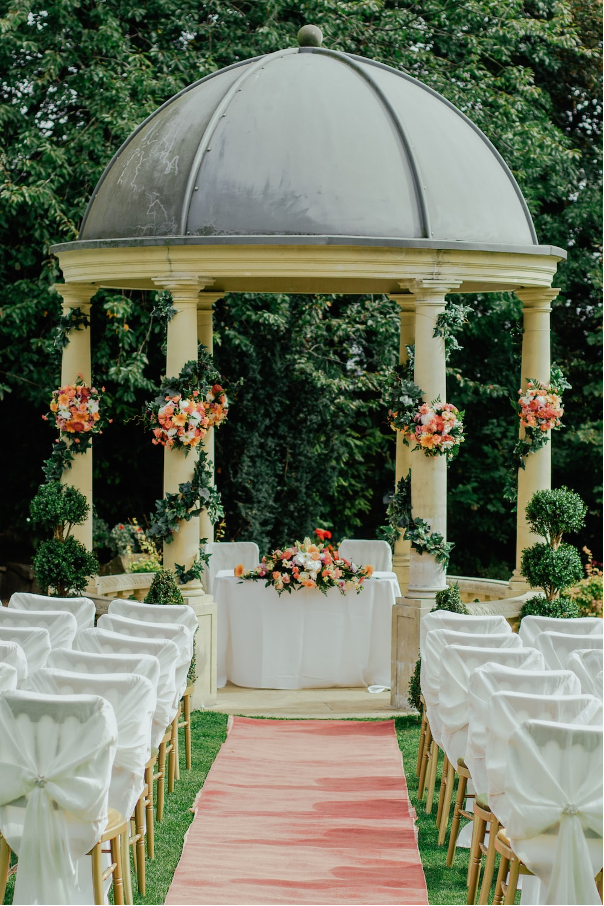 Photo by Jeremy Wong, Unsplash
Draw up a Business Plan
One of the first steps in your adventure is to draw up a business plan. For one thing, you'll need it for any financers and partners. In that, you need to include:
Executive summary, summarising the contents of the document
Business description, which includes its value proposition
Industry background, giving an idea of what the industry entails
Competitive analysis, describing how and why you would be better than competitors
Market analysis, where you analyse the target audience's likes, needs and demographics
Management summary—introduce your team and how you will work together
Operations summary: activities and strategies to achieve your objective
Marketing and financial plan
There are helpful templates online for you to download and use.
Building or Buying an Existing Venue
The next box to tick off your to-do list is deciding on whether to build or rent. You may look at the venues that have the potential to be wedding venues, or are currently wedding venues, and may prefer to start from scratch. This is by far the most expensive, so make sure you get the capital—and a good architect.
There is certainly a lot less work involved in simply buying an existing venue, or even renovating, for instance, an old barn. But if you have a unique vision, you will want to design your own place. That will be exciting, but requires long term planning.
Location
Location is vital. Where do people in your area want to host their weddings? And what style do they tend to prefer? Most likely there will be space in the market for another wedding venue. You just need a unique feature or offering.
Many wedding venues are situated in more rural areas. It gives lots of opportunity for taking photos in beautiful natural settings, and allowing space for guests to enjoy the outdoors.
Wherever you decide to start your venue, ensure that there is sufficient accommodation nearby for the guests that come from far, or for the newlyweds to stay in after their long day.
Financial Outlay
Plan for the financial costs you will have. It's included in the business plan, but we've decided to expand on it here, as it's so important.
Insurance
You will require building insurance for fire, floods, or destruction of any kind. What's more, you require public liability insurance for events. If there is an accident on your property, you will need to pay the costs for people's medical bills, or damaged goods or unintended cancellations.
Furniture
Think of everything, from tables, chairs, and stands to trellises, swings and light fittings.
Décor
Spend some of your capital on high quality décor. Obtain as many of the traditional wedding colours as you possibly can. Drapes, covers, cushions, candles, displays are the main items, but also think of unique touches, such as small steel bicycles or animal shaped pots that hold flowers. You want to offer couples a unique décor option.
Building
Include the cost of renting, owning or building a venue. Remember the grounds, and the upkeep of the grounds, and add that to the total.
Music and Rights
Playing music at a wedding venue means that you have to pay for the rights to use the music, unless the bridal couple creates their own. You will require a licence for that.
Staff and Equipment
Your team's salaries, bonuses, sick leave and insurances must be taken into account. Also include all the equipment that they will need to function well—for example, for catering, playing music and handling administration.
Clientele
Make sure you're catering for the right people. Research who your clientele will be, their age, tastes, hobbies, and demographics. Research the style of music, décor, and food that they eat so that you can prepare menus, music and décor that appeal to them.
If you want to be open to all, then you'll require a lot more stock then other wedding venues, but this will ensure you can meet more couples' preferences.
Alcohol Licence
If you wish to serve alcohol, you'll require a licence. You'll still need some form of permission if guests bring their own. However, having an alcohol licence is of great benefit, so it's a good investment.
Marketing
Now, when you have all of that set up, set about marketing your new establishment. Use every platform you can think of, from social media to bridal magazines. If you prepared correctly and offer what the modern couple needs, you'll soon have queries flowing in.
Final Thoughts
Setting up a wedding venue can be hard work, but very exciting. All the best on your venture!