Uniconverter, is a converter tool often installed on laptops to allow users to convert videos in one way or another. For example, maybe in your library, among law documents and manuals, you found an old DVD with your favorite blockbuster. Since DVDs have become obsolete these days and many newer PCs no longer have DVD drives or recorders; you can use the tool to convert your digital disc. In this way, you can save your movies to your smartphone and watch them comfortably whenever you have the chance. For your info, today you can get its latest version, Wondershare UniConverter.
In reality, this tool is used for several parameters. Perhaps, during your last vacation, you immortalized dream landscapes and unique moments in the company of your friends on your smartphone. So to relive this experience together, you would like to save these files to your computer and transmit the videos to your loved ones. And there you noticed that these videos were not captured in a recognized file extension. Therefore, to solve this problem, you need an efficient converter tool to make your clips compatible with different multimedia devices. But how can you choose the best converter on the market? To help you with this directive, discover in the rest of this article the best video converter for Windows and Mac.
What is the best video converter for Windows and Mac?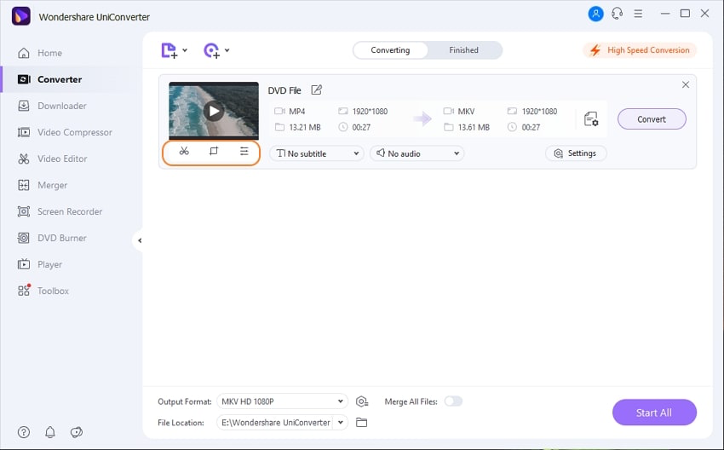 To convert your videos to any format without losing quality, you can use Wondershare UniConverter. Available in Windows and Mac versions, this Free Video Converterlets you convert your files to over 1,000 audio and video formats; as well as compress, edit, merge, download, save and burn your videos in a few simple steps. Moreover, the software supports many conversions such as WEBM to MP4, TS to MP4, MP4 to MPEG, AVI to MOV; and it allows you to convert multiple videos together, after setting the output parameters. So let's go in order and find out how to convert video for Windows and Mac with UniConverter.
How does UniConverter work?
Before going into details and finding out how to convert DVD video to any format; let's take a look at the many features of UniConverter. For Video Converter section, you have the option to convert videos to over 1000 formats. Before conversion, with the video editor integrated into the software; you can edit video and customize it professionally. For example, you can crop it, rotate it; add special effects, filters, watermarks, subtitles; adjust the volume. With the Audio Converter function, you can convert your audio files, change their settings; such as channel, sample rate, and bit rate. Likewise, you can choose the quality of the output file from the supported options.
If, on the other hand, you want to merge several files quickly, use the Merge function. Add files from your computer, device, camcorder and dvd folder, ISO and IFO files to the program interface; then merge them all into one file. You can select the output format of the merged file and its quality. For the Downloader section, you can download videos from many sites; just copy and paste the referral URLs then download. In addition, in the toolbox, for the Windows version, have been integrated: Image Converter, Create GIF, Correct Metadata Media, Transfer, CD Burner, CD Extractor, VR Converter, Subtitle Editor.
How to compress videos with UniConverter?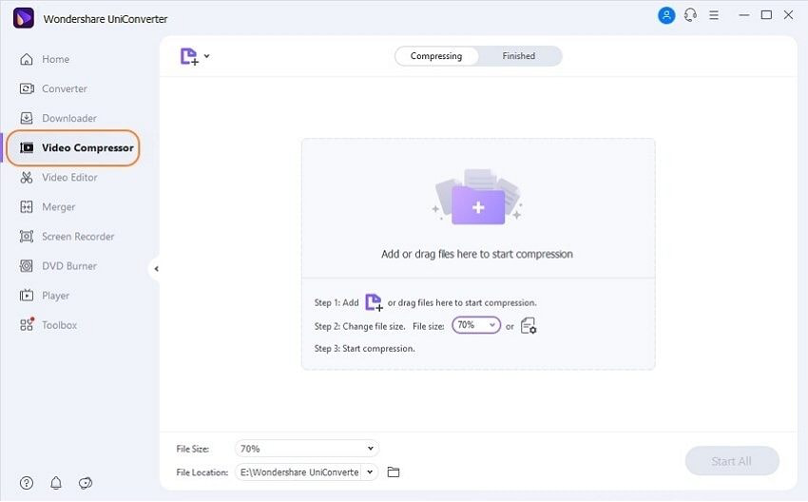 Are you running out of storage space on your device or do you want to email your videos, play them on mobile devices with little space; or maybe you want to share them on social networks? The keyword in all of these needs is the compression method. Using the Video Compressor feature, you can add local files to the interface to automatically compress the files. You can also select settings such as quality, resolution, and bit rate to resize files. Besides, you can compress multiple files with just one click. And it does not stop there. You can preview the compressed file before starting the conversion process and, if necessary, you can change the output format.
How to record screen with UniConverter?
UniConverter functionality
Do you need to record a conference, Skype video call, movie scene, or other activity on your device screen? In fact, all you have to do is use the Screen Recorder function. However, with UniConverter you have three options namely:
– Screen Recorder: Customizable recording frames allow you to record any section of the screen. You can set the frame rate, recording quality, audio recording option, and schedule recording activity whenever you want.
– A webcam recorder: This recorder has network IP cameras and input devices with full details and high-quality video. You can record voices without losing quality.
– Audio Recorder: You can record system audio only or microphone only, or you can record system audio and microphone at the same time.
How to convert DVDs to any format?
After telling you about the many functions of UniConverter; in this paragraph, we will tell you how to convert DVDs to any format. This feature is available in Windows and Mac versions. First, insert the DVD into the DVD drive and start Wondershare UniConverter on your PC; while making sure the Video Converter category is selected in the left pane. Then, click on the icon available next to Download DVD at the top left of the right pane, and click on the drive in which you inserted the DVD. Select Main Movie or All Movies and press OK, to import all videos from DVD to Wondershare UniConverter.
Then open the Output Format menu in the lower section of the interface. Go to the Video tab, select an output video format from the list in the left pane and select the resolution you prefer. To edit the video, click the Crop, Crop, or Effect icons below the thumbnail of the imported video to make the necessary changes. At this point, you will need to make sure that the High Speed ​​Convert switch on the top right is on. Choose a destination folder from the File location at the bottom of the interface; then click Convert (or Start All in case of multiple files), to convert the videos to the selected format. When the conversion is complete, navigate to the Done tab from the top and press Open to display the folder where the converted files are saved.
Conclusion:
Wondershare UniConverter is the best solution for anyone who wants to convert videos without any hassle. No matter your skill background, you can still record video and convert it without any hassle because this tool is specially designed so that it is very user friendly.