Window treatments can add a lot of sophistication and elegance to the interior design of a home. Every home requires window coverings; regardless of where you live, you may need to consider window treatments for privacy, warmth, or simply aesthetics.
The kitchen and dining room serve as the home's central hub, where the majority of family time takes place. Window treatments – whether curtains, blinds, or custom roman shades – for a kitchen therefore must be both functional and aesthetically pleasing. The kitchen, being a highly utilitarian space serving a unique purpose, deserves special attention. Several factors have to be considered to ensure you're choosing the right window treatments for this very special space.
Below are the key questions one must ask themselves to find the right balance of function, style, and cost for your kitchen window treatments.
Are they necessary?
The kitchen requires adequate lighting and ventilation, and it is one of the few rooms in which complete privacy may not be required. You may simply want to gaze out your kitchen window at your front lawn or herb garden. Therefore, before you shop, ask yourself – do you really need window dressings in your kitchen? If your kitchen faces a road or looks into the interiors of your neighbor's home, your answer may be yes. Then go on and choose the window treatments that offer the desired amount of privacy.
What is the location of the window?
When it comes to window treatments, the location of the windows requires proper consideration as this may broaden or limit the choices available to you. If the window is directly over the stove, leave it open to reduce the risk of a fire or splutters from cooking. Consider valances only or roman shades that can be rolled up if the window is over the sink to protect it from the constant exposure to moisture. You can also choose water-resistant window treatment materials.
The amount of sunlight you receive through a window is also affected by its location and there are a number of ways to increase natural light for your home. Light-colored window treatments can be used to maximize light in the kitchen while keeping some of the heat out.
If you're dressing windows that face the sun all day, make sure you line your window treatments to prevent fading from direct sunlight.
If your window(s) are away from the spill or cooking zones like sinks or stoves, curtains are an equally viable option. Consider cafe-length curtains if you'd like them off the floor, but for windows away from water and cooking, even full-length custom drapes are an attractive option.
Are they easy to clean and maintain?
With spices crackling and oils sputtering all over the place, this is the one room that will always be messy and prone to spills and stains, thereby requiring a lot of upkeep. The window treatments will inevitably host some splatters and food odors and will need to be cleaned regularly. When compared to other window treatments, some are more difficult to clean. So consider washable fabric window treatments that can be easily washed and dried. Cleaning vinyl or faux wood is also simple. Avoid using delicate materials like silks that require a high degree of maintenance and care. Also, stay clear of materials like polyesters that may absorb smells and odors.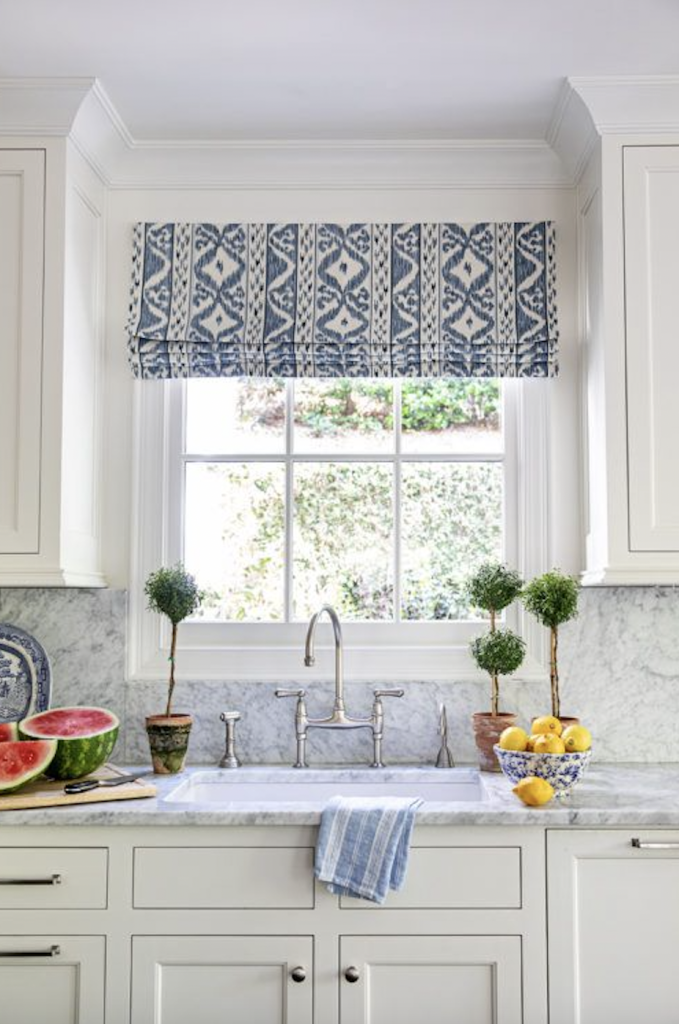 Are they appealing?
Window treatments are not mere instruments to control light and provide privacy. They are a key aesthetic element for any room, including the kitchen – even if your kitchen is all white. Your chosen dressings must therefore serve a practical purpose while also complementing the overall decor. Consider the overall decor style of your kitchen while shopping. A farmhouse-style kitchen may benefit from linen curtains or roman shades. A bold geometric print and straight valance may be well-suited to a bright and modern kitchen. So take your cue from the existing decor and let the window dressings follow.
Is your privacy secured?
If you live in a remote location with no neighbors for miles, window treatments may not seem as important. However, if your home faces another's, privacy should be your top priority when selecting window treatments in these areas. To keep you safe from prying eyes, you'll need a heavier, easy-to-open, and close window treatment.
This is an important feature of any home; you'll want to enjoy dishing your meal or seasoning your delicacy without worrying about who's looking. Kitchens benefit from light, and they require light coverings that allow plenty of light into the room while maintaining privacy.
In closing
When it comes to window treatments for your kitchen, there are many important factors to bear in mind. Your kitchen window treatments may be subjected to stains and messes as a result of the food you prepare, something that is unique to this space. So consider all your needs and pick dressings that offer light and privacy control, are easy to maintain, and also add aesthetically to the space.
Analyze the available space, measure the height and length, and choose a color scheme that complements the rest of the decor. Invest in high-quality materials, and your home will exude a charm that you and your visitors will adore. Innovate more ideas and be creative. Don't hesitate to think outside the box, and then relax and enjoy the outcome!