If you're a history buff with a passion for intriguing cinematography and epic storytelling, then find a comfortable seat as we explore today's cinematic gem. This is the chronicle of impassioned documentary feature 'A War Hero 3.0' and its unusual path to production.
You'll surely agree, it is rare that we see seasoned creators from the big-screen movie industry cross over into the world of documentary-making and vice versa. However, the driving forces behind 'A War Hero 3.0' were anything but ordinary, and its production trajectory was destined to be something entirely unique.
As our tale begins, veteran writer-producer TJ Mancini felt moved to step out of the world of fictional film and tell the story of his family's involvement in the tragedies and triumphs of the Korean War. In order to do so, he resolved to take an exciting approach to the project, tapping the talent of some of Hollywood's most versatile leading men.
Action star Enzo Zelocchi—who is himself no stranger to straddling multiple creative and professional lanes—was already building a reputation as an actor just as capable behind the camera as in front of it. Soon, Zelocchi was on board to direct and produce Mancini's real-life masterpiece.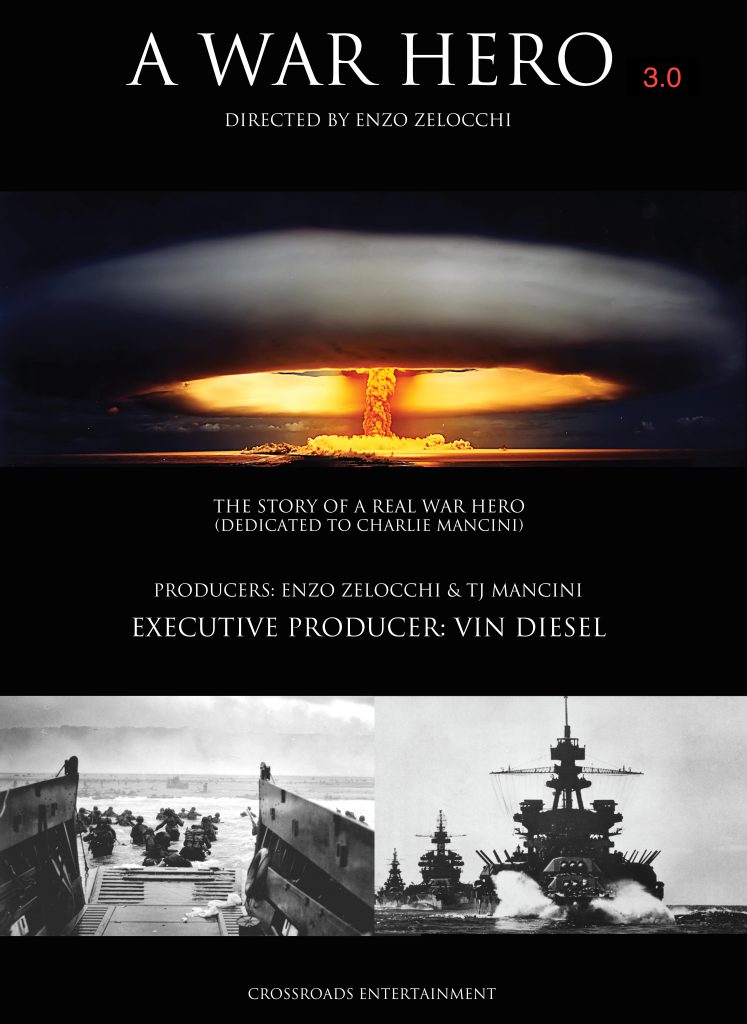 The Korean War's Intersection With Mancini Family History
The story that TJ wanted to tell was that of Charlie Mancini, a beloved family member whose experiences during this bitter conflict could rival those of any imagined action plot. Soon, backed by production company Crossroads Entertainment, Zelocchi and Mancini would imaginatively and viscerally draw their viewers back into the mid-20th century when the Northern Korean People's Army invaded South Korea.
During these politically unsettling years, the desire to stand against aggressive communist powers was strong within the hearts of Americans, leading many U.S. soldiers to cross the globe and enter into a noble battle far from home. This was the destiny of Charlie Mancini, who, as the eponymous War Hero, serves as the central figure of this dramatic black-and-white documentary feature.
The stunning footage of this distinct offering within the Zelocchi directorial annals features historic footage of Charlie Mancini as well as TJ Mancini and Yolanda Mancini, plus other recognizable silver-screen talents lending their personal presences to the project, including movie star Joe Cortese, F. Valentino Morales, and Holly Bonelli appearing as themselves.
When Weavers of Cinematic Fiction Turn Their Vision to Historic Truths
It inevitably triggers intrigue to imagine how those versed in framing dynamic, celebrated, and fantasy-infused action sequences might approach a visual representation of genuine war-era events. As you can imagine, this singular crossing of paths between those used to crafting blockbuster movies and the art of emotive documentary-making yields breathtaking results.
Behind the camera, the already dizzying array of names is added to by the presence of action super-star Vin Diesel—a long-term TJ Mancini collaborator—as an executive producer. Meanwhile, the movie's beautifully distinctive aesthetic style can be attributed to the phenomenal and precise talents of editor Atsuko Atake and colorist Michele Ballarini, alongside Zelocchi's keen eye for visual storytelling.
Drawing upon only a modest estimated budget of $250,000, in the making of A War Hero 3.0, Zelocchi and Mancini have achieved an unexpectedly moving and striking feat of filmmaking. Boasting the most unusual production backstory and ensemble, here we discover a reality-based movie that is certainly worthy of study.
Crucially, if the notion of uniting action sensibilities and the raw realities of human experience aligns with your screen-time agenda, then consider this a sign. Be sure to check out this one-of-a-kind, visually engaging, and deeply personal documentary for yourself.