Prize Fiesta has so far been installed more than 2,500,000 times since its release in 2016.
The app can be found in 184 countries and its popularity continues to grow.
What do players think about Prize Fiesta?
Prize Fiesta has nearly 100,000 ratings and an average score of 4.52.
On Google Play Store:
– 94,803 ratings (including 34,360 reviews)
– 4.5 / 5 stars
On the App Store:
5,007 ratings (including 223 reviews)
4.6 / 5 stars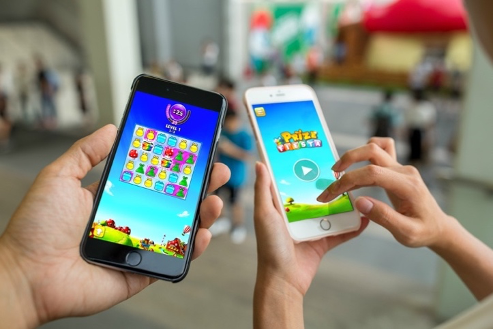 Are there many Prize Fiesta winners based on player reviews?
Of the 4,500 winners who received their prizes at home, we found that over 100 have left reviews:

"Bhavjot Singh" describes his experience clearly. He shares his satisfaction at getting a TV at home through playing Prize Fiesta.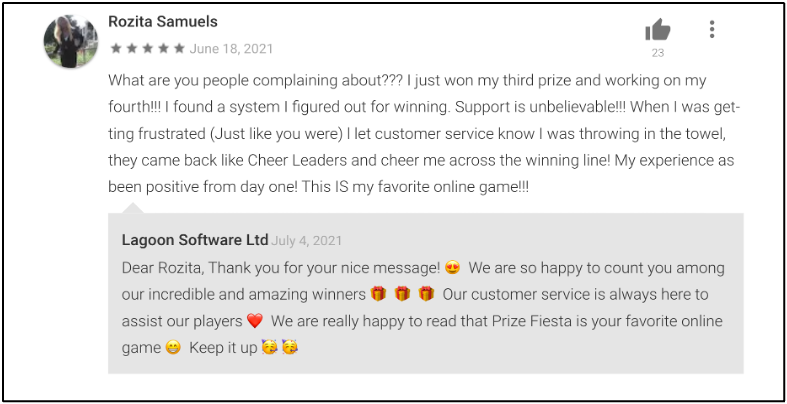 "Rozita Samuels"' testimonial shows that she is very satisfied with her win and that she got the answers she was looking for from customer service.
As she says, Prize Fiesta's customer service helps a great deal along the way.

Another winner who loves the principle of this game and is happy to have won a reward.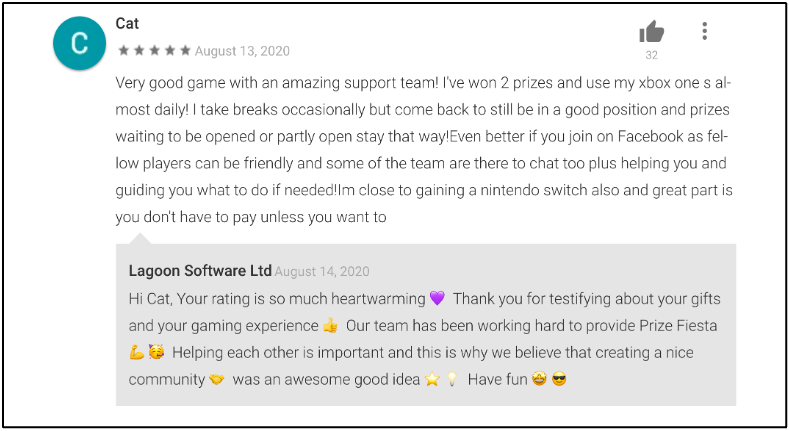 User "Cat" reports that she has already won two awards. She also talks about meeting other players on Facebook. An asset for her progress in the game.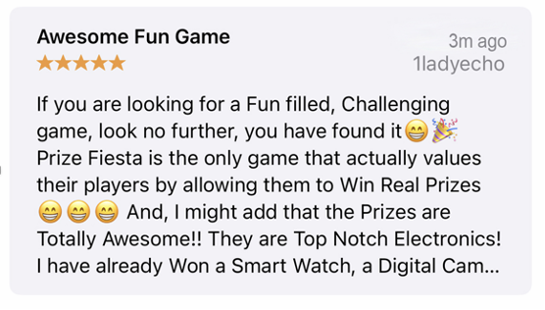 As the comment from "1ladyecho" shows, players love the challenge of Prize Fiesta. Here, the player is satisfied with her gifts.
The app offers gifts like:
● A smartwatch.
● A state-of-the-art flat-screen television.
● A smart speaker.
● A latest-generation game console.
● A tablet.
Gamers can access brands like Apple, Sony and Samsung.
Prize Fiesta, an addictive game?
What emerges from all the opinions on the app stores is that players quickly like to integrate Prize Fiesta into their daily life. The addictive side of this pastime is indisputable, as the reviews below demonstrate: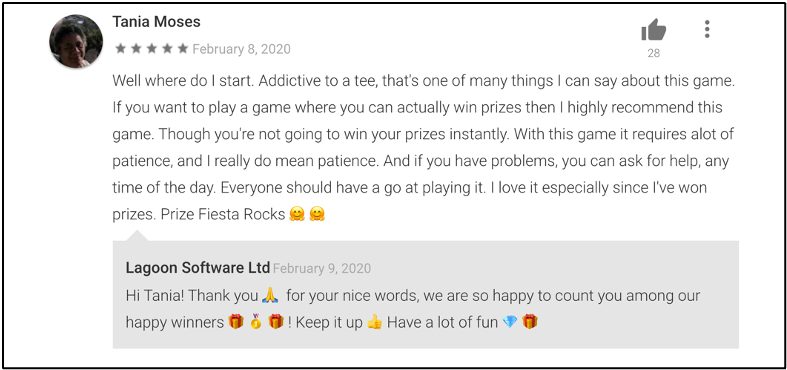 "Tania Moses" explains that Prize Fiesta is a game of patience. The prospect of winning is also a great motivation.
She is another player who is happy with the quality of the customer service and its availability for the players.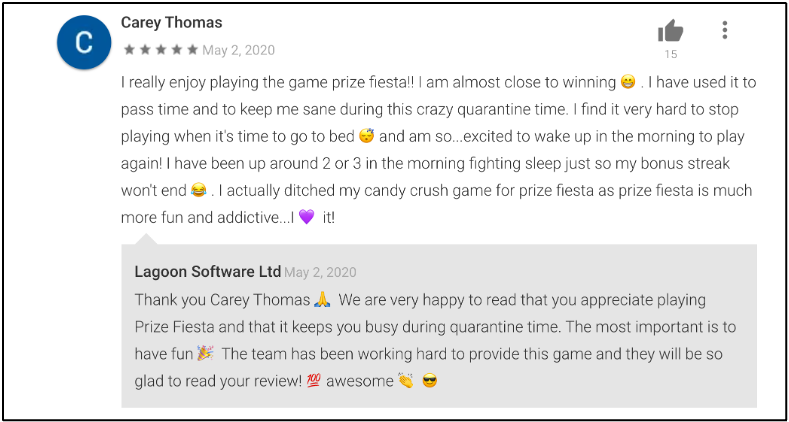 "Carey Thomas"' review shows that Prize Fiesta is the perfect game for entertainment in stressful times. It's a great escape from the daily grind.
Fun is also evident in "Julie Wheater"'s review below.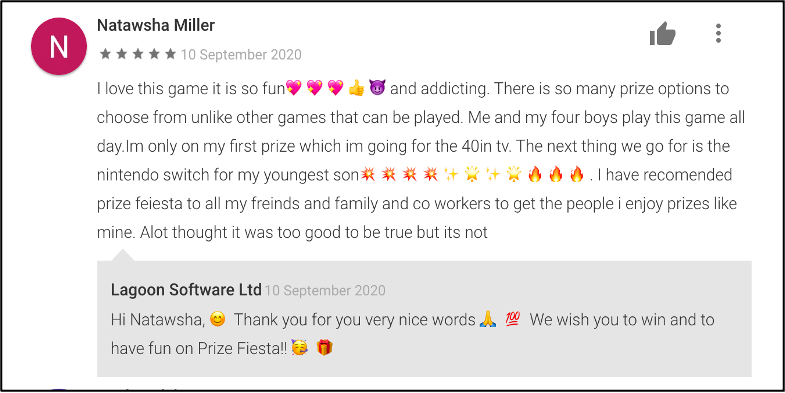 "Natawsha Miller" shares her experience of playing with family and friends. Prize Fiesta is addictive for her, too. She also tells us that the reward choices are varied and suitable for everyone.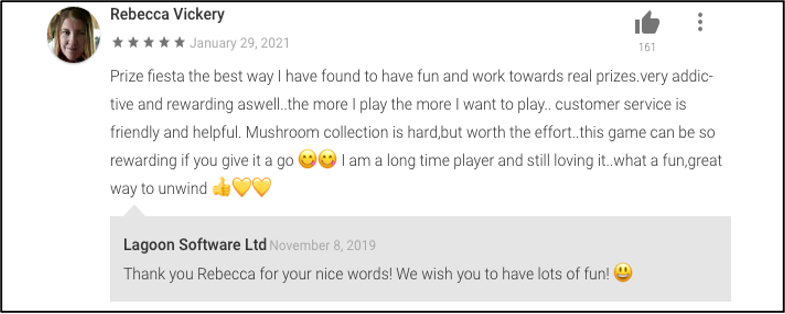 "Rebecca Vickery" explains that she is a regular player who always has fun with Prize Fiesta.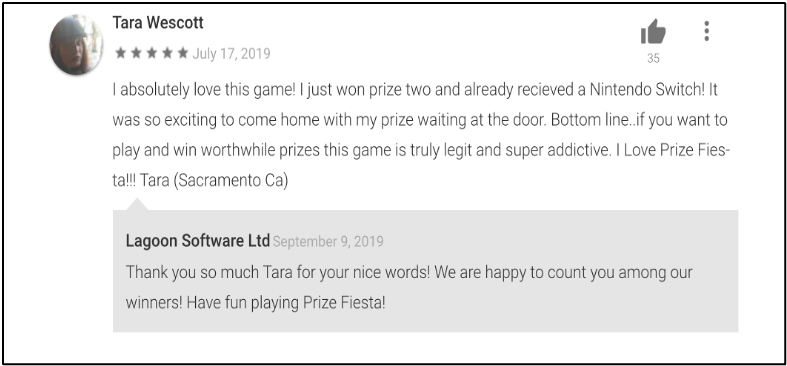 These reviews from "Emalyn Garcia" and "Tara Wescott" are also good examples of satisfied winners.
So we can see that receiving the chosen reward directly at home appeals to players. It gives another dimension to the game experience.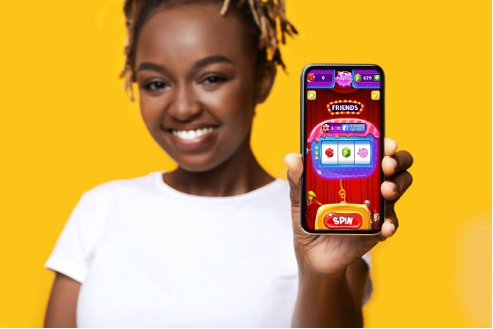 Do you win money or gifts with Prize Fiesta?
Prize Fiesta windows not award money, but gifts.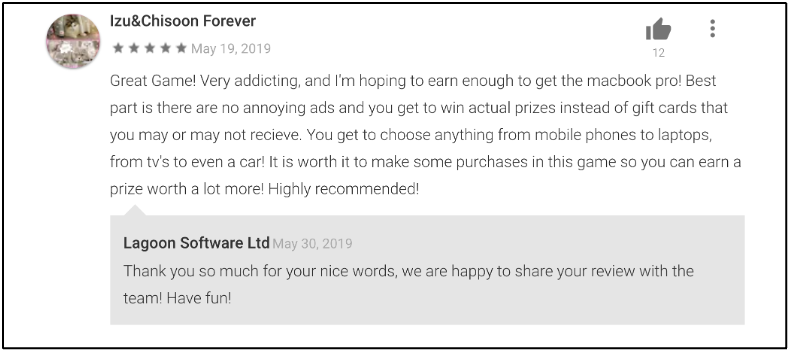 The comments from "Tonja Skaggs" and "Izu&Chisoon Forever" above show their satisfaction with the quality of the gifts on Prize Fiesta.

We can see that players are motivated by this opportunity to win gifts. It's a chance to receive something that they might not have had in everyday life, as "Tajay" says in his comment.
An opportunity to relax and win the gifts of your dreams, that's what the reviews tell us.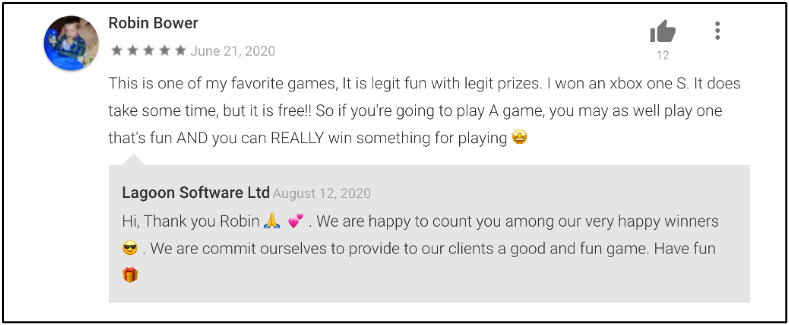 "Robin Bower"'s opinion is interesting because it clearly shows a win on Prize Fiesta. It proves that the game is legit. There is no scam. There are real prizes to be won while having fun.

A new testimony that confirms that winners receive their chosen gifts. So the advertisements for the game are genuine.
How long does it take to win a gift in Prize Fiesta?
With Prize Fiesta you can play whenever you want, and for as long as you want.
There is no time limit.
Winning your gift depends, of course, on how long you play. That varies from one player to another.

"Johnny Jetson" shows that rewards can be reached very quickly.
Below is another player profile. "Sue Rutter" has not yet earned her reward, but she has already opened the gift cave. She points out that she has not spent any money to reach this stage.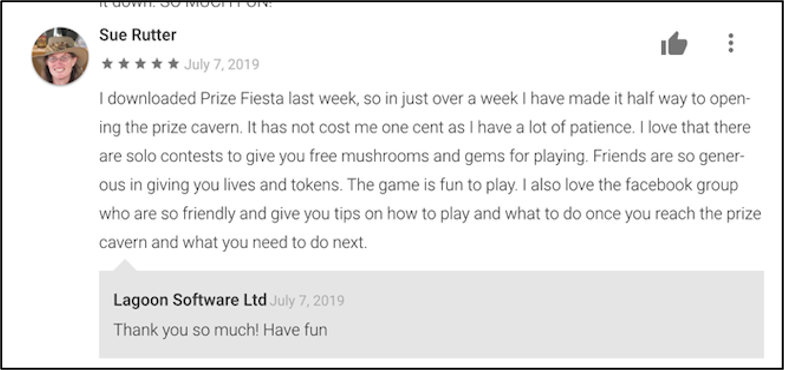 To make progress faster, here are some tips that are well known to Prize Fiesta players:
● TIP 1: Facebook:
This is a very useful tool for making progress in Prize Fiesta. The communities of players are welcoming. For example, you can enter contests and get tokens. Not to mention, of course, taking advantage of tips from winners…
● TIP 2: Spin:
Spin always allows you to win something (gems, mushrooms, dollars). For Spin, you need to have tokens. Your friends can give you some on Facebook. You can also give them some in return. The maximum number of friends you can have on Prize Fiesta is 20.
● TIP 3: Offers from the dwarves:
These allow you to accumulate gift points.
The first offer comes from the brave Puffy, and is free if you have less than $5. Offers from other dwarves will be available from time to time in the game.
● TIP 4: Contests:
Solo, between friends or global, they allow you to win gems, mushrooms, and also something to fill your piggy bank.
These contests are organised by the hyper-dynamic Prize Fiesta customer service team. They happen on Facebook every week.
What do players like about the game?
Here are some comments from players and winners. They all agree on the entertaining aspect of the game.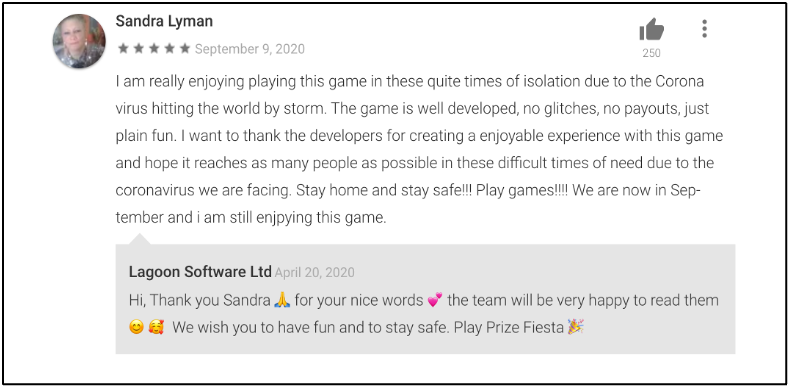 With Prize Fiesta, players can take a welcome break. A chance to relax and switch off, as "Sandra Lyman" testifies.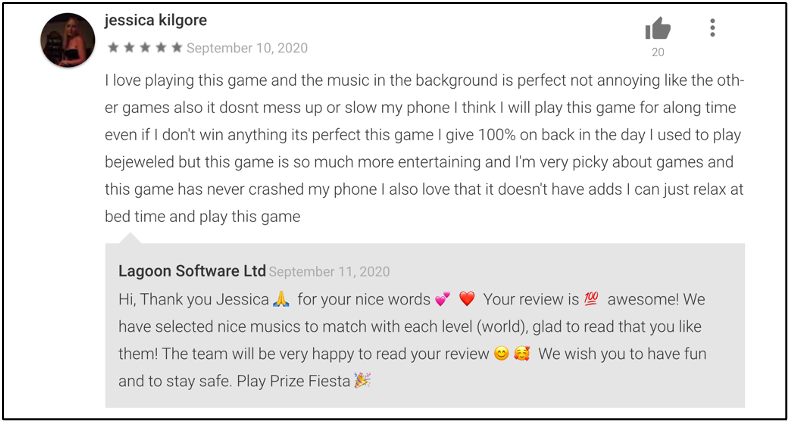 "Jessica Kilgore" makes an important point in her review above.
Prize Fiesta is not greedy for resources. It downloads quickly at less than 100 MB, is quick to start and doesn't slow down your device. She appreciates the economical consumption of the phone battery.
Better still, the game is not interrupted by advertising pop-ups. The game is 100% ad-free.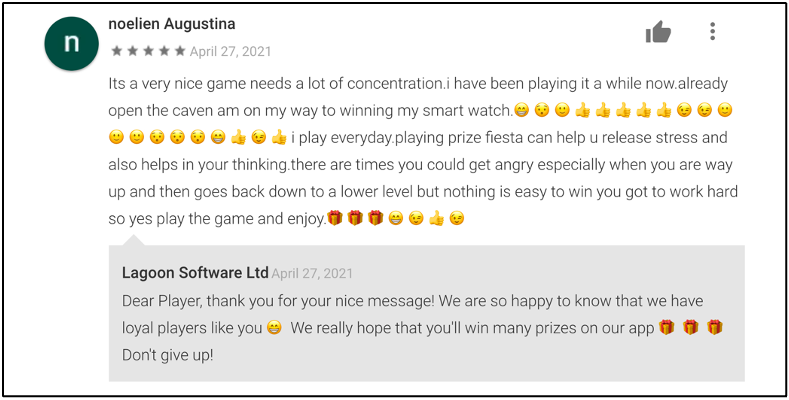 "Noelien Augustina" also gives a very positive review of her experience with Prize Fiesta. She finds the game to be a stress reliever, and plays it enthusiastically. She is close to winning a gift.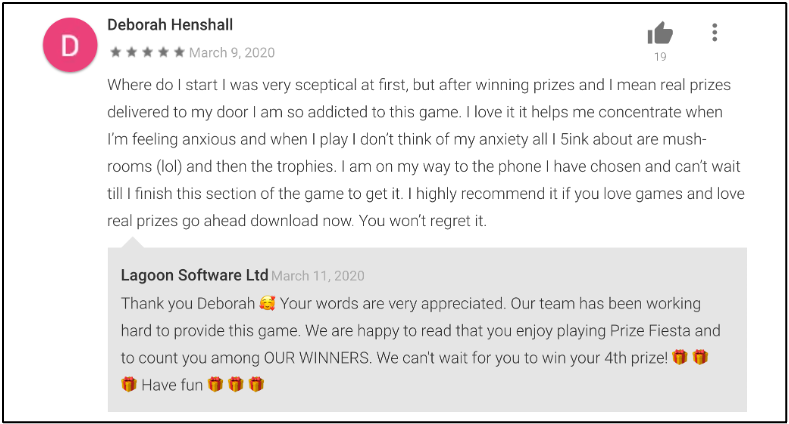 "Deborah Henshall", who is a winner, testifies to receiving her prizes.
Fun and gifts! That's the formula for this successful game.
In summary, what do people think about Prize Fiesta?
The reviews are mostly very positive because:
– The game has a large number of player reviews on the App Store and the Google Play Store (over 5,000 on Apple and over 94,000 on Google).
– Prize Fiesta has an excellent rating from users (between 4.5 and 4.6 out of 5 stars)
– WE HAVE FOUND MANY COMMENTS AND TESTIMONIALS FROM WINNERS WHO HAVE RECEIVED GIFTS FROM PRIZE FIESTA, as well as other games from Full Game Ahead.
– Many comments from players on social networks.
– The average Prize Fiesta player stays with the game for more than six months, and some players stay for years.
– The winners are visible enough to convince anyone that the offer made by Prize Fiesta is genuine: Have fun and win a real gift!
When players stay with the game and talk about their experience, this indicates confidence and satisfaction.
Here are some more examples of positive reviews from the App Store and Google Play Store. They illustrate the general trend.