If email marketing was a Lego game, modular email templates can be considered as Lego blocks. Many marketers have such a huge volume of emails to create that it is natural to get overwhelmed. Ultimately, you would have to burn the night oil to meet the deadlines and produce the email templates as per the calendar. The same holds for automated email templates too. You have to create a hell lot of emails to make sure your automation workflows are up and running.
What if I say there is an easy solution for this? Well, the way out of this problem is modular email templates. Email Uplers can be your go-to partner if you need master email templates to create multiple reusable emails for different purposes. We have hand-coded more than 60000 email templates in around half a decade. Our expertise lies in integrating email templates into 50+ ESPs. The asset of Email Uplers lies in the team of 150+ seasoned developers and designers who can create pixel-perfect HTML templates in ready-to-send format. Fastest turnaround and tailor-made services are two things that keep us ahead from all the competitors.
Advantages of Modular Email Templates
1. It is Scalable
Editable email templates are easy to scale. You get the flexibility to adjust your email sending frequency based on the requirements. Even if you have to create a template urgently, it won't be a problem with modular email design.
2. You can Save on your Cost and Resources
Editable HTML email templates enable you to send multiple emails to your subscribers without spending anything extra.
3. A Modular Email Template Facilitates faster rollout of Email Campaigns
You will not need a developer to create your email designs once you have a modular email template in place. As a result, it will lead to faster turnaround time of your email campaigns.
4. Modular Designs are Better than Traditional Email Templates
Modular templates help maintain branding consistency while imparting better scope to personalize and automate the strategy. As there are stackable modules in the template, you can adjust the elements according to the purpose of the email. These templates are great for email marketing agencies that want to send similar looking emails for different brands or companies that have sub-brands or sister ventures associated with them. For example: Email Uplers is a sub-brand of Uplers but has somewhat different branding guidelines.
Here's an animation to demonstrate how a modular email template makes things a breeze for the marketing professionals. The modules we create are editable for reuse and integrated with the ESP of your choice.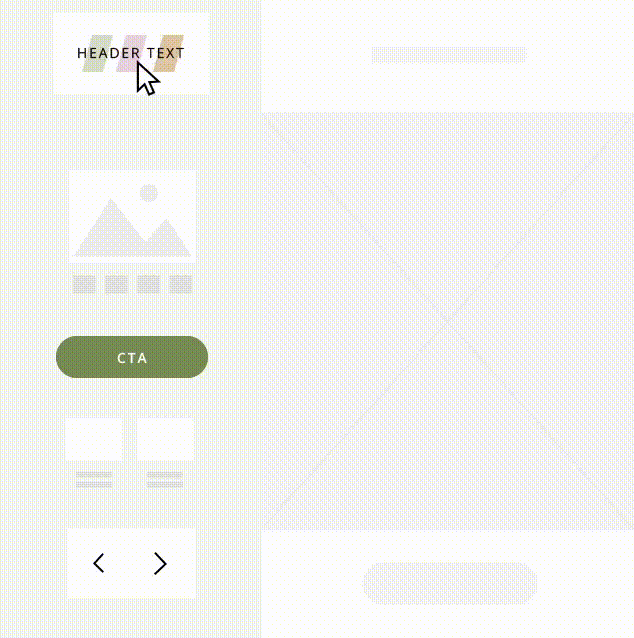 Adopting a Modular Email Design in 5 Easy Steps
1. Build use cases
A modular template has the following components:
Header
Hero image
Email text
Visual element/s
Spacers
Social media links
Footer
You must set these design elements according to the categories your emails belong to.
2. Define a Design Strategy
Modular email templates include editable blocks that can be arranged as per the requirements. You must make sure that you differentiate between the sections that should be personalized and strike the right balance between visuals and copy. The design should be mobile responsive and in line with the goal of the email and brand personality. Determine whether it is a transactional email, newsletter, lead nurturing email, or promotional email.
3. Build the Modules
After formulating the design strategy, you must build the modules. These modules can then be reused for various campaigns that match the purpose.
4. Carry out A/B Testing
A/B test your modules to figure out what works the best for your audience. It will help you make the necessary changes and create designs that bring you the kind of results you want to achieve.
5. Optimize your Templates
Monitor the performance of your A/B tests as well as the winning campaign you send to all your subscribers. Based on these insights, iterate your emails and keep optimizing the modules.
How can Email Uplers help?
Our experts understand that every business is unique with variable requirements. Hence, the customers get the liberty to pay for the services they choose. Before taking our services, you can even download a sample and see if it fits your requirements and expectations.
Here's how it works.
Once the clients share the brief with us, we create a wireframe with the modules in two business days. It also includes the list of campaigns to be included. Generally, the modules include header, text section, and footer.
After approval from the client, we kick off the module designing in 3 business days. These modules are perfectly in line with the branding guidelines. In case there are any revisions, we take 24 to 48 hours to get back with the iterated versions.
On approval of the design, we start converting the designs into HTML modules. These modules are pixel perfect and can be easily integrated in your ESP. It takes around 5 business days to complete this task.
Final Deliverables
The final deliverables include HTML modular template, ESP integration, Litmus report for the compatibility, documentation of each module with flexibility and limitations, and tutorial video for reference. In addition, we also provide some complementary modules like dividers, spacers, CTA options, and modules with minimum adaptive change.
After-sales Support
Our job is not done at the final delivery. You can reach out to our team for an entire month after the delivery. We are available 24×5 for any support that you need. We will try to accommodate any reasonable requests that fall in the scope of our technical team. However, if the requests are beyond their scope, they will be payable.
Wrapping Up
Modular email templates are the safest bet as they streamline the entire email template production process and eliminate the need to design an email from scratch every time. The only downside is that it can make your email templates look redundant. So, it might not be useful for occasion-based marketing where you want to stand out. Otherwise, it is a great option that relieves you of all the stress that comes with email marketing.