In an era where specialization is often the name of the game, Duc Trung Ho—better known in some circles as Jacob Ho—stands as a paragon of polymathic prowess. His story is one that defies the norms, painting a picture of a creator whose artistic arsenal knows no bounds.
The film and entertainment industry today is a global behemoth, employing a diverse range of professionals and reaching audiences in every corner of the world. With the advent of digital technologies and a rising demand for high-quality, emotionally resonant content, the industry's relevance in contemporary culture is unquestionable. However, it's a field that usually favors specialization, where individuals often excel in one aspect and remain in that lane for their career.
Enter Duc Trung Ho. With an impressive resume boasting titles like multi-instrumentalist, visual effects artist, 3D modeler, and graphic designer, Jacob does not fit the industry's typical mold. His most noteworthy achievement to date is his work as an editor on "Impermanence," a film that garnered a Gold Remi Award at WorldFest Houston International Film Festival—one of North America's oldest and most independent film festivals. Additionally, he earned a nomination for Best Young Filmmaker at Prague International Film Fest and secured official selections at esteemed festivals including the Los Angeles Short Film Fest, Brisbane International Film Fest, Norwich International Film Fest, San Jose International Film Fest, and the Academy Awards® Qualifying HollyShorts Film Festival. These accolades not only highlight Mr. Ho's exceptional talent and potential as a rising star but also underscore his exacting standards and expertise in film editing.
His cinematographic prowess is equally commendable, evidenced by his work on "Maayanagri," a project that earned him a Semi-finalist Selection at Flicker Rhode Island International Film Festival. His exceptional skills in cinematography have enabled him to articulate visual storytelling on an international platform.
Our recent interview with Duc Trung Ho offered a deeper dive into his multifaceted talents. Jacob is not merely a filmmaker; he is a maestro of multiple creative disciplines, bringing a unique depth and texture to every project he touches. His fluency in both Vietnamese and English, coupled with an adaptability to different filmmaking cultures, makes him a truly global creative. In Jacob's own words, his array of skills acts as a "powerful catalyst" in his already burgeoning filmmaking career, setting him apart as the epitome of a modern, well-rounded creative professional.
In summary, Duc Trung Ho is a force to be reckoned with—a multi-talented, multi-cultural luminary in an industry that can only benefit from his diverse skill set and innovative mindset. As the world of entertainment continues to evolve, one can only anticipate the boundary-pushing contributions that Mr. Ho will undoubtedly bring to the table.
Thank you for having us, Jacob. You're not just a filmmaker but a multi-instrumentalist, a visual effects artist, and much more. Can you share a project where these multiple talents came together to create something unique?
I film and edit most of my band's music videos—Cham Trang. We often operate on a limited budget, without access to fancy equipment or an experienced crew. These constraints compel me to apply the skills I've honed over time. Having co-created the songs with my bandmates, I know each track intimately, down to every measure. This deep understanding informs our brainstorming sessions, allowing me to visualize edits that align with specific beats.
When shot-listing for these projects, I focus on using visually interesting elements as attention-grabbers. Because I have a background in visual effects, I know how to create impactful visuals even with our limited resources. Techniques as simple as cloning the lead singer or timing a transition to the beat can breathe life into a music video. It's in these moments, when I can integrate all of my skills, that I believe I create my most unique work.
How does your background in music theory inform the way you approach the sound and score in your films?
Usually, the score and sound are handled by a separate department and aren't added until after the editing is locked in. However, understanding the context of the story and knowing where the music will be inserted allows me to pace my edits in a way that complements the work of the sound designer and composer. I find an internal rhythm in the characters' dialogue and actions, aligning them to create an unconscious beat.
My understanding of music theory is also invaluable when I need to source music myself. Knowing the structural components of music aids in making smooth transitions within different segments of a song, especially when I need to adjust the song's length to match the cuts.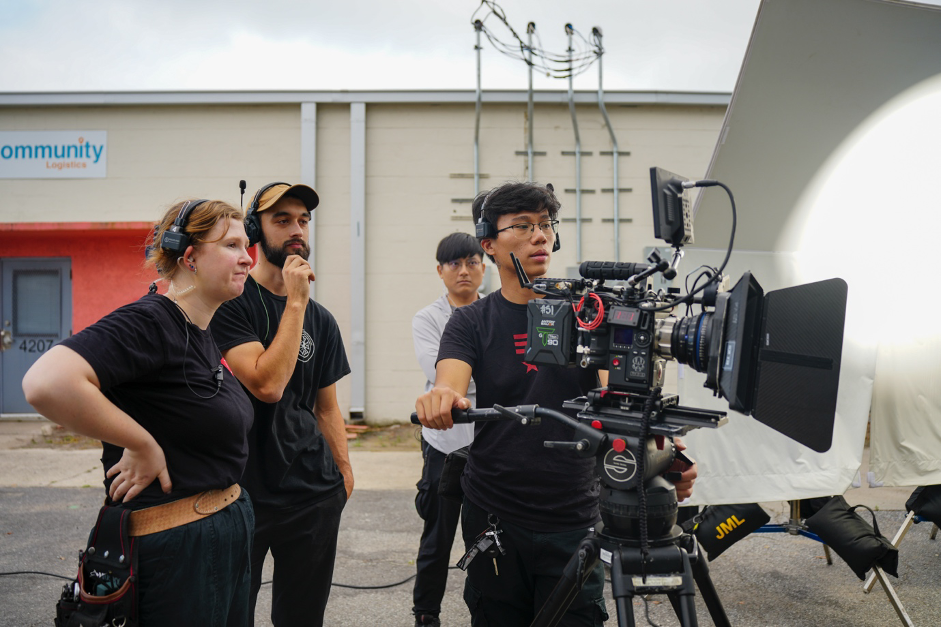 As a visual effects artist and 3D modeler, how do these skills influence your storytelling, especially when it comes to setting the scene or creating atmosphere?
Visual effects are an integral part of the film and entertainment industry today. I view VFX both as a creative outlet for artistry and as a valuable tool for extending my storytelling beyond what's achievable with practical effects. As the creative industries adapt to advancing technology, it's crucial for us and our skillsets to evolve as well. VFX offers limitless possibilities, from correcting imperfections on set to conjuring entirely new worlds that couldn't previously be captured in moving images.
In what ways does your expertise in graphic design aid you in the pre-production and post-production phases of filmmaking?
Being able to visualize a project before shooting or editing greatly assists in crystallizing the vision for it. This clarity also aids me in communicating more effectively with the director and my team. With a background in graphic design and drawing, I can create accurate previsualizations and storyboards. This skill is especially useful when handing off work to different post-production departments like visual effects and color grading. I can create mood boards and design elements that succinctly convey what the director and I are looking to achieve in the final film.
You're fluent in both Vietnamese and English. How does your linguistic capability help you in the global entertainment industry, especially in scriptwriting and directing?
I was fortunate to grow up in an environment where English was readily accessible. From an early age, I became bilingual, using both English and Vietnamese in my daily life. This dual proficiency not only presented me with more opportunities but also made it easier for me to adapt when I moved to the United States.
In the summer of 2019, I had the chance to collaborate on an ambitious film project called "Impermanence." Directed by Pham Gia Quy, a Vietnamese friend based in the US, the film aimed to expose our American colleagues to Vietnamese culture. The script was entirely in Vietnamese and filled with stunts and choreography. One of my responsibilities on set was to serve as a translator, facilitating communication between the English-speaking and Vietnamese-speaking members of the cast and crew. This required keen attention to detail and the ability to think quickly in both languages.
After shooting wrapped, I returned to the US to take on the role of editor. As the only Vietnamese speaker on the post-production team, I held the responsibility for ensuring that the essence of the script was retained in the final cut. It was crucial for me to effectively communicate the nuances of the story to other post-production departments. Ultimately, "Impermanence" was successfully completed by our multilingual crew and garnered a Gold Remi Award at the WorldFest Houston International Film Festival. It also earned a nomination for Best Young Filmmaker at the Prague International Film Festival.
Being adaptable to different filmmaking cultures is a rare trait. Can you recount an experience where your adaptability was crucial to the project's success?
In December 2021, I traveled to India to shoot a short action-thriller called "Maayanagri." Upon arrival, I was met with a language barrier: I didn't speak Hindi, had only three days to prepare, and most of the cast and crew were Hindi speakers with little to no English proficiency. The script, too, was entirely in Hindi. This necessitated a different approach to the project.
Instead of relying on dialogue or traditional cues, I had to shoot the film based on emotion, intuitively grasping the actors' feelings and the scene's tone. The challenge proved rewarding; "Maayanagri" went on to win a Jury Award for Artistic Excellence at the 2022 SCAD Savannah Film Festival and also became a Semi-Finalist at Flickers' 2022 Rhode Island International Film Festival.
You're clearly a jack-of-all-trades in the creative field. How do you manage to stay proficient in so many different areas, and how does this multidisciplinary approach benefit your work?
I consider myself a naturally curious person, a trait that has driven me to explore multiple creative avenues. These explorations often start as hobbies but soon evolve into facets of my career. When I stumble upon a new creative interest, I dive in headfirst, and before I know it, I'm fully immersed in that art form. I believe that given the rapidly changing landscape of today's creative industries, it's essential to be versatile. Fortunately for me, these various "disciplines" are not just job requirements; they're my hobbies and passions. My drive to create is fundamental to who I am, and it fuels all of my artistic endeavors.
In today's globalized world, understanding multiple cultural perspectives is invaluable. Can you share a specific instance where your cultural awareness significantly impacted a project?
One project where my multicultural perspective was crucial is "The Promised Land." Although the film is set in both the United States and Thailand, budget constraints meant we had to shoot the entire project in Savannah, Georgia. The director, who is from Thailand, and I both understood the importance of convincingly distinguishing the two settings, even when shooting in the same city.
During the production process, the crew sourced Thai memorabilia to decorate the sets and conducted extensive location scouting to find local vegetation that could mimic Southeast Asian flora. As the director of photography and editor, it was essential for me to pay close attention to these details to maintain a clear distinction between the two settings, both during production and in post-production.