" I have upgraded the iOS version of my iPhone today, but now I am facing an issue. It's been many hours, and my iPhone is still stuck on the Apple logo showing just a white screen. First, I thought this was the part of the update as sometimes the upgrading may delay the startup, but it's not gone yet after hours of waiting. What to do when iPhone stuck on Apple logo white screen?"
System issues are everywhere, whether you are using an Android phone or iPhone. You can't run away from such problems that appear in no time on your smartphone's screen. I daily read about troubleshooting and startup issues iOS users face on online forums, and iPhone stuck on the Apple logo is a prominent issue.
This problem often appears after upgrading the iOS version, but other unknown reasons may cause this. You probably have found this blog while searching how to fix iPhone stuck on Apple logo, don't get worried; we are to give you three solutions to this problem. Let's get started with the first one.
Solution 1. Fix iPhone Stuck On Apple logo By Restoring Your iPhone With iTunes
iTunes can be used to install the software on your iOS device and restore it to its factory settings. Follow the step-by-step guide provided below to fix the iPhone stuck on the apple log.
Step 1.
Connect your iPhone with your computer via USB cable, or you can connect with iTunes using WiFi as well.
Step 2.
Install iTunes on your computer, and when you have connected your iPhone click on the iPhone icon that's appearing on the top left on iTunes.

Step 3.
Now click on Summary.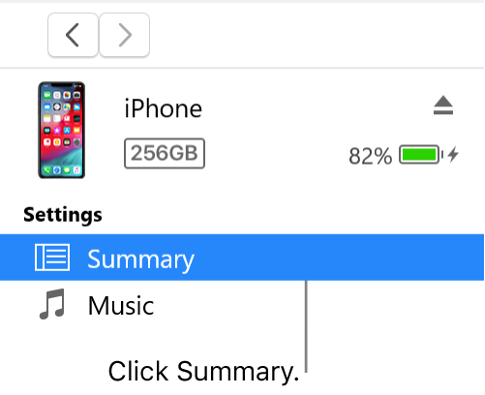 Step 4.
Later, click on Restore and follow all the instructions on the screen.
Note: Please keep one thing in mind restoring your iPhone, iPad, or iPad touch deletes all the data and information stored on your iOS device. So, only use this method if you have already created a backup of your data.
Solution 2. Fix iPhone Stuck On Apple Logo With An iOS System Recovery Tool(No Data Loss)
There's no built-in tool for resolving iOS system issues; that's why we need to use a third-party tool, like Wondershare Dr. Fone, which provides an all-in-one solution for iOS and Android devices. It can solve different kinds of problems like data loss, system crash, stuck issue, phone transfer, etc.
As a reliable ios system recovery tool, Dr. Fone System Repair enables a user to fix iOS issues effectively in various common scenarios. One of them is the iPhone stuck on the apple logo white screen of death, black screen of death, recovery mode, and many others efficiently. IOS users can fix their many issues without learning any skill just by using this tool. Let's look at some of Dr.Fone System Repair's features:
It allows an iOS user to downgrade their iOS version without having iTunes.
Dr. Fone can fix your iOS without losing data compared to iTunes restore.
It supports all the iPhone, iOS, iPad, iPad touch, and latest iOS versions.
You don't need to be an expert to fix your iOS system using this tool.
It comes in two modes that are standard mode and advanced mode.
Step By Step Guide on How to use Dr. Fone System Repair
Step 1. Download and Install Dr. Fone
Download Dr. Fone from the official website and install it on your computer according to the guidelines provided in the design. Once installed, launch it on your computer.
Step 2. Connect Your iPhone
Now, after launching the tool, it's time to connect your iPhone with the computer using a reliable USB cable and verify whether it's working or not. Keep in mind that you have to select iOS Repair. The tool will automatically detect your device model and System Version. Click on the Start button to initiate the process.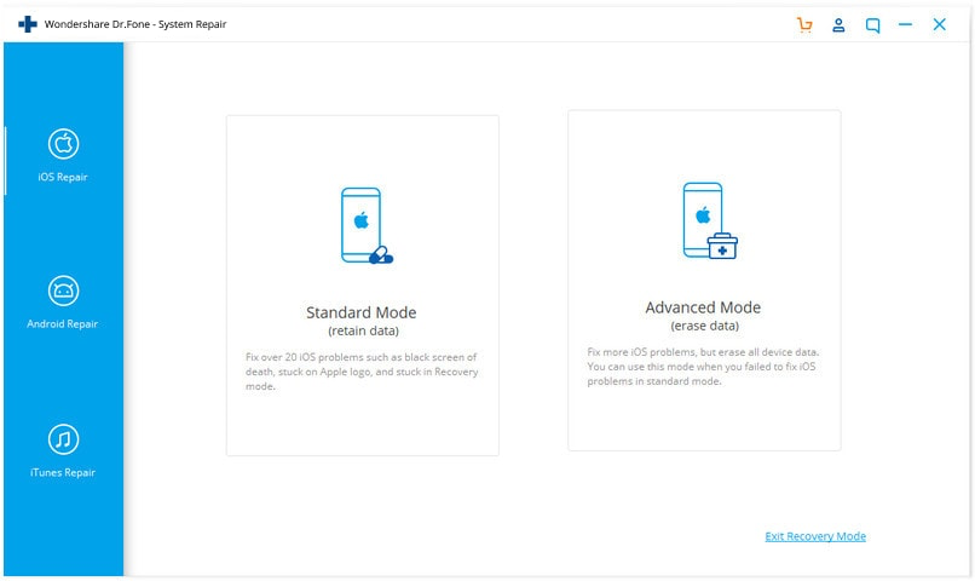 Step 3. Download iOS Firmware
Dr. Fone will start downloading the iOS firmware as the firmware is always significant, so this will take time to finish the download. If you don't want the tool to download the firmware, you can click on Download to start downloading the firmware in your web browser. Later, you can load that firmware by clicking on the Select button.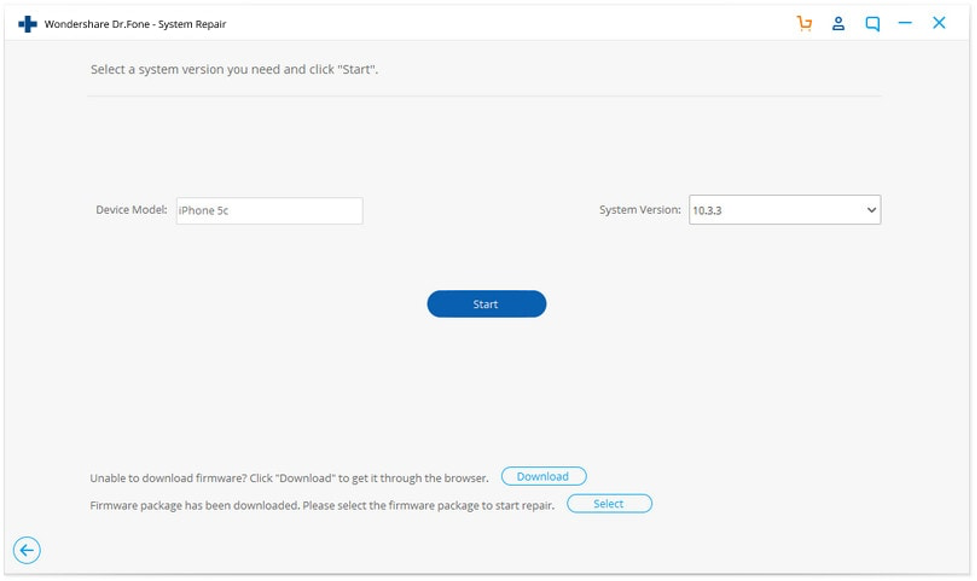 Step 4. Verify the Firmware and Fix iOS Device
Once the downloading firmware process is complete, the tool will verify the iOS firmware. Once it's confirmed, you have to click on Fix Now button to start the working of the iOS system repair tool. This process doesn't take much time, and in a few minutes, your phone stuck on the apple logo issue will be fixed. The device will usually start working on the startup.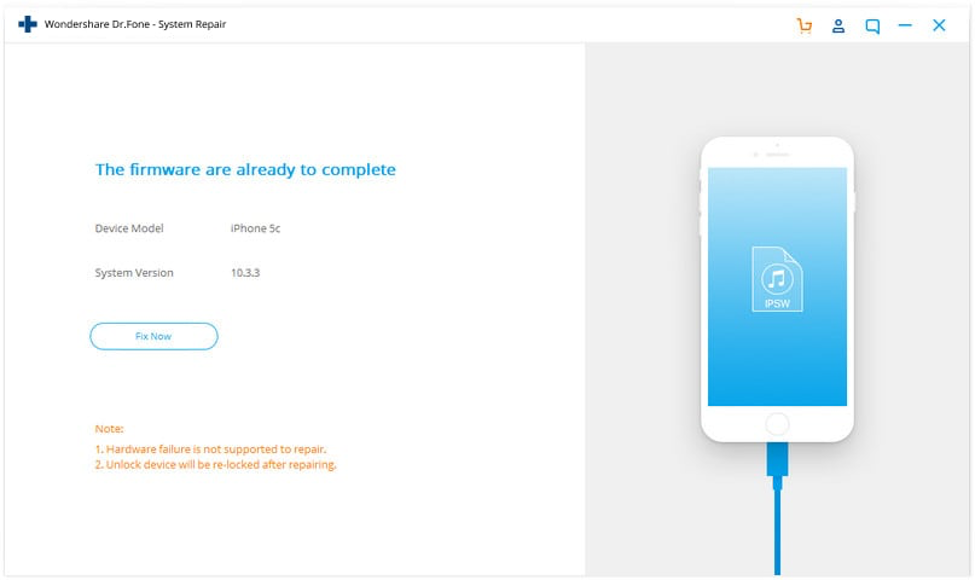 How to avoid getting Stuck on the Apple logo white screen of death
The white screen of death happened due to many reasons. Here are some tips that you can follow in the future to avoid getting stuck on the Apple logo.
Whenever you update your iOS version, keep in mind that your battery is fully charged, and if your phone goes off during the updating, this may cause the white screen of death.
Keep your phone safe from exposure to water or any other liquid. In many cases, the iOS device was exposed to liquid that alters caused the white screen of death.
Always keep your iOS device placed in a safer position; many times, when the device hits the ground from your pocked bed or table, it may cause the device to get stuck on the apple logo while in a startup. These are some helpful tips that will help you save your iPhone from getting damaged.
Conclusion
Users daily face issues on iOS devices, and my iPhone stuck on the apple logo is one of the frequently asked questions. If you are in such a situation, you can try the Dr. Fone iOS system repair, the best tool to recover the iOS system errors.