PDF files are indeed beneficial as they can be easily shared and downloaded. However, if you don't have a free PDF editor to open and edit PDF documents, your daily workflow can be affected. In this situation, you must require a PDF converting tool through which you can convert the PDF file to other file formats like Word, Excel, PPT, etc.
In this article, we will address both online and offline solutions to convert PDF files effectively and instantly.
Introduction to Wondershare PDFelement and HiPDF
Many free PDF editors in the market can manage your PDF files efficiently. In this part, we have highlighted the top two PDF tools that you can easily rely upon.
HiPDF
HiPDF can manage your PDF tasks with great efficiency as it provides various advanced features. On this online platform, you can perform multiple functions on PDF files, such as editing, conversion, unlocking, and cropping. By utilizing the advanced features of HiPDF, you can erase the flaws from your PDFs and add modifications with a few clicks. Without installing this tool, you can access HiPDF anytime with a stable internet connection to manage your PDF documents efficiently.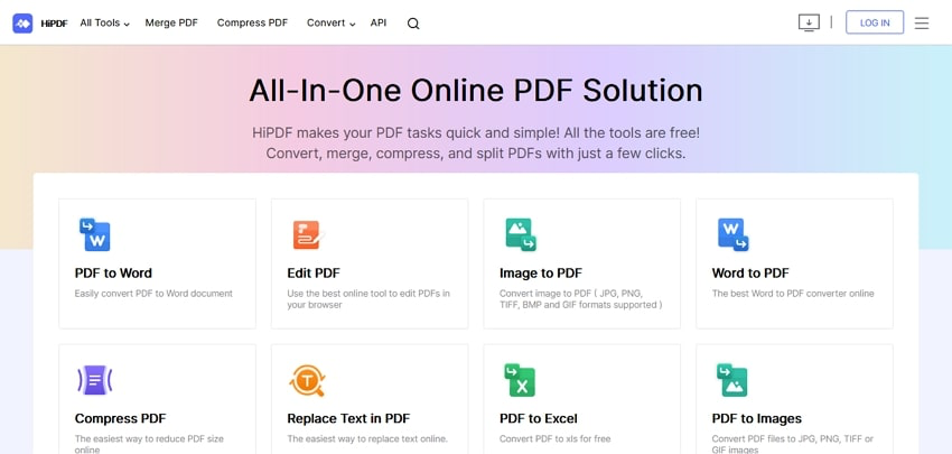 Wondershare PDFelement
Wondershare PDFelement offers a simple yet effective solution to edit and convert PDF files effortlessly. You can add text, images, graphs, tables, and annotations through this tool to enhance your PDF document. You can rely on this tool for different purposes like education, publishing, finance, and IT professionals. Furthermore, it's a multi-platform PDF tool, as you can install it on either your PC or mobile.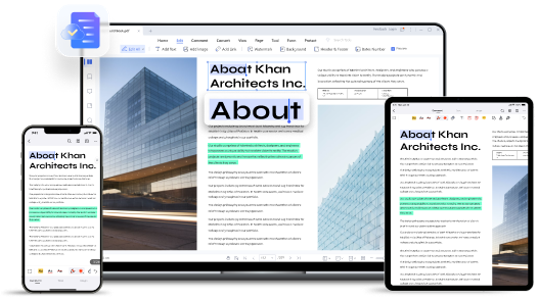 Convert PDF With HiPDF
Through HiPDF, you can convert to and from PDF files by ensuring 100% file security. The converting feature of this online tool works on multiple platforms like Mac, Windows, and Linux. You can execute the conversion of a PDF file while preserving its high quality. Moreover, you can upload your files to HiPDF through cloud storage platforms directly.
1. Convert from PDF to Other Formats
Step 1: Access PDF Converter Tool
Navigate to the website of HiPDF and open its homepage. From the given tools, tap on "Converter." Now you can see the heading of "PDF Converter," on which you can convert from PDF online to 15 file formats.
Step 2: Upload the PDF File
On PDF Converter, select any of your preferred file formats by clicking on it. Next, tap on the "Choose File" button and upload your PDF file on this tool. You can also use Google Drive, Dropbox, and Box for uploading PDF files.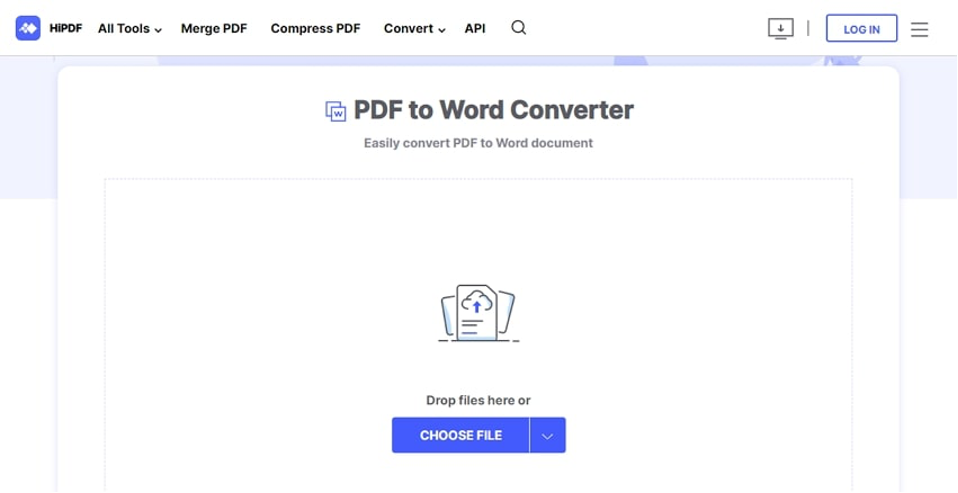 Step 3: Start the PDF Conversion
Once done with uploading, click on the "Convert" button to begin the conversion process. After the file gets converted, tap on the "Download" button to save the file on your device. HiPDF allows you to save the file directly to Dropbox or Box as well.
2. Convert Other Formats to PDF
Step 1: Access HiPDF PDF Creator
Head to the website of HiPDF through your web browser. Select its "Converter" tool that will open a new page on your screen. Under the heading "PDF Creator," you can find 12 file formats for the conversion of your file to PDF format.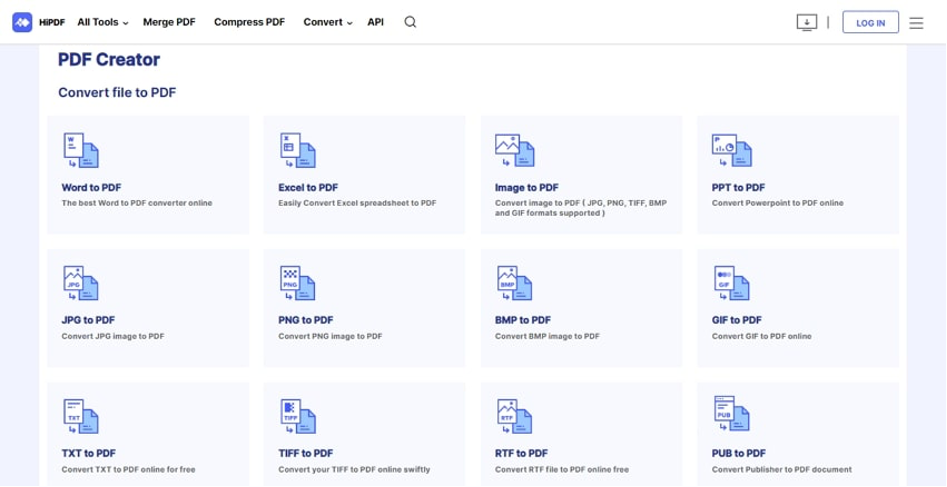 Step 2: Import the PDF File
Choose your file format from the given options and hit the "Choose File" button. Now import the file from your device to proceed or you can use the cloud storage options provided by HiPDF for importing the PDF file.
Step 3: Create the PDF
Next, press the "Convert" button to create a PDF file. After the conversion process, click on the "Download" button to save the PDF file on your PC or save it directly on Dropbox or Box cloud storage.
Convert PDF With Wondershare PDFelement
Wondershare PDFelement comprises an excellent converting tool that supports batch processing to save your time. It shows compatibility with mainstream platforms like Windows, Mac, and iOS. You can convert to and from PDF files to Microsoft Office format, images, and web pages. With high-conversion speed, you can use this converting feature without damaging the original file quality.
Step 1: Choose the Convert Tool
Launch Wondershare PDFelement on your PC and click to open its user interface. Now tap on the "Convert" tool displayed on its main interface.
Step 2: Browse your PDF File
After clicking on the Convert tool, browse your file from your computer and tap on the "Open" button to import it.
Step 3: Choose the Output Format
After importing the file, a new pop-up window will open on which choose your file format from the "Save As" box. Click on the "Save" button, and the conversion will begin.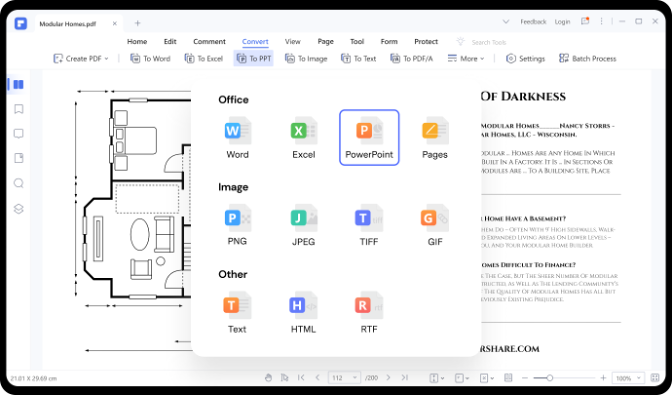 Step 4: Check Converted File
Once the conversion gets finished, you can click on the "Open Folder" button to check the converted file saved on your PC.
Pros and Cons of PDFelement and HiPDF
HiPDF and PDFelement are exceptional tools through which you can efficiently convert to and from PDF files. To learn more about these two tools, we have highlighted their pros and cons in this section.
Pros
HiPDF free PDF editor provides 100% file security as it immediately deletes the data from their servers as soon as the due task finishes.
The converter tool on these platforms is completely free, and you can convert multiple files without any restrictions.
These tools show great compatibility with major operating systems. You can access HiPDF and PDFelement on all platforms, like Windows, Mac, Android, iOS, and Linux.
They provide high-quality conversion as it does not alter the original quality during the process.
After conversion, you can save the converted file to your cloud storage platforms like Box and Dropbox easily.
You can integrate the PDF to Word tool of HiPDF on your website as it enables API access for more flexibility.
Cons
Advanced features like OCR can only be accessed if you buy the paid versions of these tools.
To use the online PDF tool like HiPDF, you must connect your device with a stable internet connection throughout.
Verdict
HiPDF and PDFelement are the best online and offline PDF solutions. These free PDF editors ensure the great quality of your imported file and enable you to add modifications through their premium features. The converting feature of these platforms offers a fast speed that can maximize your productivity in tackling daily PDF files. Moreover, the user interfaces are extremely delightful and clean, which makes the management of PDF documents comfortable.