As K-pop culture is spreading around the world, it also gained more and more fans as well as audiences from all over the world. From Asian to Western countries, K-pop music is played everywhere, and fans always gather together to share their favorite idols, K-pop songs, and TV dramas.
Knowing fan's desires to interact with their artists, Korean company invented a platform, Vlive, for idols and fans to interact with each other. Are you just a new K-pop fan and still don't know some ways to get closer to your favorite idols? Start from using Vlive now! For more tips, please continue on reading this blog.
Vlive Overview
Vlive is a platform which allows artists to initiate live streaming for watching online. Fans can enter the live streaming room and see their idols, interact with them by leaving comments. Sometimes idols would read the comments and give answers to fans. This greatly brings fans and artists together.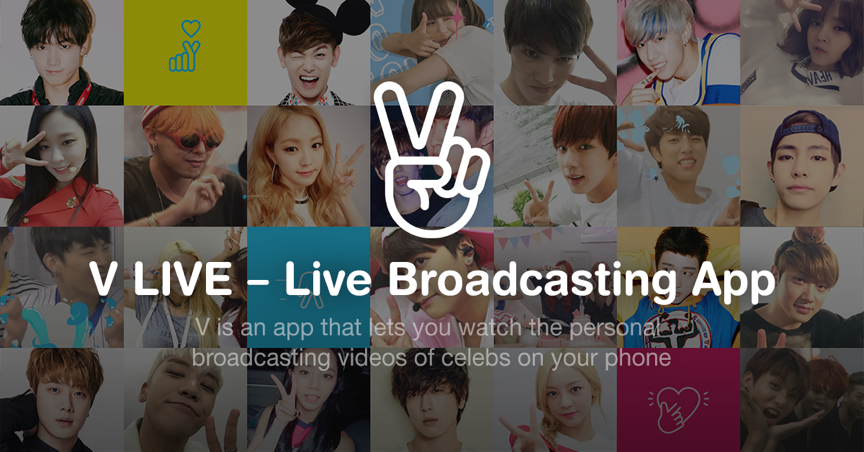 In addition, sometimes the entertainment companies would arrange some special events on Vlive. So instead of daily live streaming, you can also enjoy some short programs released by the entertainment companies, or some funny variety shows. This seemingly makes Vlive a TV program as well, on which you can see some short programs performed by your favorite K-pop idols.
Vlive is suitable for fans from all over the world to watch. With advanced technologies, the streaming speed and performance of Vlive is guaranteed. Other than a web-based platform, Vlive also released an App for fans to enjoy convenient and flexible playback on mobile devices such as iOS and Android. Moreover, Vlive videos will be translated into different languages with its smart translation technology, so fans speaking different languages can understand what their idols are speaking even they don't understand Korean.
It would be easy for you to find the Vlive videos released by your idols because in most cases, each artist or bands would have their own channels. The channels would be arranged and taken care of by their company staff. When idols want to initiate a live streaming, the staff would provide devices for them to get started. Instead of seeing them from TV programs or concerts, thanks to Vlive, now fans have more chances to see their idols and even interact with them.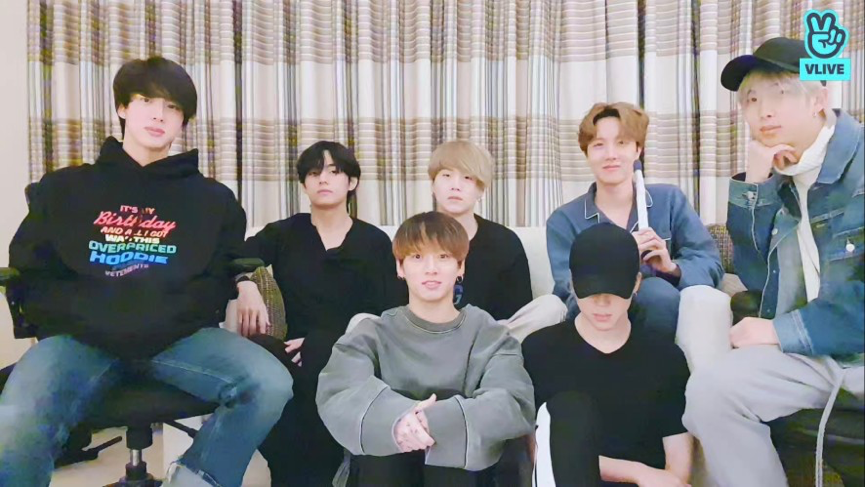 The Most Reliable Vlive Video Downloader on Desktop
To ensure the best video streaming quality, Vlive provides HD quality such as 720p and 1080p for fans to stream the videos they like. However, it seems that the server of Vlive sometimes can still be weak when there are too many users crowded in. Therefore, some fans may desire a way to download the Vlive videos they like for offline enjoying. Thus a reliable Vlive Video Downloader would be needed. Here I highly recommend VideoHunter to you.
VideoHunter can perform as a professional and the most reliable Vlive video downloader for K-pop fans. Not only its convenient and simple-to-use interface, but also its high output quality can be the reasons for why should you choose it. In addition, VideoHunter offers more than you can imagine, for example,
• The compatibility to download videos from other 1,000+ sites such as Facebook, YouTube, Twitter, Instagram, Dailymotion, and so forth;
• A 6X faster downloading speed;
• The convenient and speedy batch function;
• High output resolutions such as 1080p, 4K, and 8K;
• 100% safe and clean interface without messy ads or dangerous virus.
VideoHunter also specially provides two brilliant features for Mac users.
1. Mac users have the ability to download a whole YouTube playlist at once;
2. Mac users can access a converter, which has the ability to convert some local videos and audios to over 20 mainstream formats.
Download VideoHunter on Windows
These features will also be added to Windows version very soon. Please also looks forward to them!
How to Download Vlive Videos in 1080p with VideoHunter
Although VideoHunter provides comprehensive functions and it seems complicated to handle this tool, but actually, VideoHunter's features are quite simple to grasp. Now, you will go through the simple steps and master how to download your favorite Vlive videos to 1080p via VideoHunter on desktop.
STEP 1. Firstly, you need to copy the URL of the Vlive video you want to download. Therefore, open the platform in your web browser. After finding the Vlive video you need, enter its main page and go to the address bar for copying the URL of this video page.
STEP 2. When you have copied the URL of the Vlive video, now please navigate to the interface of VideoHunter. Then, paste the URL to the frame bar. After that, also press the "Analyze" icon and VideoHunter will convert the Vlive video for you.
STEP 3. Just wait for a minute and VideoHunter will offers various download options to you. From the menu, you can choose 1080p, the highest resolution to save your favorite Vlive video. After choosing the quality, just by pressing the "Download" button, then the Vlive video will be downloaded immediately.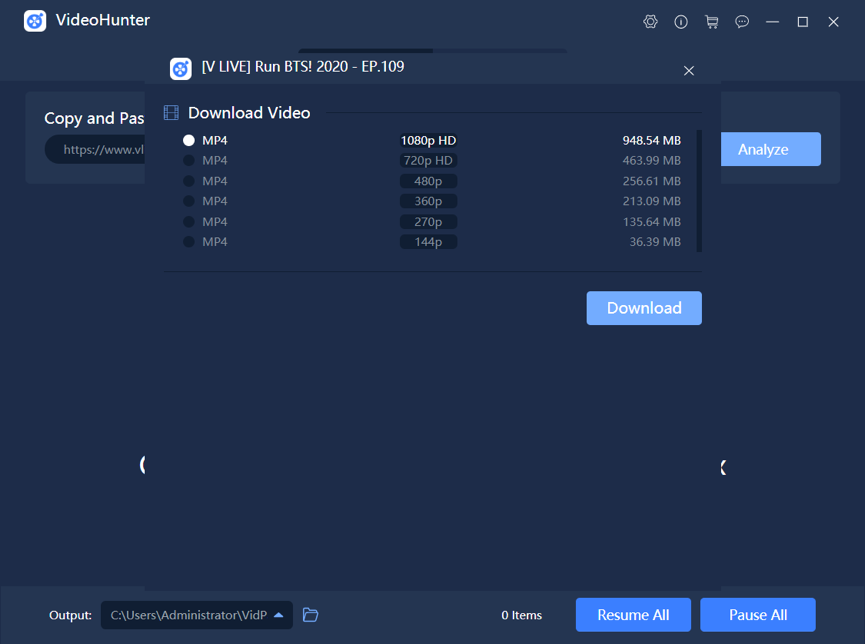 In the Bottom
Other than YouTube, VideoHunter's ability to download videos from Vlive is greatly beneficial to K-pop fans who want to save the Vlive videos for offline playback. VideoHunter is such a powerful any video downloader with reliable downloading services and speedy performance. As a result, it can be an ideal option for people who are searching for an all-featured video downloader. Give it a try now!