In a world that feasts on stories, be it through the silver screen or the glow of a Netflix binge, Pablo Zamorano has emerged as a force to be reckoned with—a producer whose award-winning projects have transcended borders, received international acclaim, and touched on the universality of human emotion.
The film and entertainment industry today is a complex, rapidly evolving landscape. With the rise of streaming platforms, the democratization of filmmaking through digital technology, and an increasing emphasis on diverse stories and global narratives, the industry is both more accessible and more challenging than ever before. Competition is fierce, and the bar for quality and storytelling has been set high. Amid this landscape, it is not merely a feat but a testament to exceptional skill and vision to consistently produce work that not only stands out but garners international accolades.
This is where award-winning film producer Pablo Zamorano comes in and whose extensive career has been nothing short of remarkable. A graduate of the prestigious American Film Institute Conservatory, Zamorano found his calling in the world of film production early on. His early project "Eva" already made waves at international festivals like the 15th Santiago International Film Festival (SANFIC) and the 25th Catalonian Latin American Film Showcase (Mostra LLeida). Over the years, he has curated an impressive filmography that ranges from narrative short films like "Children of Change," which was featured at the Symbiotic Film Festival and recognized by the International Motion Picture Academy (IMPA), to promotional videos for streaming giants like Netflix, including "FUBAR: Toy Commercial."
His expertise in the field has culminated in several awards, including the much-coveted Golden Tadpole at EnergaCamerimage for his film "Magdalena," which also bagged the Remi award at WorldFest-Houston and was officially selected for the Rhode Island International Film Festival, among other accolades.
We had the opportunity to interview Zamorano to delve deeper into his award-winning productions, and the insights were revealing. For Zamorano, the moment "Magdalena" was announced as the Golden Tadpole winner at EnergaCamerimage was one of intense emotion and validation for the entire team. The award wasn't just a shiny statuette to adorn a shelf; it represented the culmination of hard work, creative risks, and an unflinching commitment to authentic storytelling. From "Magdalena" to other critically acclaimed works that have received awards from Beverly Hills to WorldFest-Houston, Zamorano's productions bear the hallmark of quality and finesse. These international recognitions haven't just added to his resumé; they've opened doors to new collaborations and opportunities, solidifying his reputation as a top-tier producer in the film industry.
Perhaps what sets Zamorano apart is his deeply ingrained philosophy that films should never be made solely with the intent of winning awards. He selects projects that resonate on a personal level, stories that evoke real emotion. For him, accolades are the byproduct of genuine, heartfelt storytelling and a collaborative commitment to excellence. Whether battling the elements while shooting outdoors or recreating historical periods with limited resources, Zamorano's approach to filmmaking is defined by resilience, ingenuity, and a tireless pursuit of artistic integrity.
In an industry that's forever in flux, awash with emerging talents and new forms of storytelling, Pablo Zamorano's contributions serve as a high-water mark of what's possible when talent, vision, and hard work come together. With future aspirations that include producing feature films in both the United States and his native Chile, and a desire to showcase his work at major festivals like Cannes, Berlin, and Sundance, Zamorano is a name we'll undoubtedly hear for years to come.
It's great to have you here, Pablo. Can you walk us through the moment when "Magdalena" won the Golden Tadpole at EnergaCamerimage? What does this specific award mean for you and your team?
Winning the Golden Tadpole at EnergaCamerimage was a milestone for our team. Since we couldn't attend the festival in person, we eagerly tuned into the live stream, despite its 6 a.m. start time in Los Angeles. Thankfully, a team member was there to graciously accept the award on our behalf. Additionally, our gifted Director of Photography, Enrico, sent a heartfelt video acceptance speech.
This award had immense significance for us; it served as strong validation of the dedication and hard work we invested in the production of "Magdalena." It recognized the creative risks we took to bring this compelling story to life on screen. Most importantly, winning the Golden Tadpole confirmed that we had achieved our primary goal—to narrate Magdalena's story from a deeply personal and subjective perspective.
Your films have garnered various awards from Beverly Hills to WorldFest-Houston. Can you talk about the trajectory that took you from producing films to becoming an award-winning producer?
My journey from an aspiring filmmaker to an award-winning producer began when I enrolled at the American Film Institute Conservatory. This move afforded me the opportunity to collaborate with exceptionally talented individuals and to immerse myself fully in the world of filmmaking. I assumed the role of producer for several narrative short films, managing every aspect of their creation from script development to post-production. These experiences not only refined my skills but also deepened my understanding of the intricacies of the industry.
A significant turning point in my career came when I produced the AFI films "Magdalena," "Children of Change," and "Made." These projects posed creative and logistical challenges, yet they achieved critical acclaim and garnered numerous awards. Notably, "Magdalena" won several prestigious awards, and "Children of Change" received the Bridges/Larson Foundation Production Grant, in addition to making a significant impact at various film festivals.
These milestones have been instrumental in cementing my reputation as an award-winning producer and continue to fuel my passion for storytelling within the film industry. I hope my journey thus far illustrates my dedication to bringing compelling stories to the screen, and I'm eager to see where it will lead me next.
How have these international accolades impacted your career and opened doors for further opportunities?
Participating in these prestigious festivals and receiving international accolades has been a career game-changer for me. Beyond the recognition and honor, these experiences have proved transformative in forging valuable connections with fellow filmmakers and mentors.
These relationships have had a domino effect: they've opened the door to exciting new projects, accelerated opportunities for those already in development, and offered solutions to the occasional challenges that arise in film production. It's a mutually beneficial arrangement; I've also had the privilege of supporting others in the industry, helping to create a collaborative environment where we can collectively elevate our craft. Indeed, these international accolades have served as catalysts for both personal and collaborative growth in my journey as a film producer.
What were some of the challenges you faced during the production of these award-winning films, and how did you overcome them?
Absolutely one thing that's certain in this business is that challenges come with the territory. In production, each project brings its own unique set of hurdles. For example, with "Magdalena," we had the formidable task of recreating the atmosphere of Soviet-controlled Eastern Europe in 1965—all while filming in sunny Southern California. This led us on a scouting adventure across dozens of locations, only to realize our best option was to find empty spaces and build the perfect sets ourselves. Our commitment to capturing the era's authenticity ultimately triumphed over geographical constraints.
Similarly, while making "Children of Change," we had to navigate an extreme heatwave during an entirely outdoor shoot. This required inventive use of our micro-budget to ensure the cast and crew had the essentials to withstand the elements. It's a testament to our team's resourcefulness and dedication that we overcame these challenges. Indeed, in this industry, a positive attitude and a dash of ingenuity can go a long way in conquering any obstacle on the path to cinematic excellence.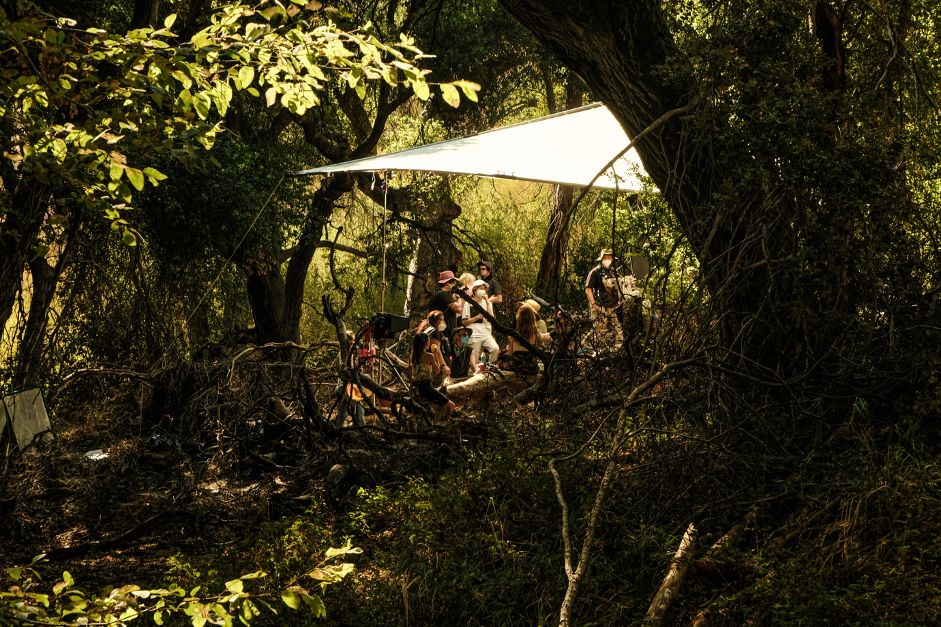 Do you feel that aiming for awards influences your creative choices or the projects you decide to undertake?
I wholeheartedly believe that movies should never be made solely with the aim of winning awards. In fact, I'd argue that such an approach is often counterproductive. For me, the projects I choose are deeply personal, rooted in a profound connection to both the material and the team involved. It's about selecting stories that resonate with me and evoke genuine emotional responses.
Once you're aligned with projects that speak to your soul and ignite that creative spark, every decision should serve the project itself, aimed at realizing its fullest potential. Awards, while undeniably a wonderful form of recognition, should be a byproduct of authentic storytelling and a commitment to excellence, not the primary driving force behind creative choices.
Awards often represent the culmination of a team's hard work. Could you share an anecdote about how your team reacted to one of these significant wins?
One of the amusing aspects of recognition is that it often arrives long after production has wrapped up and the film is complete. As a result, it catches us off-guard and serves as a delightful surprise. Each selection and nomination serves as a validation of our hard work and is cause for celebration. However, most of the time, the team is already immersed in different projects, leaving little time to gather and celebrate together.
Of all the awards and recognitions that your projects have received, is there one that holds special meaning for you? Why?
One that holds special significance for me is the Golden Tadpole at the Camerimage Festival. This award is particularly meaningful because it validated our team's effort to capture our main character's emotions through cinematography, confirming that we successfully translated our creative vision onto the screen.
Another award that I hold dear comes from a short film I produced in Chile called "EVA," which won Best Actress at an Indian festival. This accolade is significant because it underscores how storytelling in film can bridge cultural divides, underscoring the universal appeal of cinema.
Now that you've achieved a considerable amount of recognition in the form of awards, what are your future goals in terms of producing? Are there particular festivals or awards that you're targeting?
I have so many aspirations! In the near future, I would love to produce feature films both in the US. and back home in Chile. My goal is to create films that resonate with a universal audience, striking an emotional chord through humor. Additionally, I'm in the process of developing a TV show that I'm eager to bring to life. While festivals and awards aren't the driving force behind my filmmaking, they undoubtedly help bring my projects to a wider audience. Ultimately, I'd love to see my work featured in major festivals like Cannes, Berlin, or Sundance.