In a world increasingly captivated by visual storytelling, Pakawat Thongcharoen stands as a creative polymath who artfully navigates the complexities of digital media. With a career spanning videography, photography, and content creation, he not only crafts compelling narratives but also understands the pulse of a dynamic audience.
Today's film and entertainment industry is a rapidly evolving ecosystem, redefined by the advent of digital platforms, streaming services, and social media. Traditional modes of content consumption have been disrupted, making way for an era where the lines between professional and amateur creators are increasingly blurred. In this landscape, mastery over storytelling techniques, an understanding of audience engagement, and a keen eye for aesthetics are more vital than ever. And it's in this intricate milieu that Pakawat Thongcharoen thrives.
Pakawat's professional journey is a vivid tapestry of varied experiences. As the creative director, videographer, and photographer at PakaPrich, a creative media and production firm, he has been the driving force behind a multitude of projects. Whether creating content for Panasonic Lumix or strategically aligning narratives for Sony's lens project, his work transcends mere visual appeal. It achieves what most strive for but few accomplish—connecting with audiences on an authentic, human level. His approach is two-fold: educational content that offers value and authentic sharing that fosters trust and engagement. This framework has enabled him to accomplish remarkable feats, from collaborating with over 20 brands to being featured on Panasonic's official website.
Not just confined to the role of a behind-the-scenes wizard, Pakawat has also built a strong digital presence as a content creator. With an audience of over 100,000 followers, he is a testament to the transformative power of consistency, relevance, and authenticity. His digital community isn't just a number; it's a robust engagement model that underlines the possibilities when passion meets strategy.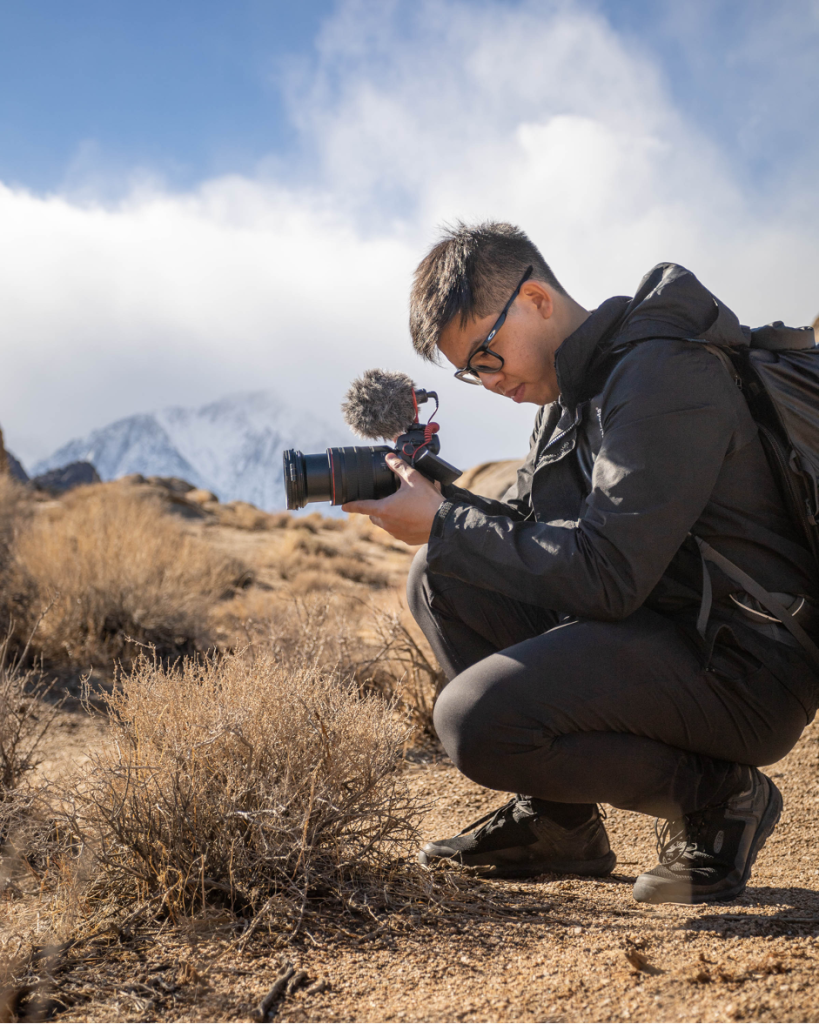 In our in-depth interview with Pakawat, he peeled back the layers of his extensive work experience, offering invaluable insights into the mechanics of successful content creation. His expertise isn't confined to a single medium or style; he's as adept at capturing the soul of a landscape as he is at portraying human emotion. As someone deeply invested in travel content and photography, his visual style often adopts a documentary storytelling approach, offering viewers a slice of realism. In an industry awash with embellished realities, this adherence to genuine storytelling sets him apart.
In the end, Pakawat Thongcharoen is not just a videographer, photographer, or content creator; he's a multifaceted storyteller for the digital age. As the film and entertainment industry continue to evolve, professionals like Pakawat serve as guiding lights, illuminating the way forward with their innovation, skill, and unyielding commitment to their craft.
As a creative director at PakaPrich, how do you handle diverse client visions and expectations, ensuring that the final product aligns with their brand's identity?
In my role as creative director at PakaPrich, navigating diverse client visions and expectations while staying true to their brand identity calls for a strategic and attentive approach. Effective communication is crucial for collaborative success. Regular updates, discussions, and feedback loops keep both parties aligned throughout the project. A discovery session serves as an essential first step. By exploring the clients' goals and the essence of their brand, we often uncover hidden desires that inform the project's direction. Active listening is pivotal; closely attending to clients' ideas, concerns, and feedback enables us to make precise adjustments in creative direction.
Development sessions with treatments provide visual and narrative guides, helping both the clients and my creative team stay on the same page regarding the project's trajectory. These shared visual and conceptual references act as touchstones during the execution phase. Transparent communication not only addresses challenges promptly but also fosters trust, facilitating quick problem resolution.
Thus, I ensure that the final product harmoniously embodies the clients' visions and brand identities by combining effective communication, discovery sessions, active listening, transparent communication, and shared references.
Can you walk us through your process of shaping a narrative for a campaign or video? What elements do you prioritize to ensure a compelling storyline?
Crafting a compelling narrative for a campaign or video involves a meticulous process that aims to resonate with the audience while effectively conveying the brand's message. This endeavor is shaped by several key phases, guiding the journey from concept to execution.
Once an initial discovery session is complete, offering insights into project scope, brand messaging, and the target audience, the first step is thorough research. This stage is crucial because it requires immersing myself in all aspects related to the brand, from studying competitors to identifying successful storytelling techniques. This research lays the groundwork for well-informed creative direction.
The ideation phase comes next, with brainstorming at its core. During this stage, a multitude of ideas are generated to explore various angles and concepts that align with the brand's messaging. As ideas begin to flow, the process of refining and sculpting starts, eliminating extraneous elements to focus on the narrative's essence. This ensures that the final concept is both impactful and concise.
Certain elements take precedence to bolster the narrative's effectiveness. Insights garnered from the discovery session are pivotal, allowing the narrative to directly address the target audience's needs and desires. Additionally, careful attention to lighting and composition enhances the visual quality of the content, adding to its overall appeal.
Understanding the structure of storytelling is also crucial. Following a well-established framework, like the three-act structure, ensures a smooth narrative progression. Finally, a satisfying resolution provides closure while leaving a lasting impact on the viewer.
Wearing multiple hats as a creative director, videographer, and photographer can be challenging. How do you manage to transition between these roles seamlessly, and do they ever overlap?
Juggling these roles indeed presents a unique set of challenges. My journey into these roles began with a solid foundation in photography, where I focused primarily on capturing singular visual moments. This naturally led to a transition into videography, fueled by personal passion projects that allowed me to delve into the world of motion pictures. Concurrently, the role of creative director emerged, offering a broader scope that perfectly aligned with my growth in videography.
Having started as a solo photographer and videographer, where I was responsible for every stage from concept to editing, I've developed an innate understanding of the essential elements of each role. This comprehensive grasp has cultivated a creative mindset that accompanies me throughout each project, serving as a guiding force across all stages.
One particular challenge lies in managing projects that involve both photography and videography simultaneously. Despite the diverging approaches to storytelling, I see the value in utilizing both mediums to convey varied perspectives. However, the technical variations, such as equipment settings, can be demanding. Overcoming this hurdle has been made possible through extensive experience and repeated practice, which have helped me become adept at managing these differences and transitioning seamlessly between roles.
Interestingly, there is a natural synergy among these roles. As a creative director, I set the creative direction, establishing the mood and tone that guide both the photographs and videos. This interconnectedness underscores how these roles collaboratively shape the final visual product. Despite their distinct responsibilities, all three roles converge on key aspects: aesthetic appeal, strong visual direction, composition, and framing. These universal factors contribute to conveying compelling narratives, evoking emotions, and imparting meaning.
Whether through a photograph, video, or overarching creative direction, these shared principles anchor my work and enable a coherent narrative to emerge. In essence, while balancing the roles of creative director, videographer, and photographer can be challenging, my journey through these fields has equipped me with a holistic perspective. This blend of creative intuition, technical skill, and a deep appreciation for the power of visual storytelling facilitates the seamless transition between roles, ultimately enriching the final outcome.
With over 100k followers, your digital presence is undeniable. What strategies have you found most effective in engaging and growing your audience?
Establishing a robust digital presence has indeed been an intricate endeavor. This journey is guided by strategic approaches designed to engage and expand my audience effectively. A key aspect of this process involves striking a delicate balance between pursuing passion projects and catering to audience preferences.
Passion projects serve as laboratories for creativity and experimentation, allowing me to explore diverse types of content and serving as valuable testing grounds for audience reception. Meanwhile, understanding both my brand and audience is crucial. Analyzing comments and queries gives me invaluable insights into what resonates with my audience, enabling me to tailor content to meet their interests.
Consistency is another pivotal strategy, although it can present challenges in content creation. A consistent posting schedule fosters a deeper connection with the audience and enhances predictability, ensuring that followers know what to expect. This consistency also extends to maintaining the brand's identity, which engenders familiarity and trust.
I've refined my approach by adhering to a two-fold content framework: educational content and authentic sharing. While educational pieces offer value to the audience, authentic sharing of genuine experiences reinforces relatability, forming deeper bonds with the audience.
Crafting content that speaks in a resonant, personal voice has been instrumental in enhancing engagement. This approach forges a human connection that is often lacking in the fast-paced digital landscape. The ability to deliver meaningful, concise content captures and retains attention effectively. By eliminating extraneous details, I ensure that each piece of content is impactful and efficiently conveys its intended message.
In summary, navigating the dynamic world of digital presence requires a multifaceted approach. Balancing personal passion with audience appeal, maintaining consistent engagement, fostering authentic connections, and delivering concise, impactful content have collectively contributed to the growth and engagement of my digital community.
You've collaborated with over 20 brands during your tenure. Can you share a particularly memorable collaboration and what made it stand out?
One of the collaborations that stands out vividly for me is the Panasonic Lumix G100 Project, an endeavor that made a lasting impression due to its unique challenges and extraordinary outcomes. This particular partnership required not only creativity and technical skills but also demonstrated the power of marrying a seemingly contrasting creative vision with strategic goals. The unforgettable aspect of the Panasonic Lumix G100 Project was the incredible synergy between challenges and results.
At its core, this collaboration was inherently challenging. The aim was to create branded content for the official Panasonic Thailand website and for display in various retail outlets. The complexity lay in the choice of camera for video production—the Panasonic Lumix G100, an entry-level model. Despite the camera's basic nature, the expectation was for the final product to possess high production value. This predicament made the project especially captivating.
Balancing the limitations of an entry-level camera with aspirations for high-quality output became a creative puzzle. This endeavor pushed the limits of creativity and resourcefulness, requiring a deep understanding of both the camera's capabilities and the project's overarching goals.
What truly set this collaboration apart was its ability to convert challenges into successes. The resulting video not only exceeded expectations but also resonated with its audience in a seamless manner. Targeted at entry-level users, the final product managed to encapsulate the camera's professional features while maintaining a relatable and engaging tone.
This collaboration epitomizes the essence of strategic creativity—combining formidable challenges with meticulous planning and execution to produce an outcome that resonates on multiple levels. It attests to the fact that even with limitations, a well-crafted concept can surpass expectations and leave a lasting impression in the world of visual storytelling. The Panasonic Lumix G100 Project continues to serve as a shining example of how creative vision, when aligned with strategic precision, can yield exceptional results.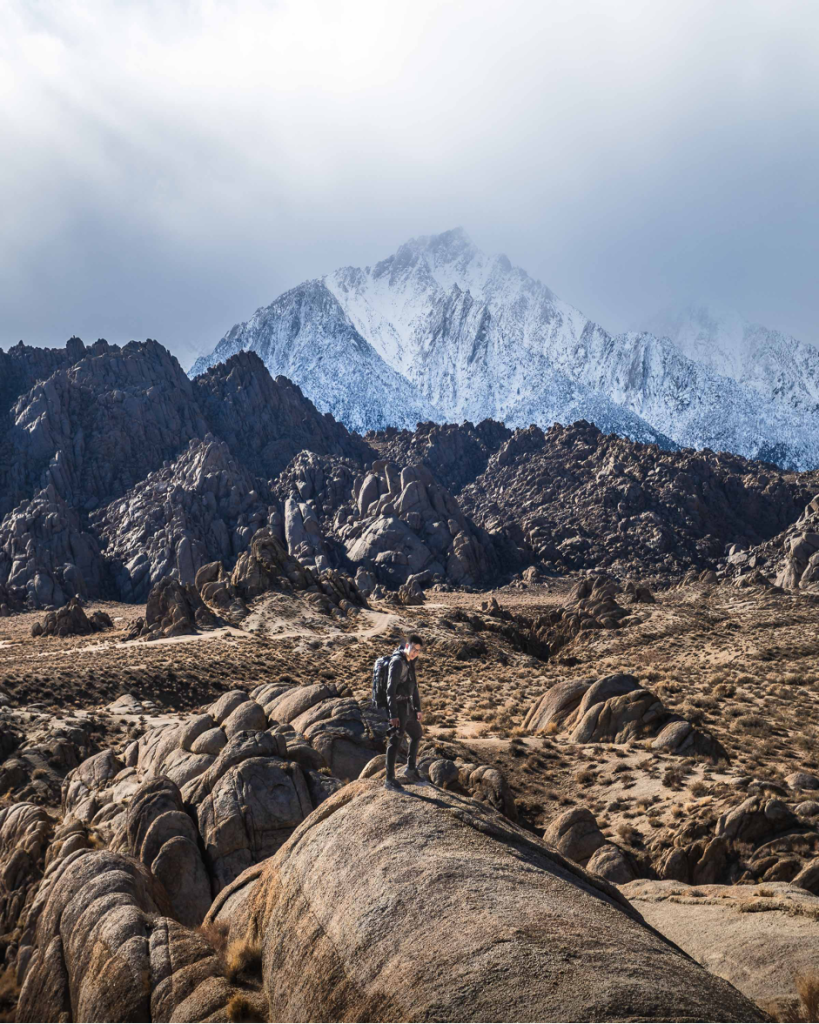 How do you decide on the visual style and tone of a project? Do you have any go-to techniques or themes that you've found resonate well with audiences?
Deciding on the visual style and tone of a project is a meticulous process, informed by my background in travel content creation and photography. My approach is rooted in realism, with the goal of capturing the subject matter's authenticity. One technique that consistently resonates with audiences is documentary-style storytelling, which offers a genuine exploration of narratives.
My foundation in travel content and photography deeply influences my visual choices. I am committed to portraying moments as they naturally occur, without unnecessary embellishments. This dedication to realism ensures that the final product is both relatable and genuine, forming a deep connection with viewers.
To achieve this level of realism, I often employ a documentary storytelling approach. I tackle projects with the aim of capturing real stories and authentic experiences, emphasizing candid and unscripted moments through a cinema-verite technique. By allowing subjects to interact naturally within their environments, the narrative unfolds organically, providing an authentic reflection of reality.
In essence, my decision-making process is centered on capturing the true essence of the subject matter. This philosophy is deeply rooted in my background in travel content and photography, shaping a visual style that resonates with audiences through its realism and genuine storytelling. Utilizing documentary techniques further amplifies this connection, ensuring that audiences are presented with narratives that resonate at the core of human experience.
Feedback is an integral part of any creative process. Can you share an instance where client or audience feedback significantly altered the direction or outcome of a project?
Feedback plays an indispensable role in the evolution of any creative venture. A case in point is the transformative power of client feedback, as demonstrated during the initial stages of the "Sony: See the World Through Different Lenses" project. Initially, the narrative centered around Gift Lee, an influential content creator, using the camera; the focus was on showcasing both her and the product together. However, feedback from Sony radically altered the project's direction, shifting the emphasis onto the product's capabilities rather than its explicit display.
The creative brief originally provided by the agency suggested a vlog-style approach. It emphasized Gift Lee's interaction with the camera and included multiple product shots. However, Sony's feedback nudged us to convey the camera's capabilities without explicitly showcasing the product. This change prompted a complete reevaluation of the project's strategy. While the original brief provided a structured and straightforward framework, the revised guidance called for a more nuanced approach. It challenged us to conceptualize a video that would highlight the product's features and benefits without relying on direct visual exposition.
This change led to a comprehensive overhaul of the shooting process. The challenge now lay in demonstrating the product's potential without resorting to conventional display techniques. This required creativity in implicitly conveying its benefits, thereby piquing the audience's curiosity and interest.
In essence, this shift, induced by feedback, affected not just the visual direction but also sparked a creative transformation. It encouraged us to communicate the essence of the product in a more indirect yet compelling manner. The final result skillfully interwove storytelling and demonstration, highlighting the product's capabilities through an inventive and engaging lens. This experience underscored the critical role of client feedback in steering the course of creative projects toward more impactful and innovative outcomes.
Given the ever-evolving digital media landscape, how do you stay updated with the latest trends and techniques? Are there any recent trends you're particularly excited about incorporating into your work?
Navigating the ever-evolving digital media landscape requires a vigilant commitment to staying abreast of the latest trends and techniques. To achieve this, I employ a multifaceted approach that spans a wide array of media genres and formats. This strategy is vital for keeping my work current and relevant.
Staying updated involves immersing myself in a diverse range of media. This includes books—both fiction and non-fiction—as well as an eclectic mix of video formats. From travel videos and video essays to music videos and podcasts in both short and long forms, my wide-ranging exposure offers a panoramic view of the media landscape. This enriches my understanding of contemporary storytelling techniques and visual aesthetics.
An essential aspect of my approach involves actively engaging with various film categories. I make it a point to diversify my viewing experience by exploring everything from classic films to modern productions. For example, I delve into films from the mid-1900s, gaining insights into historical cinematic techniques while also appreciating their influence on the evolution of filmmaking.
A recent trend that has caught my attention is the innovative use of aspect ratios. This technique offers immense potential for conveying specific moods, feelings, or even historical periods within a video. Through skilled manipulation of aspect ratios, I can transport viewers into different settings, offering them immersive experiences that vary in emotional nuance and time frame.
In conclusion, staying attuned to emerging trends and techniques in the digital media landscape necessitates a comprehensive approach. My commitment to exploring diverse genres and formats not only keeps my work relevant but also invigorates my enthusiasm for incorporating innovative elements into my videography. The strategic observation of classic films and the creative use of aspect ratios are among the techniques that enable me to craft resonant content in this dynamic digital arena.