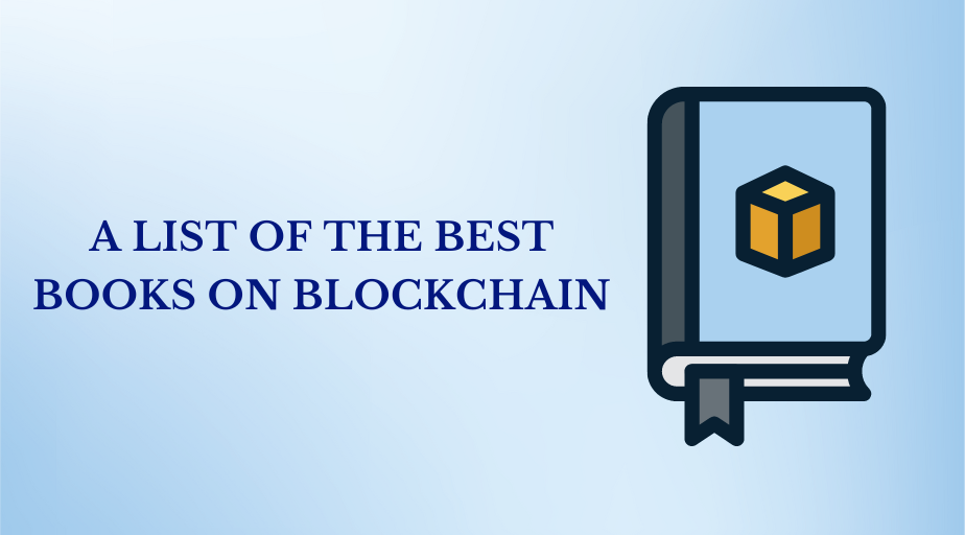 Blockchain is a relatively new technology that has taken the world by storm, and its impact on various technology is undeniable. It has revolutionized how we think about data storage and management, and there are no signs of slowing down. If you're wondering how to become a Blockchain Developer, you can refer to the blockchain books listed in this blog. It will also help you to stay up to date with the latest developments in the field. Ethereum is the most exciting advancement in blockchain technology that allows developers to build and run decentralized applications. Ethereum Developer Training is a way to learn about the process of developing decentralized applications.
In this article, we have given a list of some of the best books on Blockchain that you can read to understand this technology better. So, let's dive in and explore these informative books.
Table of Content
10 Best books to learn blockchain
Blockchain Revolution
Blockchain Basics: A Non-Technical Introduction in 25 Steps
The Basics of Bitcoins and Blockchains
Mastering Blockchain
The Truth Machine
Bitcoin and Cryptocurrency Technologies
Mastering Bitcoin
The Age of Cryptocurrency
Blockchain and the law
Blockchain: Blueprint for the New Economy
Conclusion
10 Best Books to Learn Blockchain
Here is a list of the ten best books to learn about Blockchain that will lead to understanding more about it.
a) Blockchain Revolution
This book is an amazing read written by Don Tapscott and Alex Tapscott. It provides an in-depth analysis of how blockchain technology is transforming various industries, and the book also covers the potential applications of Blockchain in the future.
b) Blockchain Basics: A Non-Technical Introduction in 25 Steps
Written by Daniel Drescher, Blockchain Basics gives a non-technical insight into Blockchain in 25 steps. This book is for beginners who are entirely new to this technology. It is also easy to read for people who are from non-tech backgrounds.
c) The basics of Bitcoins and Blockchains
Antony Lewis describes everything about bitcoins and Blockchains in detail in this book. This book also covers how cryptocurrencies function, making it an excellent resource for anyone who wants to learn more about Blockchain and how it impacts worldwide.
d) Mastering blockchain
Imran Bashir, in his book, talks about Distributed Ledger Technology, Smart Contracts, and Decentralization. This book is a comprehensive guide to Blockchain technology and discusses the importance of Blockchain's birth. Furthermore, it also talks about Ethereum and how it created innovations like decentralization in finance.
e) The Truth Machine
This book is written by Michael J. Casey and Paul Vigna. It explores the potential applications of Blockchain technology in various industries, from finance to healthcare. It is an excellent read as it also provides a glimpse into the future of Blockchain.
f) Bitcoin and Cryptocurrency Technologies
It extensively introduces the thoroughgoing yet less understood new technology and digital currency. This book is written by Arvind Narayanan, Joseph Bonneau, Edward Felten, Andrew Miller, and Steven Goldfeder. It is an excellent choice for anyone who wants to learn more about cryptocurrencies and how they work. It covers the technical aspects of digital currencies and the underlying blockchain technology.
g) Mastering Bitcoin
It is a book written for technical people and talks about Bitcoin and the technology behind it. This book, written by Andreas Antonopoulos, covers the technical aspects of how bitcoin works, including mining, transaction processing, and the Blockchain.
h) The Age of Cryptocurrency
Paul Vigna and Michael J. Casey, the writers of this book, deliver an overview of the rise of Blockchain technology and cryptocurrencies. It also covers the history of bitcoin and explores its potential as a disruptive technology in the finance industry.
i) Blockchain and the Law
The book covers smart contracts, digital identity, decentralized organizations, and how they change traditional legal frameworks. Primavera De Filippi and Aaron Wright write it, and they talk about commerce, banking, law, and other important areas of Blockchain that should come under legal thinking.
j) Blockchain: Blueprint for the New Economy
Written by Melanie Swan, this blog provides an in-depth look at the potential of Blockchain technology and how it will disrupt traditional industries. This book covers decentralized autonomous organizations, the future of decentralized applications, and smart contracts.
Conclusion
These are few of the best books on Blockchain that can help you better understand this decentralized technology. Even if you are a beginner or an expert, these books will undoubtedly provide valuable insights into Blockchain and its potential applications. So, pick up a book and start exploring the world of Blockchain technology!